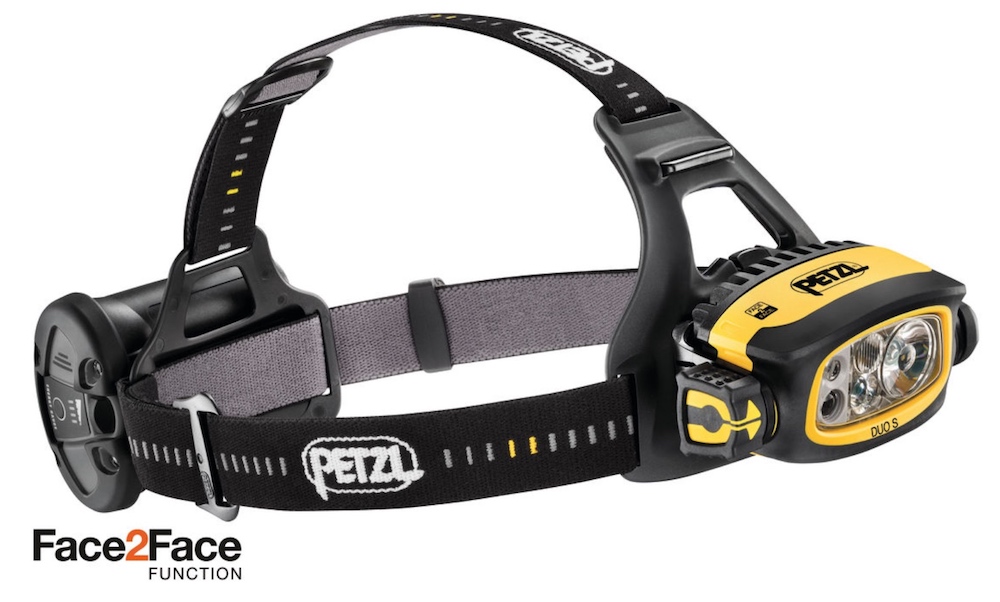 Petzl has this new DUO S headlamp available beginning in March 2018. This year is off to a fantastic start. Petzl has just announced 4 new headlamps for 2018, and we are covering all of them today with everything we know and can guess.
[Page updated: 11 February 2018]
The Petzl DUO S headlamp fooled us a little bit. The color scheme is very similar to their other DUO headlamps, so we figured it was the same beam setup as the Ultra Vario. But, no! Petzl has totally redesigned three new DUO headlamps – the DUO S reviewed below, and the DUO Z1 and DUO Z2 reviewed here (links coming).
Our initial DUO S headlamp Pre-review is below. We will order this unit ASAP and get the full review here for you in February when they are to be released. 
PETZL DUO S HEADLAMP | 1,100 Max Lumens
DUO S DESCRIPTION
The latest headlamp in the Petzl line is a great one. We'll definitely be using it. The max lumens rating for the DUO S (1,100 lm) is bumped up by 350 lumens from their Ultra Rush headlamp (760 lm max) – our favorite headlamp for our uses. The headlamp is stated to be 'waterproof' – which might mean they've jacked up the water resistance rating and now feel safe calling it waterproof. They also call it "durable." Great news!
This DUO S headlamp will certainly be one of our top headlamps of 2018. What remains to be seen is whether the 1,100 lumens brightness lasts for more than an hour or so – to make it ideal for our activities. Still, it puts out a constant 700 lumens brightness over 3.5 hours – so, it's already an upgrade from the Ultra Rush battery technology. All good signs! 
NOTE – if you need hazardous explosion protection rating – the DUOS Z1 and Z2 both have ATEX ratings for use in explosive environments.
Let's get started with the PETZL DUO S HEADLAMP PRE-REVIEW!
DUO S SPECS (some info missing because as yet, unreleased)
Dimensions (longest): 6.3cm x 3.8 cm x 3.8 cm (3.5″ x 2.0″ x 1.75″)
Weight:   grams ( oz.). Battery:  g. (2 oz.)
Bulbs: Three CREE LEDs. Life – 50,000 hours.
Red Light: None.
Lock Feature? Yes, the first turn of the selector knob is difficult.
Redundancy for Beam Failure? None.
Power Modes: Manual lighting – 6 mode selections.
Max Lumens: 1,100 lumens. Other beams are: 700 lumens for 3.5 hours; 430 lumens spotlight beam for 4.5 hrs.; 330 lm for 6 hrs; 180 lm for 12.5 hrs; and 80 lm for 23 hrs. There is a 45 minute reserve light which puts out 20 lm.
Max Beam Distance:  200 meters ( yards)
Run-time Range:  __ (unsure) minutes at max brightness to 23 hours on emergency lighting.
Battery Rating: proprietary battery technology – can only use replaceable batteries from Petzl. Batteries appear to be a revised ACCU 2 and will not be compatible with older style.
Recharge Time:  __ hours empty to full. Micro-USB charging.
Water Resistance Rating:  – 2-meter underwater submersion and 1-meter drop on hard ground.
Warranty: Bulbs –  years. Battery –  year.
Tilt Range: 180°+ the entire beam compartment can be rotated backward into the strap to protect the face of the headlamp – nice.
Number of Tilt Clicks:  __ (__° per click)
Special Technology: Computer chip keeps brightness level constant throughout battery life until the very end where it down-powers to give a minimal beam for emergency use.
AVAILABILITY DATE? February 2018
LET's SEE WHAT WE'VE GOT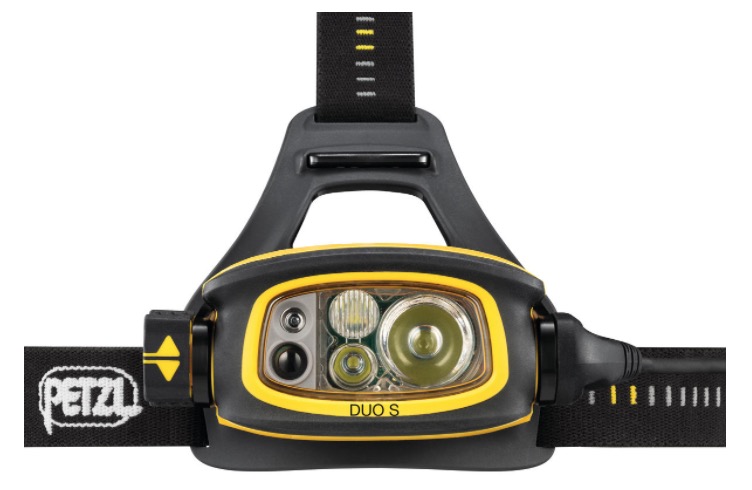 FIRST IMPRESSIONS of PETZL DUO S
When I am able to get this headlamp delivered, I'll have full first-impressions listed here. What I can say already is that I'm somewhat impressed by the advancements Petzl has made in the design of the headlamp unit for the DUO S. There seems to be 3 different beam types in the unit – one main bright CREE LED beam covering a wide area, one smaller focused beam to brighten the center, and a soft beam which must be for close-in use while reading a book or working on something – a car or other – while in close proximity. Makes much more sense than the Ultra Rush's 6 of the same beam types.
FACE2FACE – this is a new idea from Petzl, where the headlamps can sense other DUO headlamps and dim each beam when the beams cross while looking at each other. This saves the eyes, which is important, as anyone who uses headlamps in the presence of others knows! I wish it sensed ANY headlamp, but maybe that's coming next year?
MATERIALS – CONSTRUCTION QUALITY
The DUO S appears to be built similarly to the ULTRA RUSH. That means very hard plastic combined with soft but durable rubber pieces and comfortable head strap and molded plastics. I'm excited about the new DUO S. I can't wait to get my hands around one. The profile of the DUO is thinner than the Ultra Rush. Other differences include a new way to crank the selector knob which is more like the Nao Headlamp series – turn and let go, to reach each selection.
I have had no issues in the past with build quality for Petzl headlamps – I have 6 headlamps at this time, and all have proven themselves worthy of very high rating for toughness and durability over time. I've owned three of the headlamps for more than two years – and never had any problem.
Petzl headlamps are well-designed, tough, durable, and you can count on them to get the job done.
Overall impression? I cannot wait until I have this one!
WATERPROOFING
Petzl is now calling these DUO S headlamps 'waterproof' – not water resistant. This is a change from previous announcements for headlamp units which were IP X8 water resistant – which is quite good. I wonder if they've ramped up the water resistance, or if they just realized their headlamps are better than IP X8 and yet don't want to flaunt it. Either way, you can count on the fact that if you drop the DUO S in a puddle, a stream, a lake without significant depth – you'll be able to use your headlamp just like always when you pull it out of the water.
Shockproof? Petzl is calling the DUO S "DURABLE" at the moment. Full spec-sheet has not been released yet.
EXPLOSIVE ATMOSPHERE PROTECTION
The Petzl DUO S does not have any explosive hazard rating – and should NOT be used in potentially explosive environments. If you need a headlamp with this protective rating – see the Petzl DUO Z2 which has an ATEX 2/22 rating and puts out 430 lm. OR, the new DUO Z1 which has a higher ATEX 1/21 rating and puts out 360 lm. These new DUO Z1 and Z2 effectively replace the PIXA series which was rated for explosive conditions but put out much less light (60-90 lumens).
BATTERY LIFE and OPTIONS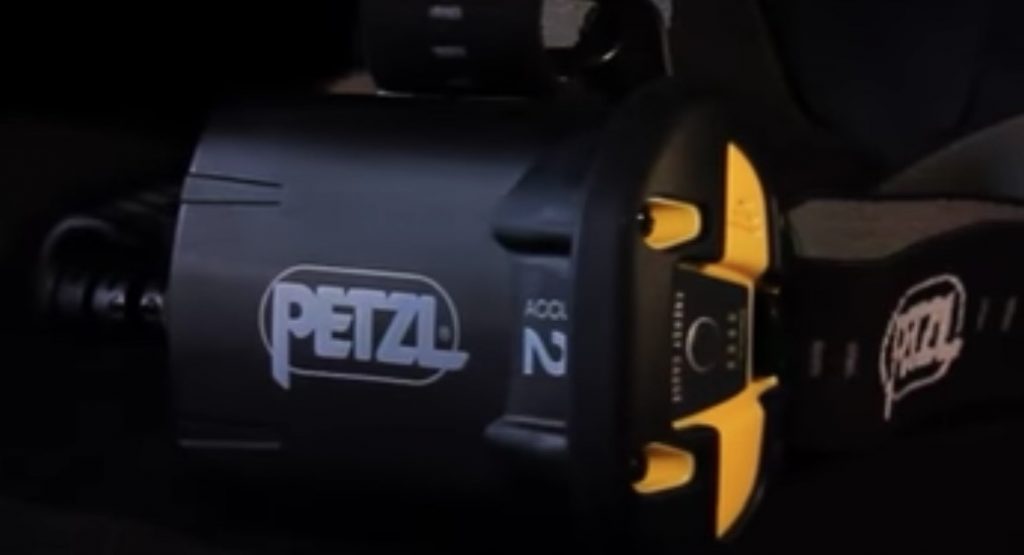 The battery in the new DUO S has been redesigned for 2018 and it is waterproof and a Lithium-ion rechargeable like we all know and love. Either the battery has been given more power than the ACCU 2 battery used in the Ultra Rush headlamp, or, the efficiency in the CREE LED bulbs has been improved to give longer battery life. This is evident in the 700-lumen setting where the DUO S can crank out that amount of light for 3.5 hours now. That's getting really good.
The Ultra Rush can crank 760 lumens for 2 hours. The difference of 60 lumens is negligible depending on the beam shape and which beams are in use – so this is a dramatic improvement already. One that I'm excited about to say the least.
The battery specs have not been released, so I have no idea whether they increased the mAh or not. Will soon let you know!
Battery life is a HUGE factor in headlamp use, and it's great to see Petzl doing something about the industry's lack of serious battery life.
Need a somewhat brighter light? The Petzl Ultra Rush > has 760 lumens for about 2 hours battery life. This is my favorite headlamp for 2017, but for 2018 – this one you're reading about now – the DUO S is probably going to be my 2018 favorite headlamp. Oh, I forgot to mention – the DUO S has a BOOST mode which cranks out 1,100 lumens. There is no time listed for that feature – so it may be only 30 minutes or so. Anxious to see…
DUO S BEAM QUALITY
There are 3 separate beams in the DUO S. That's a big change from the model this headlamp is matched up against – the Petzl Ultra Rush. The Ultra Rush has 6 beams but they are all the same type – give the same diffuse beam and are combined to make a beautiful beam shape for the final output.
The DUO S has a large CREE LED beam for general use. Another beam is a spotlight – a focused beam that will light up the center somewhat brighter than the outsides of the beam. There is also another diffuse wide-angle flood beam which is good for in-close applications like reading a book or working on a car in close-proximity.
I can't wait to see what the result is when the beams are combined in various combinations. You can see by the chart below what they call each setting.

Note – there is no red-light night mode, or strobe on the DUO S.
SETTING OPTIONS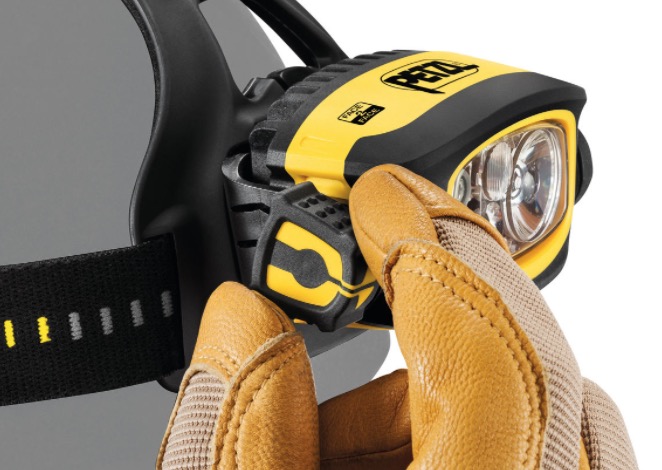 Cycling through the power settings is as simple as turning the large grippy selector knob on the right side of the DUO S. It is not known at this time whether "Boost" mode is going to be the 6th selection, or if it's going to be a crank and hold operation. I really hope it has its own selection and we don't need to keep a hand on it to keep it cranked up to 1,100 lumens. These new knobs are similar in look to the Ultra Rush knob, but they operate like the NAO series lights. Just turn about 15° and let go, if you do this 6 times, you'll cycle through all lighting profiles for the DUO S.
WHICH ACTIVITIES IS THE DUO S BEST FOR?
The size, durability, and strength of the light the DUO S headlamp puts out is really ideal for a number of things. I think it will be ideal for many different activities especially because they've added some different types of beams into the unit. Now it isn't the same beams trying to do everything, like in the Ultra Rush – so each setting can be appropriate for different activities.
DUO S IS GREAT FOR:
adventure hiking, exploring new areas
bicycling – mountain bikes on trails, or road bikes on streets
cave exploring (spelunking)
running long distance, slowly – as in ultra-running. A bit heavy, but great lighting system.
skiing
walking trails or streets
wildlife excursions at night – it's perfect, and this is what I will use it for.
Petzl DUO S Headlamp PROS
1,100 max lumens makes it the brightest headlamp Petzl makes
Strong, durable, comfortable
Decent battery life
Waterproof to 2 meters deep for at least 30 minutes (waiting on exact water resistance rating)
Multiple beam types give it added functionality
DUO S CONS
Max lumens of 1,100 is probably not going to be more than 1 hour of use. They may have a more powerful battery option to extend this time.
Heavy for fast running.
No custom settings? No Bluetooth interaction with iPhone app? Not sure, no info released yet.
Price? I hope Petzl has come down on the price a bit, and they don't overshoot the Ultra Rush's $430. Under $400 would be nice. I did see one site offering a pre-order for $450. God, I hope we're not going there.
CUSTOMER RATINGS
No ratings yet – untested at this time. Release date in February 2018.
Headlamps101 Rating
Quality of Build – _ Stars ***** .
Beam Brightness – 5 Stars ***** 700 lumens at 3.5 hours is great.
Beam Quality – _ Stars  Not sure yet – will review.
Battery Life – 4 Stars **** Quite good, not perfect, but definitely getting better!
Water Resistance – 5 Stars ***** Petzl is calling it "waterproof" so I think this is going to be the most water-resistant headlamp Petzl has, along with the DUO Z2.
Price – _ Stars **** Not sure! I really hope they don't go higher than Ultra Rush's price.
DOWNLOAD USER'S MANUAL – not available yet.
PRICE and AVAILABILITY
This Petzl headlamp is available in the USA, France, and some countries in Europe. The company started in France, and is now making headlamps and other climbing gear and outdoors gear in Malaysia.
Petzl DUO S, Z1, Z2 Video highlighting the ability for workers underground and at night – to work seamlessly in many different environments.
If you are like me, the comfort of knowing that you're actually going to receive the items you order – is very important. There are very few places I trust when ordering items over $50 or more. I use online shopping for everything I can. If I can't find it there, I'll try to find the item at some other online chain, but I can almost always find everything I need online.
Is the Petzl DUO S the Best Headlamp Ever?
The feature set of this headlamp is pretty phenomenal, and we love Petzl, so we're looking forward to giving this headlamp a high rating in 2018. Stay tuned for the full review of this headlamp as we get our hands on a couple of them.
What are the Best Headlamps in 2017-2018? >
Comparison of our Top 4 Headlamps HERE >