[Page Updated: 1 June 2022]
Petzl headlamp company has been developing cutting-edge headlamps and caving helmets for decades. You'll probably want to go with the set up below. It features a Petzl Helmet (Petzl Helmet) and ULTRA VARIO three CREE LEDÂ bulb caving headlamp. The beam is ultra-wide – giving the best possible light disbursement for illuminating the interior of caves.
PETZL ULTRA VARIO HEADLAMP and TRIOS CAVING HELMET
The latest Petzl ULTRA VARIO headlamp has a 520 lumens output, which is bright enough for most situations – but you might want to bring along a flashlight with a tighter beam to show further distances. Both helmet and ULTRA VARIO headlamp are submersible up to one meter deep for up to one minute. In practice, with repeated submersions, you should be fine. Headlamp manufacturers always under-sell the capabilities of their headlamps for safety reasons. In any case, you'll want to have at least one full backup light while caving, and please don't spelunk without a partner!
Full specifications for the ULTRA VARIO 520 lumens TRIOS caving headlamp below (scroll down). NOTE – this helmet will also work with the NEW PETZL ULTRA DUO S, Z1, and Z2 headlamps released in 2018. These are more expensive headlamps, but they have some unique features you may appreciate.
Choose the Headlamp on the Helmet below, or type another search in to browse more options.
ULTRA VARIO TRIOS CAVING HEADLAMP
Description
Ultra-bright Cree light beam with up to 520 sustained lumens
Focused, long distance beam on setting "4" to 210 meters
Constant lighting ensures that brightness doesn't dim until necessary for reserve mode.
Four Manual Lighting Modes: 1. ambient mode: wide, less powerful beam optimizes burn time and avoids blinding other people. 2. Proximity mode: flood beam for proximity vision. 3. Movement mode: mixed spot and flood beams optimizes power for route-finding and illuminating large areas. 4. Distance vision mode: highly focused beam allows maximum distance vision with a small, tight beam shape.
ACCU 2 ULTRA Lithium-Ion high-performance rechargeable battery (2600 mAh) :
– strong and compact, charges in 3.5 hours. Lithium-Ion technology for excellent performance at low temperatures.
Easy to use: Rotating selector knob is easy to use, even with gloves, allowing rapid access to different modes. Quick connection system allows quick and easy removal of the battery. Light flashes to signal transition to reserve mode. Front and back comfort plates with adjustable elastic headband for an excellent fit on the head.
Rugged – Waterproof to -1 meter for 30 minutes. Excellent resistance to falls, impacts, and crushing.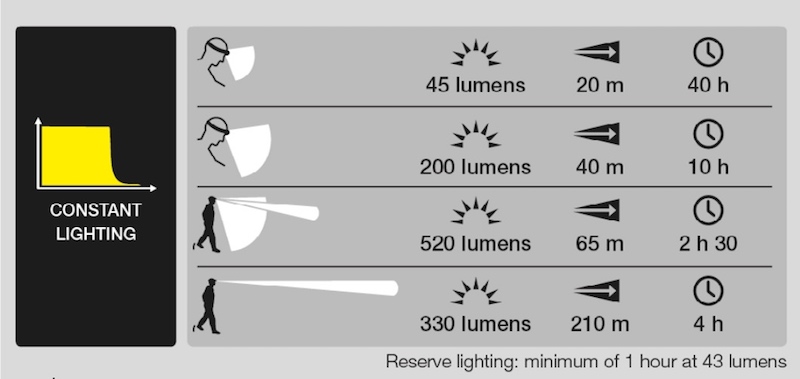 ---
Ultra-powerful multi-beam headlamp.
IP 67 protection – from dust and water submersion up to 1 meter deep for a 1-minute duration.
Before first use
Fully charge your rechargeable battery with the Petzl ULTRA QUICK CHARGER. Read the Energy section before performing this operation.
Nomenclature of parts
(1) ULTRA VARIO headlamp, (2) Headband, (3) Mode selector, (4) ACCU 2 ULTRA, (5) ULTRA QUICK CHARGER, (6) Front helmet mounting plate, (7) Rear helmet mounting plate. Switching on & off, brightness selection
PETZL ULTRA VARIO USER MANUAL – PETZL ULTRA VARIO HEADLAMP USER MANUAL (PDF)
The ULTRA VARIO headlamp offers a choice of four lighting modes:
Mode 1: low intensity, wide beam
Mode 2: close-up work, wide beam
Mode 3: movement, mixed beam
Mode 4: long-distance vision, focused beam, maximum range
The ULTRA VARIO lamp offers constant lighting performance over the
entire given battery life. When the batteries are nearly spent, the light dims abruptly to the minimum lighting level: reserve mode. The ULTRA VARIO gives reserve lighting of at least 43 lumens, that lasts at least one hour.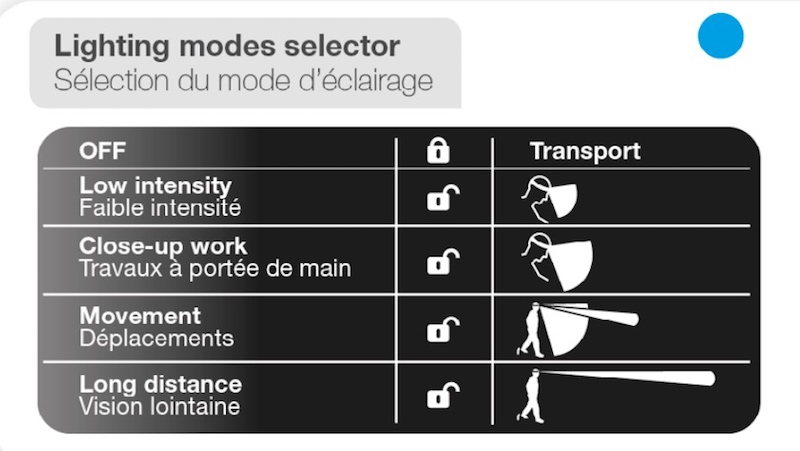 Eye safety – This headlamp is classified in risk group 2 (moderate risk) according to the IEC 62471 standard.
The lamp is not recommended for children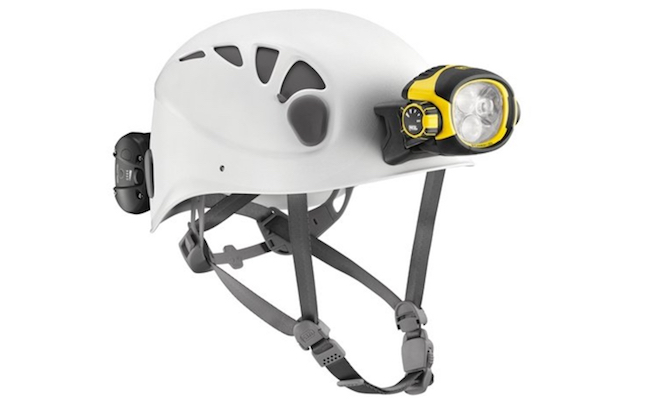 Risk of retinal damage from the emission of blue light, particularly
in children.
Do not stare directly into the beam. Possibly hazardous
optical radiation emitted from this product.
Avoid aiming the lamp's beam into another person's
eyes.
Thermal Regulation
The ULTRA VARIO is equipped with a thermal regulation system to
prevent the lamp from overheating. In certain conditions, you may
observe a significant reduction in brightness as the headlamp compensates for too much heat by reducing light output. This does not occur often, only in emergency overheating situations.
Never cover the ventilation holes behind the optics. They allow
dissipation of the heat generated by the lamp.
Removable helmet mounting plates
The ULTRAÂ VARIO lamp can be worn without the headband on certain helmets. For mounting on the VERTEX and ALVEO helmets, use the included mounting plates:
Front plate for the lamp.
Rear plate for the rechargeable battery.
Mounting plates for the ELIOS helmet sold separately.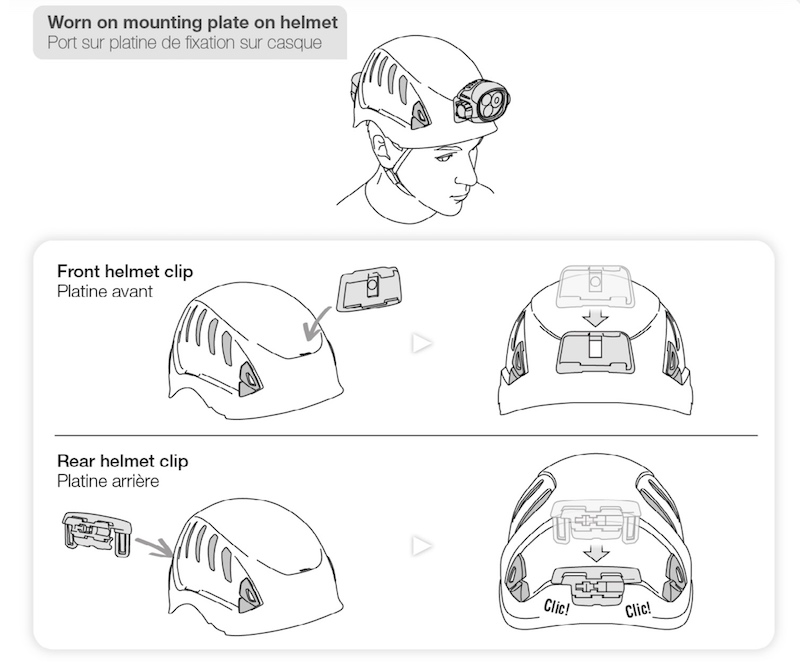 Batteries
Petzl rechargeable battery (Lithium): ACCU 2 ULTRA (E55450): 2600 mAh
Before use, the battery must be charged only with the Petzl ULTRA
QUICK CHARGER E55800. Verify your battery's charge level by pushing the Energy Gauge button. The Bar Graph system will light for 3 seconds.
Attention: verifying the charge level must be done with the lamp
turned off or unplugged. When the battery is almost discharged, the lamp blinks and
automatically switches to reserve mode.
The Li-Ion rechargeable battery loses 10 % of its capacity per year.
It can be recharged 500 times. (After 500 times, it still has 70 % of
its original capacity.)
Storing rechargeable headlamp batteries
To extend the life of your rechargeable battery, store it in a clean, dry
place at temperatures between -20° C and +25° C. Do not hesitate to recharge a battery that is partially discharged or that has been in storage for more than two weeks. Non-use of the rechargeable battery for a year can cause it to deteriorate. For long-term storage (more than 6 months), recharge it to 50 %.
Store the rechargeable battery unplugged.
Headlamp Precautions
Warning, incorrect use can damage the battery. Risk of explosion
and burns.
Do not dismantle or modify it.
Do not submerge in water.
Do not reverse the polarity of the plug on the charger or the lamp
when connecting a plug (they are designed to help prevent this).
The rechargeable batteries are individually tested. Contact Petzl if
you have any doubt about the condition of the battery.
When to retire your equipment, Immediately discontinue use of any rechargeable battery having a cracked or broken casing; if it emits any odor or heat; changes color
or shape; is leaking electrolyte or shows any type of irregularity. Retire it.
– Do not put a used rechargeable battery in a fire, do not attempt to
destroy it. It may explode or release toxic materials.
– Do not drive a nail into the rechargeable battery, do not strike it with
a hammer, do not crush it.
Petzl ULTRA VARIO "Ultra Quick Charger 5800"
This 100-240 V~, 50/60 Hz charger can be used worldwide with the
appropriate adapter plug. Duration of the charge – The time for a complete charge is 3h30 for the ACCU 2 ULTRA. When the battery is fully charged, the self-regulating system stops charging it.
Charging indicator
A red light is lit when the battery is charging. When charging is complete, the light turns green and the battery is kept at full charge.
Precautions
Batteries must always be charged at a temperature between 0 °C
and 40 °C.
Do not leave the rechargeable battery in a charger that is not
connected to a power source. Doing so will rapidly discharge the
battery.
Do not recharge non-rechargeable batteries, there is a risk of explosion.
Recharge only ULTRA batteries with this charger. Recharging other
types of batteries may cause personal injury and may damage the
battery and charger.
Do not use with an extension cord.
Do not leave a rechargeable battery in the charger if the battery
emits any odor or heat, changes color or shape, is leaking electrolyte,
or shows any type of irregularity.
Do not expose the charger to rain or snow; electrocution may result.
Do not operate the charger if it has been subjected to a significant
impact or fall.
If the charger is damaged (the power cable for example), do not
disassemble the unit. It must only be repaired in Petzl workshops as special
tools are required.
To reduce the risk of damage to the plug, pull the plug and not
the cable when you are disconnecting the charger.
To avoid the risk of an electric shock, unplug the chargers before
attempting any maintenance or cleaning.
Electromagnetic compatibility – Conforms to the requirements of the 2014/30/EU directive on electromagnetic compatibility. Warning, an avalanche beacon in receive (find) mode can experience interference when in proximity to your ULTRA headlamp. In case of any interference (indicated by static noise from the beacon), move the beacon away from the headlamp.
Stroboscopic effect
Warning concerning the use of the VARIO lamp in mode 3 near rotating
machinery. If the lamp's lighting frequency (145 Hz ± 10 Hz) is identical to (or a
multiple of) the machine's frequency of rotation, the user cannot see
that the machine is rotating.
In case of malfunction – Check the contacts for corrosion (rechargeable batteries, cable connectors). If corroded, clean the contacts by gently scraping them without bending them. Verify that the cable connectors are properly connected. If your lamp still does not work, contact Petzl.
Maintenance, cleaning
Use optical wipes or hand-wash the lamp in lukewarm soapy water.
Do not wipe with an abrasive product. Take care to avoid scratching
the lens. Do not wash with a high-pressure cleaner. Only the
headband may be machine washed.
Storage, transport – After each use, dry the Ultra Vario headlamp, the elastics and the rechargeable batteries. During storage and transport of your product, keep it away from exposure to UV, moisture, chemical products, etc..
Modification, repair
Any modification, addition to, or repair of the equipment other than
that authorized by Petzl is prohibited.
Protecting the environment – Lamps, LEDs, and batteries should be recycled. Do not throw them in the regular trash. Dispose of these items by recycling them in
accordance with applicable local regulations. By doing so you play a part in protecting the environment and public health.
The Petzl guarantee – Do not attempt to dismantle the Ultra Vario headlamp. Dismantling the lamp voids the guarantee. This lamp is guaranteed for 3 years against any defects in materials or manufacture. The rechargeable battery is guaranteed for one year or 300 charge/discharge cycles. Exclusions from the guarantee: normal wear and tear, oxidation, modifications or alterations, incorrect storage, damage caused by accidents, by negligence, by leaking batteries or by use for which this product is
not intended.
Recently I saw some of the top climbers in the world using these helmets. Petzl must be doing something right! Surely 2021 has more in store for us! Stay tuned…
We review headlamps good for any action sport including skiing, running fast, trail running, hiking, camping, fishing, working around the house, reading books. Almost anything.
BUY THE ULTRA VARIO CAVING HEADLAMP HERE
Petzl Trios Caving Helmet and Headlamp
---
Not for Caving, because the format above is much better, but the number 1 headlamp in 2022 is the one below: