[Last Updated: 1 June 2022]
What's the best headlamp for Herpetology? What IS herpetology? You know, looking for reptiles and amphibians in their natural habitat. It's odd to most people, but that's how I got started with headlamps, to begin with.
Here's the headlamp most herpers are finding fits their needs. It's BRIGHT, DURABLE, has long-lasting BATTERY, and the light is the RIGHT QUALITY/COLOR.
I spend on average about 25-30 hours each week roaming around Thailand's hot and humid rainforest near my home looking for snakes, lizards, geckos, birds, slow lorises, and anything else I can find. I've used about twenty-five headlamps over the years now, and I think I'm qualified to answer the question after ten years of herping in Thailand for reptiles and amphibians at night – hundreds of trips. I herped over 200 times just in 2016, over 200 times in 2017 I crushed that in 2018 – because a lot of friends came for months at a time. In 2019 – who knows what's possible?
Best Headlamp for Herpetologists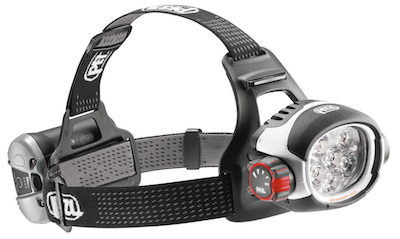 Not wasting any time – here it is… "The top headlamp for herping is the Petzl ULTRA RUSH headlamp with 760 lumens maximum light output." See why that's true in the following sections. We'll look at a few crucial areas that are important for herping in the rainforest, and which headlamps have what it takes in each section.
Petzl Headlamp Brand
The brand says a lot. You don't want to take a $25 rip-off brand into the forest at night as your only headlamp. I did just that for the first couple years, thinking – these cheap lights are just as good as the more expensive headlamp brands. I was disappointed a number of times when my light broke, then my backup broke, and there I was heading home hours early because I didn't spend enough money on good equipment.
Ferdnand Petzl started making tungsten light headlamps back in the 1980's. Really. Over the years, the company has adapted to modern day technology and even began implementing some tech before other companies in the same space.
I've had five Petzl headlamps, and all have performed brilliantly.
I've read a hundred or so reviews at online retailers who sell Petzl headlamps, and the consensus is that it is one of the best brands for headlamps. Personally, I think it's the best brand of headlamp available. Their company is currently located just north of Kuala Lumpur in Malaysia.
Headlamp Brightness
The Petzl ULTRA RUSH headlamp cranks 760 lumens full time for 2 hours. Now, hardly anyone needs 760 lumens for doing two hours of anything, so it's more like there is that max as a boost which is ready to help you see something you might not normally be able to see with 430 lumens, the next setting down.
I've found the ideal setting for herping with this Petzl light is to set it at the third-highest setting. This gives 430 lumens for 5 hours. I can use that for looking on the ground in front of me as I walk, and also for wildlife close in the trees nearby. At 430 lumens, it is easy to see ground or trees 30 meters away.
If I need it, I crank it up to the fourth setting – and bang – 760 lumens lights up the area like a jet plane's headlamps. Seriously, the entire forest lights up like daylight at that setting. I've used this headtorch on the road as I road cruise for snakes and it is about 6 times brighter than my motorbike high beam. No joke!
Headlamp Beam Shape, Quality of Light
Petzl's Ultra Rush headlamp has an amazing beam made up of 6 Cree LED bulbs all firing at the highest power. The focus of the beams is at the center, so it's slightly brighter there, but overall the focus is just right for herping at night because the beam isn't too wide, and it isn't needlessly tight like a spotlight.
The light itself is very white – without blue or orange tint – that's very important because this quality of light facilitates finding snakes or any other wildlife. Orange tinted beams are the worst, but blue-tinted beams are nearly as useless. The blue light unnecessarily bothers my eyes too. It is no coincidence that the iPhone and now my Mac computer offers night mode. It makes the whites warmer, so there is less stress on the eyes. Every Petzl light I've used has the same or very similar quality white light produced, so this is another reason most of my headlamps are Petzl brand.
Headlamp Battery Burn-time
I used a combination of the Petzl NAO 2 and the Petzl TIKKA RXP for a year because neither had enough battery power to light up the forest for an entire night of herping. The NAO 2 has 575 lumens, and it's definitely bright enough. The quality of light is perfect as well. It's just that the battery only lasted about 105 minutes on high manual setting – which was the setting I used most frequently. When it died, I'd switch to the TIKKA RXP which was a different light shape but did the job for the next two hours.
The ULTRA RUSH gives me very close to the same lumens on level 3 as the NAO 2 gave on the high manual setting. But, I get 5 full hours at that setting. It's really nice to never have to worry about whether I'll have enough light for a long night of herping. I have enough – just with the one Ultra Rush!
What I usually do is keep the ULTRA RUSH set at the third level (430 lumens) as my main lighting source, then I crank it up to high – 760 lumens as needed. If I'm road cruising, I'll also turn it up to high. It's nice to have that power on tap.
Best Herpetology Headlamp – Reasonable Cost
If you're not very serious about herping, and you only go out a couple of nights a year or month, you're going to want a cheaper but reliable headlamp. I'll suggest one.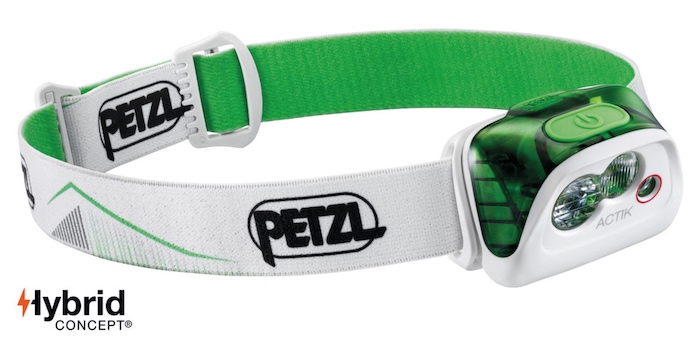 Petzl ACTIK CORE 350, the headlamp featured above, is a simple and lightweight do anything headlamp that is perfect for kids, or anyone without real serious needs in a headlamp. What I mean is, you'll want something better if you're relying on your life for it. In a cave, you'll want something better. Running in an ultra-marathon across mountain peaks? You'll want something better. This is a fine light for simple uses!
WAIT – get the upgrade for only a few dollars more. The ACTIK CORE 450.
Petzl Reactik+ Plus is a 300-lumen headlamp with Reactive Lighting Technology which saves battery and keeps you out in the forest for hours at a time. You can use it for many other activities, and it won't break the bank. You'll still have to get used to the idea of paying for a quality light, but it's nothing like the Ultra Rush in terms of cost. A bonus is that you can set up custom lighting profiles with your smartphone, using the My Petzl Light app.
Alternative headlamps over $100 that are great for herping:
We cover the top headlamps of the year and give you the specifics.
---
Any action sport including skiing, running fast, trail running, hiking, camping, fishing, working around the house, reading books. Almost anything.