[Page updated: 1 June 2022]
The new headlamps are coming in the mail and I was excited to see this Black Diamond ICON Headlamp with 500 lumens max brightness arrive today. With today's choices by Black Diamond being so poor, I fully expect the ICON headlamp to be the ONLY one I recommend from this company.
It has an interesting feature set – with White, Red, Green, and Blue lights – plus strobe. Plus soft touch. Plus dimming. Plus, it's IPX67 – completely waterproof. It does claim some outrageous battery life of 20 hours at full-power (500 lumens). I highly doubt it, and I think they must have either made a typo error – or, they are not taking into account battery drain. We'll soon see! (Update: the brightness falls considerably from 20 minutes in.)
Table of Contents

amazon.com
---
After opening the box – I have Positive and Negative points to cover. At least I have some positive! I wasn't expecting much – so I'm pretty happy about what I've found already with the BLACK DIAMOND ICON – 500 lm.
Black Diamond Icon Pros
Bright spotlight beam. The spotlight beam is bright enough for 30 minutes to do very active sports like running fast or cycling slowly.
Lightweight! Includes battery strap to put on the body instead of the head if needed (probably want).
AA Rechargeable batteries are convenient. This makes is easy to always have extra batteries available for extended activities.
White, red, blue, or green lights. Variety is better for some people.
Waterproof to 1 meter deep. Good for very heavy rain
Good for most slow activities. A good headlamp for slower activities where you don't need to crank the light down further than 45° toward your feet.
---
Black Diamond Icon Cons
45° Swivel isn't enough. The entire functionality of the light is compromised because the swivel of the headlamp goes only to 45° down. Meaning, 90° down would be pointing at your feet with the lamp on your head. Every other headlamp has that except the cheaper Energizer Hard Case headlamp.
500 max lumens lasts only 20 minutes. Dimming starts, the batteries don't hold a constant brightness like lithium-ion batteries. If you need high lumens only for minutes at a time, OK. This is certainly NOT the headlamp for a night run, triathlon, ultra-trail run, mountain bikers, etc.
Unbalanced. Heavy batteries in the back of the head and ultra-light headlamp in front is unbalanced and pulls the light higher on the head – meaning, the lame 45° swivel you DO get, is made even less functional. This must be the reason they include the body strap in the box so you can wear the battery off the head.
---
BLACK DIAMOND ICON | 500 Max Lumens
DESCRIPTION
You may have seen me talk badly about Black Diamond on this website before. It's true, I didn't like their headlamps at all for years. I couldn't believe they were still on the "Best Headlamps of 2017" and other lists. It was laughable. BD's early headlamps are poorly made and very underpowered. Is this ICON any better?
I had a chance to go out into the rainforest last night with it. I found that it isn't very good for anything requiring bright light for distances beyond 5 meters. I used it for looking for wildlife for about 20 minutes before the power slowly started fading off.
Let's get started with the BLACK DIAMOND ICON HEADLAMP REVIEW!
---
BLACK DIAMOND ICON HEADLAMP SPECS
Dimensions (headlamp beam case): 4 cm x 7.6 cm x 4.6 cm (1.6 x 3 x 1.8 inches)
Weight: 300 grams (10.6 oz.). Lamp – 204 grams (7.2 oz.). Batteries – 96 grams (2.5 oz.).
Bulbs: Two CREE Warm White LEDs. Life – 50,000 hours.
Red, Blue, Green Lights: Yes – high; low; dim function for gradations.
Lock Feature? Yes – 4-second long button push.
Redundancy for Beam Failure? Three separate beams: low white; high white; colors.
Power Modes: Manual.
Max Lumens: 500 lumens which degrade over time. After 30 minutes I could see a loss of light beginning.
Max Beam Distance: 40 meters ( yards) box says 125m – not even close to that.
Run-time Range: Box states 70 hours high mode (flood and spot beams on) at 500 lumens. The reality is not even close to that. You get 500 lumens for about 20 minutes, it starts dropping off gradually from there. By one hour, the light was about half as bright as 500 lumens.
Battery Rating: 4 AA batteries. No rechargeable lithium-ion option. Can use rechargeable AA batteries.
Recharge Time: N/A.
Water Resistance Rating: IPX 67. One meter submersion for up to 30 minutes. Says nothing about being shock-proof and the ability to keep working after dropped on hard ground.
Warranty: 3 years.
Tilt Range: 55° – not well designed. Flat against head results in an 80° beam from vertical. Cranking the headlamp down to limit results in it being a 55° angle of movement. Cannot point it down far enough to see close in front of you. I cannot use for Herping at all because the weight of the battery pack in the back is unbalanced and pulling the headlamp up higher on my forehead. That's a problem because it cannot tilt down more. Bad design.
Number of Tilt Clicks: 3 clicks.
Special Technology: Power touch allows a touch of the finger to the side of the unit to choose different brightness settings. Holding button on top allows the dimming of any color beam. Strobe effect. Red, Green, Blue lights – all fairly bright at max. Lock feature.
---
Black Diamond Icon | Ratings
Quality of Build – 2/5 Stars ** Very thin plastic and no drop-rating, means poorly made. The strap is of poor quality as well.
Beam Brightness – 3/5 Stars *** 20 minutes at 500 lumens is really bad compared to other lights.
Beam Quality – 4/5 Stars **** Color is slightly warm but OK. Beam shape is also nice – evenly spread out with bias toward the center like it should be. I just wish it lasted longer on high setting.
Battery Life – 2/5 Stars ** With Panasonic alkalines – horrible battery life. I will test more in the future with Eneloop Pros and other batteries, but I think it just gets worse. Black Diamond overstates battery life by 69+ hours at 500 lumens. It lasts 20 minutes, not 70 hours at 500 lm.
Water Resistance – 5/5 Stars ***** As good as we've seen. Highly water-resistant.
Price – 3/5 Stars *** At around $100 USD, you are far better off to get a better-made headlamp with far better functionality. The Petzl ACTIK CORE is a great alternative at about half the price. The new Petzl Swift RL is about the same price, and besides the colors of light, is a better headlamp in many ways – including weighing one-third as much and having a great rechargeable lithium-ion battery.
Note – Black Diamond headlamps continue to lack major functionality. They simply cannot compete with anything on the market – even Nathan headlamps, which is saying something. I would strongly advise against buying the Black Diamond Icon until they start acting like a person will be wearing their headlamps. Not being able to tilt the headlamp past a 45° angle is ridiculous.
---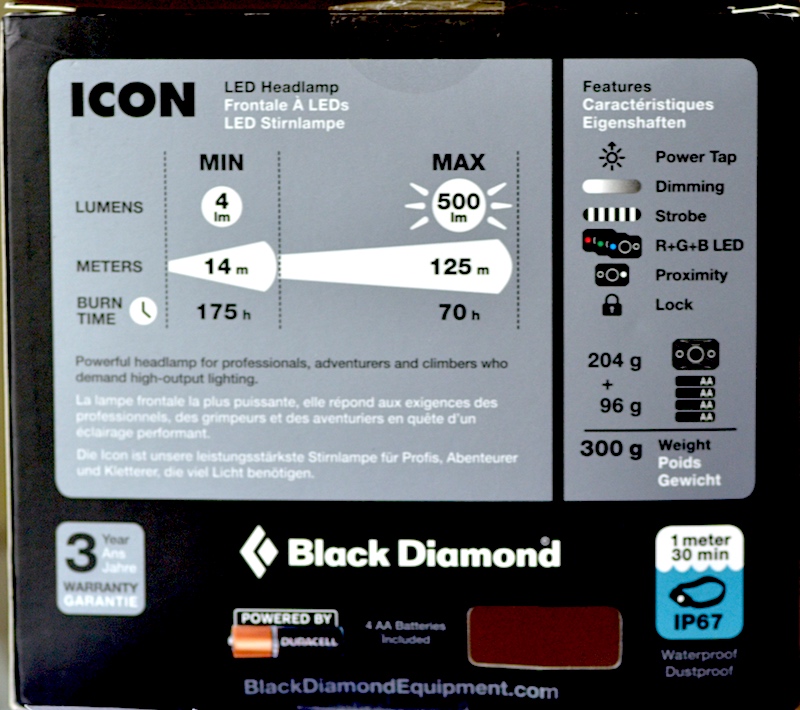 LET'S SEE WHAT WE'VE GOT…
---
BLACK DIAMOND ICON FIRST IMPRESSIONS

The Icon headlamp unit is super-lightweight and is very compact (small). The plastic on the entire unit is very thin. Perhaps that's why they don't have a shock rating for this headlamp. The red, blue, and green beams along with strobe are a novelty – and maybe someone will find them useful.
The Power Touch easy adjustment feature on the side of the headlamp isn't always easy to make work. They include a strap so you can wear the battery in a harness instead of on your head. That would make sense because the batteries pull down in the back of the head and pull the lamp too high on the head.
SOME Good, SOME Bad. The Bad Outweighs the Good.
---
MATERIALS – CONSTRUCTION QUALITY
Less than impressed with the thin plastic on the headlamp in all areas. The strap is the thinnest I have seen on a headlamp, but it probably adequate. The ICON is lightweight, and could be used for a lot of activities that don't require moving fast, or looking down on the ground in front of you – the angle of the lamp cannot go past 45°.
The ICON has no shock-proof rating. I am pretty sure, if dropped, the BD ICON will break from a meter or two-meter high fall on concrete or other hard surfaces. I won't be trying it!
Overall first impression? Some great features, but poorly implemented, and it's as if the features were the entire point of the headlamp, not the basic functionality.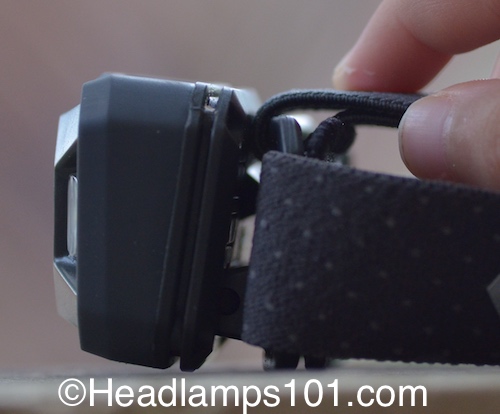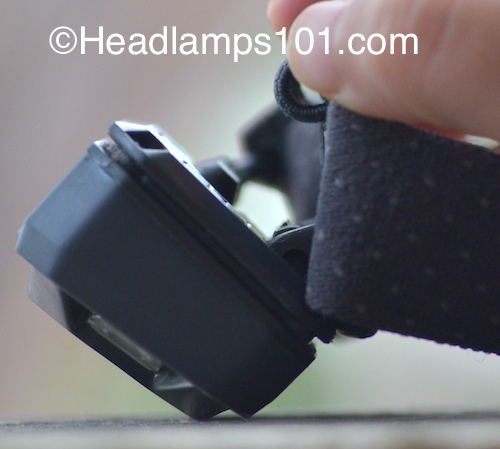 I can already see I won't be recommending this ICON headlamp for much of anything. It just can't provide even basic functionality with a headlamp swivel that only swivels 55 degrees to a 45 degree angle. Even for fishing – you'd need it to crank down to about 80° to tie a hook or lure on.

amazon.com
---
WATERPROOFING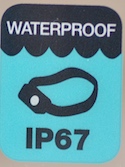 These headlamps have the highest water resistance rating we've tested – at IP X67. They can stand submersion in one meter of water for at least 30 minutes. Hard rain will be no problem.
Shockproof? Nothing mentioned. Don't drop it!
---
ICON BATTERY LIFE and OPTIONS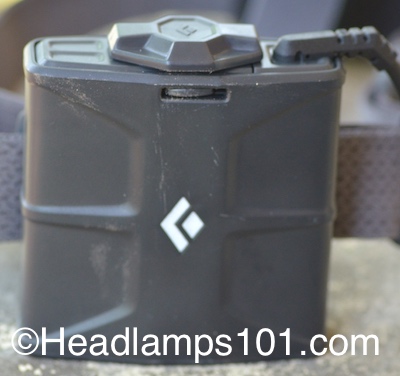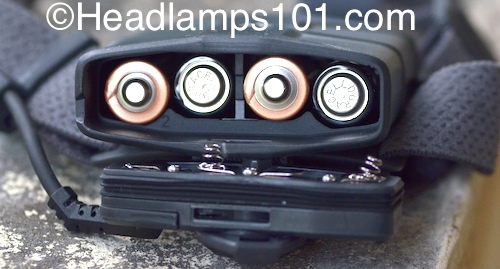 The batteries in the Black Diamond ICON headlamp are 4 AA batteries. Alkaline preferred.
These days, almost every headlamp has a lithium-ion battery option. Some also offer AA or AAA batteries as an option, but few choose to limit the headlamp to ONLY AA batteries.
On the package, Black Diamond states the headlamp on "low setting" will last 175 hours at 4 lumens. That might be good for Anne Franke, but for anyone else, 4 lumens is not going to provide enough light to do anything but maybe count your fingers.
At HIGH setting, BD says the ICON will last for 70 hours. In a way, that's true. It will provide light for 70 hours, but only the first 20 minutes will give you 500 lumens. I saw a drop-off in brightness after 20 minutes, and 30 minutes it cut down considerably. They don't mention how long the blue, red, or green lights will last, and I didn't test them because I don't think anyone will be using those more than a few minutes at a time.
Need a brighter light for running, cycling, skiing, or other activity? The NAO+ is our recommendation for almost every activity except caving or wingsuit flying.
---
ICON BEAM QUALITY
There are 3 beams in the ICON Headlamp. One small CREE beam is dedicated to colored lights. The big beam in the center is the white spot beam. There is also a smaller wide beam that turns on for proximity lighting (in close). It's weak and is good for reading books or something else where diffuse light is needed.
The spot beam has high and low settings and a boost that gets it up to 500 lumens. There is a dimming function that means you can choose the perfect amount of light by holding the top button down while any color light is on. It cycles lower, then higher so you can choose which one works for you. It's a cool feature that every headlamp should incorporate.
Colored beams are activated with a 2 second hold down then two clicks to get a color. Strobe is activated with 3 clicks from the off position. The lock is activated with a 4s long click.
The flood beam is weak and has low, medium, and high settings. It could be useful for reading or fishing if you could turn the beam down at a better angle (more to the ground).
The white balance of the white light is pretty good. It is slightly warm, but it looks good while it's bright. When the battery loses power over time and the white beam dims, the color looks more orange and is less than ideal (too warm).
---
BLACK DIAMOND ICON SETTING OPTIONS
Cycling through the power settings is as simple as pushing the one plastic button on top of the headlamp. I'm not sure if 2 buttons would have made it easier to remember everything, Black Diamond may have implemented this the best way possible. Still, there is a lot to know about how to cycle through all the different options. Refer to the image below – they include this small guide to help figure it out.
---
WHICH ACTIVITIES IS THE ICON HEADLAMP BEST FOR?
I think some people will really enjoy this headlamp for the following activities:
short distance running
short or long-distance night hiking
reading books in a tent (with the light off the head pointing to the book)

amazon.com
---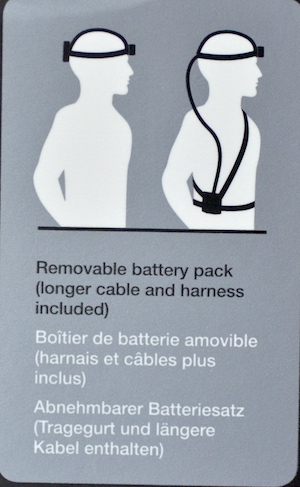 ---
CUSTOMER RATINGS
I'll rate the light myself below. Keep in mind, this means it is up against some very good (and more expensive) competition.
DOWNLOAD USER'S MANUAL – Cannot find one online yet.
---
PRICE and AVAILABILITY
This ICON headlamp is sold a lot of places. If you're set on getting one, it would help our little family if you ordered it here.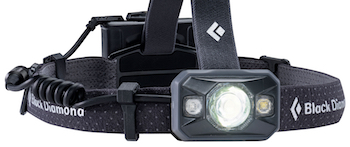 amazon.com
---
If not time to buy this one, you're probably looking for something more like the Petzl ACTIK CORE 350 here. Or, the upcoming new Petzl Swift RL here.
Comparison of our Top 4 Headlamps HERE >
---