Coming in January 2022, this is the latest headlamp to be developed at Petzl Labs and I'm really excited about it. I've been trying to guess the price, but to be honest, I don't have a clue. The last light with huge features was over $500 USD. The DUO S. I think few people bought it because it just didn't have enough to warrant that kind of price. DOES THE DUO RL have enough?
Guess WHAT? I just found a video by a Petzl representative on YouTube talking about the new DUO RL. He says it is 3,000 lumens and IPX68 instead of 67. Unfortunately, that's about all I could gather because it's in Dutch language. WHOA. This new Petzl headlamp may be even better than I thought. The presenter has 2 units right there with him, so I guess he knows the specs. I pulled mine from the Petzl website.
Table of Contents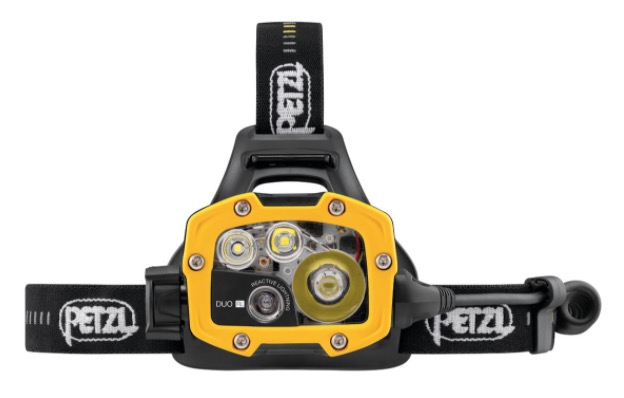 The DUO RL Headlamp | 2800 Lumens
This is a pre-review of this new unit from Petzl. We have some information, but not all of it. We could deduce some things by the videos and scant information on the official website. Apparently the 2800 lumens brightness rating is some of the usual hype. This brightness level is only available in Reactive Lighting mode which is the auto-adjusting brightness setting designed to save batteries as it adapts to the environment in front of you.
The highest brightness setting on manual mode will be 1800 lumens and the battery can supply that for up to 90 minutes.
Which still IS NOT bad. It's excellent, really. I think I'm just really excited to finally get an ultra-tough headlamp out of Petzl. Sure, their build quality for all their headlamps is a step ahead of the other manufacturers, but now we have a solid metal unit that houses the bulbs, dustproof, waterproof, crushproof, AND bright bulbs. AND a variety of bulbs for spotlight and flood light settings. I'm quite stoked, if you can't tell.
---
Petzl DUO RL Pros
Super Bright. 1800 lumens on manual setting may last about 90 minutes, but that is bright enough for any fast activity. 2,800 lumens for any amount of time is also a godsend.
Ideal Beam Focus. Spotlight far, near, and floodlight covers everything we need for any activity. The ability to change the beams used is ideal and what we could use in every headlamp.
Perfect White Light Balance. We expect the light balance to be true white without any orange or blue tint, as for all Petzl headlamps.
Built Tough! Aluminum construction is a first for Petzl, and we expect it will be very tough. They're already saying drop-proof and crush-proof. They don't usually make those claims, so it must be very durable.
Submersible! The video on their site said submersible in freshwater to 3 meters depth for 30 minutes. That means it will far surpass that, they are always conservative with their water resistance ratings. Website says IPX67. Guy from Netherlands says IPX68.
Great for any activity except long-distance running. This is a heavy unit at nearly 400 grams.
---
Petzl DUO RL Cons
Ultra Expensive. Price will almost surely be $500+ USD.
Charging Time. 4 hours to full charge is still too long. I'd like to see 2 hours for this price-range.
Heavy. 390 grams (13.8 oz.) Running will not be comfortable. Probably fine for downhill skiing and mountain biking.
---
TESTIMONIALS FROM DUO RL USERS
VERN LOVIC (Thailand snake guide). – This is the headlamp I have been waiting for. It isn't light enough yet, and the battery doesn't charge fast enough for my needs, but other than that this new DUO RL is going to be perfect for most of my activity needs. Petzl simply doesn't offer another headlamp with this bright output and this tough construction (aluminum body).

---
DUO RL DESCRIPTION
Strong aluminum headlamp construction with strong strap and large battery with 3400 mAh capacity. Everything about this new headlamp speaks to its strength and capabilities. This headlamp is not only tough, but they added Reactive Lighting Technology (RL) to it to save on battery use. RL is an automatic mode that chooses the best light output depending on conditions. You don't need the same lumens to read a map as you do to look down a road at an approaching dog. The DUO RL adjusts the light output to save battery and gives you just what you require in almost all situations. I have this tech on my SWIFT RL PRO and NAO+ headlamps and it's quite an advantage.
At 390 grams, this headlamp is even heavier than the ULTRA RUSH headlamp that I love so much. This is a heavy light and fast movements of the head will not feel great while wearing it. The DUO RL seems perfect for survivalist types and SHTF types as it is super tough and will last a lifetime.
The DUO RL uses 3 CREE LED bulbs when it is turned on. You can control which beams are used with a turn of the selector knob on the right side of the unit. There is a manual output setting and the Reactive Light mode. The shape of the beams is perfect, I'm sure. I've been very happy with the quality of beam shape and light color quality with all my Petzl headlamps.
If you need the best light you can find – this is probably it. Price will likely be around $500 USD. If you don't need a light that is THIS good, you may be happier with an ACEBEAM H30. It has a completely different design, but it's tough, waterproof, metal, bright, and cheaper.
---
DUO RL SPECS
Dimensions (longest): 6.3cm x 3.8 cm x 3.8 cm (2.5″ x 1.5″ x 1.5″) All are approximate until our unit arrives.
Weight: 390 grams (13.8 oz.). Battery pack: 160 g. (5.6 oz.)
Bulbs: Three Cree LED's – mix of spot and flood. Life – 50,000 hours life expected.
Red Light: None.
Lock Feature? Yes, just reverse twist the beam selector to show the 'off' position.
Redundancy for Beam Failure? Yes, if one fails you have 2 more.
Power Modes: Manual control and Reactive Lighting technology (RL).
Max Lumens: 2800 to 3000 not sure yet.
Max Beam Distance: 170 meters (186 yards)
Run-time Range: 2 hours (760 lumens) to 38 hours (65 lumens).
Battery Rating: ACCU 2 – Two 2,600 mAh rechargeable 18650's, proprietary
Recharge Time: 3.5 hours quick charge (fully charged from empty) From experience it never takes 3.5 hours. It is fully charged in 2-2.25 hours from empty. This may be a function of Thailand's electricity being 240 V.
Water Resistance Rating: IP67 – 3-meter submersion in freshwater for up to 30 mins.
Fall, Crush, Impact Resistance – Yes.
Dustproof – Yes.
Warranty: Bulbs – 3 years. Battery – 1 year.
Tilt Range: 90° – points straight down to the ground from the 90 Degree position.
Number of Tilt Clicks: 9 (10° per click)
Note – this is going to be one of our favorite headlamps ever in 2022. We can't wait to order one. Yes, they are very expensive, but Petzl makes the best headlamps in the world.
Price at Petzl.com or Amazon? Unavailable. Cannot find online yet (12/2021).
---
PETZL DUO RL RATINGS (28 out of 30)
Quality of Build – 5/5 Stars ***** Aluminum and strong. Straps look heavy. Battery resembles ACCU 2 which was solidly built.
Beam Brightness – 5/5 Stars *****
Beam Quality – 5/5 Stars *****
Battery Life – 5/5 Stars ***** The battery life chart below looks really good.
Water Resistance, Shockproof, Dustproof – 5/5 Stars *****
Price – 3/5 Stars *** I don't think I can give it any higher than 3 stars for price, though the value here is considerably more than the ULTRA RUSH headlamp they charged $460 for years ago. I can't help thinking that the technology here is nothing new and the price should be dropping. Maybe I'll be pleasantly surprised. I think $300 is more like a fair price for this tech. $325? Something like that. They'd sell a lot of them at that price.
MATERIALS | CONSTRUCTION QUALITY
This DUO RL looks to be of the highest construction quality Petzl has ever put out, including the Pixa line, which was plastic.
Aluminum body, strong seals, strong plastic, heavy strap… these are the qualities Petzl is known for, and I have no doubt they won't disappoint with this top-of-the-line headlamp.
The selection knob appears to be very similar to the ULTRA RUSH headlamp. It is large and bumpy, ensuring an easy grip – with, or without gloves. To select a brightness level – you twist the selector forward and let go – like the NAO+ selector. The head-strap is wide and cushioned and is a nice material that shouldn't smell after sweaty a few times. None of my Petzl bands ever smelled. Not sure how they do that.
The battery in the back and the front are somewhat balanced. The battery is slightly heavier. Moving slowly, one could probably wear it for a few hours before fatigue set in..
Overall impression? IMPRESSED!
---
WATERPROOFING
The DUO RL has the highest water resistance level I've seen for a Petzl headlamp. That's IPX67. It can resist water (freshwater) for up to 30 minutes at 3 meters depth (about 10 feet). It is impervious to dust and can be dropped on hard surfaces without shattering or breaking. It is crush-proof. Meaning, if you fall on it, you won't damage the light.
---
DUO RL BATTERY LIFE and OPTIONS

The battery configuration inside the battery pack is probably the same as the old ULTRA RUSH headlamp which was two 2600 mAh batteries. Those were available separately for about $160 USD. I hope this new battery replacement is a lot more reasonable. I can buy an entire new Petzl NAO+ headlamp for that!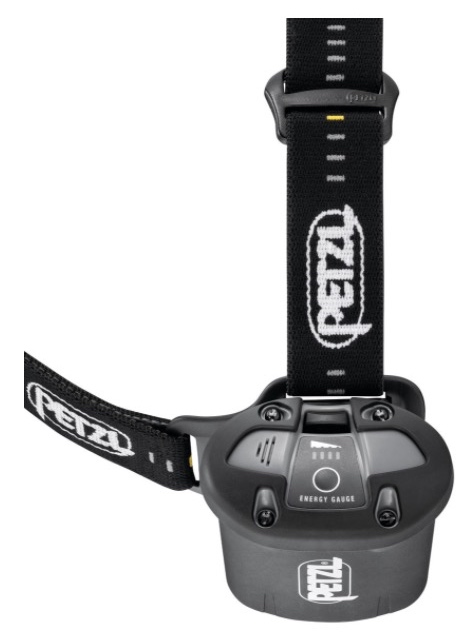 The massive battery power available is one main reason to get this headlamp. Look at the power output above. 1800 lumens for 90 minutes? That's great. 450 lumens for 6 hours. I also like the 20 lumens setting for 72 hours as the emergency reserve. That's great. Usually a headlamp will give you like 2 lumens, 6 lumens… 20 is reasonable!
---
BEAM QUALITY RATINGS
There are three CREE LED bulbs giving us a mix of flood and spot patterns. six beams from high-efficiency CREE LED bulbs, a mix of flood and spot.
There is no red-light mode or red flashing light on the back of the battery pack on this DUO RL headlamp.
---
SETTING OPTIONS
Petzl seems to have used the same setting configuration on this headlamp as the NAO+. You twist the knob forward and release to select each level of lighting. To go into Reactive Lighting you just hold turn the knob forward and hold it for a second, then let go. You'll be in RL mode and can cycle through by just turning the knob and letting go to cycle through them.
---
WHICH ACTIVITIES IS THE DUO RL BEST FOR?
This amazing headlamp is great for the outdoors because of its powerful set of CREE LED beams.
hiking – trekking
cave exploring (spelunking) – no worries about dunking in water.
downhill skiing
bicycling on street or trails
camping
a temporary replacement for a motorbike headlamp!
wildlife excursions at night – with the many light levels, it's perfect!
---
---
---
ADD-ON ACCESSORIES
There are probably going to be a number of add-ons you can purchase. I'll add them as the headlamp is released.
PETZL DUO RL USER MANUAL (a free PDF) – coming shortly
PRICE and AVAILABILITY
I'll take a guess and say this one is going to retail for $580 on first release. The prices tend to drop a bit over time, but probably we're not going to see numbers below $450 at any time. Petzl has some high-end buyers and businesses that tend to use their reliable products. They're almost like the APPLE of headlamps.
---