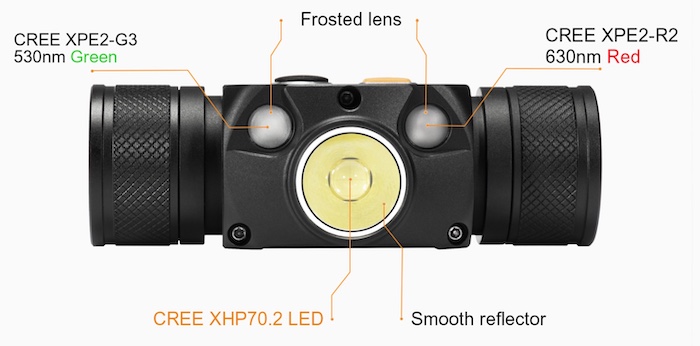 I was contacted by an ACEBEAM representative in China last week about reviewing their H30 headlamp. My first response is always – No Thanks, but I did take a minute to Google it and see what the specs were. 4,000 lumens!? OK, well, they had my attention. The headlamp looked very much like some other solid metal headlamps from OLight and Fenix, so I gave it a deeper dive.
I was actually excited to find out more about the unit. If what ACEBEAM was saying was true, this was going to be one of, or potentially my NUMBER 1 headlamp. Not joking. It seemed to have almost everything I had been hoping for in a headlamp. Tough, many lighting options, long-lasting battery, perfect color (6500k), completely waterproof, and multiple beam colors. THE H30 HAS ALL OF THIS.
Table of Contents
ACEBEAM H30 Ratings
Quality of Build – 5/5 Stars ***** As solid as anything we can imagine. This is a very strong unit that can take drops from 1m onto hard ground.
Beam Brightness – 5/5 Stars ***** I've never tested a headlamp of this strength.
Beam Quality – 5/5 Stars ***** It's magical. I couldn't ask for anything better for my own use-case, which is looking for snakes at night in the rainforests of Thailand. It is center-weighted and very smooth transition between the center and flood light beam fields.
Battery Life – 5/5 Stars ***** This is an incredible breakthrough. This small battery has twice or more power of a typical 18650 battery. This is their own proprietary battery technology that I'm sure will be copied by all headlamp companies shortly.
Water Resistance – 5/5 Stars ***** Submersible at 2 meters for an hour or more. This is one of the top headlamps in this category.
Price – 4/5 Stars **** Not expensive, but not cheap. I think it's priced right at around $120, considering it ticks all the boxes for so many activities.

Pros
Very Strong, Drop-proof, and Waterproof makes it on par with the top headlamps from Petzl.
4000, 2000, 1000, 380, and other brightness levels are useful for a wide-range of activities.
Lightweight at 151.5 grams with battery inserted.
Battery life seems impossible. It's that good.
White, Red, and Green CREE Bulbs and Ultraviolet and CRI options make it ideal for night activities where stealth or retaining night vision is essential.
Good Safety Options including 200 hours emergency light and strobe.
Cons
Charging Time is a bit excessive – over 3 hours using USB C 2A chargers. You can get around this by having a couple of batteries. They're quite cheap.
Expensive? Around $120. If you don't really need the extensive options and very bright lumens, it could be considered expensive. If you need them, it's priced about right for such a solid unit.
---
ACEBEAM H30 HEADLAMP | 4,000 LUMENS
DESCRIPTION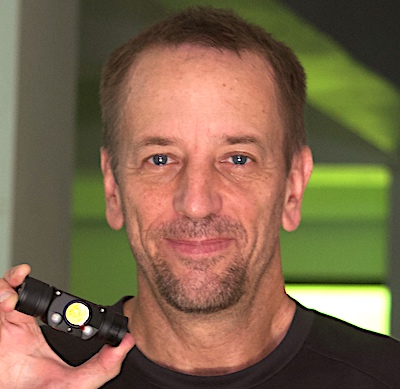 This is a new headlamp that is ideal for almost every activity except perhaps long-distance running because the unit can be heavy on the forehead over time.
Camping, hunting, bicycling, training runs, hiking, climbing, caving, skiing, or working around the house or business are all perfect use-case scenarios that the H30 fits. I've not been as excited about reviewing a headlamp ever before.
You can see the contents of the box in the image below. To be honest, I wasn't expecting anything great. I've seen China-made headlamps before and I wasn't that impressed. Fenix is a brand that comes to mind. Too little attention to detail. I was VERY surprised and pleased to see that ACEBEAM seems to have rectified nearly everything and produced a great headlamp that can be used for nearly anything. There is no spotlight beam, but that and the slow charging of the USB 2 Amp charging are the only two negatives I can even find after an extensive review.
Ideal for activities that are dangerous and require a lot of light. Skiing, Rescue operations, Fast Trail Running, Fast Cycling, Climbing, Caving… these are all easily handled by this headlamp. Note – when enjoying dangerous activities please, PLEASE carry a backup headlamp and batteries. Something could go wrong at anytime and to be honest, you really cannot rely on any headlamp made to get you out of every situation. Be smart and add some redundancy into your safety preparations.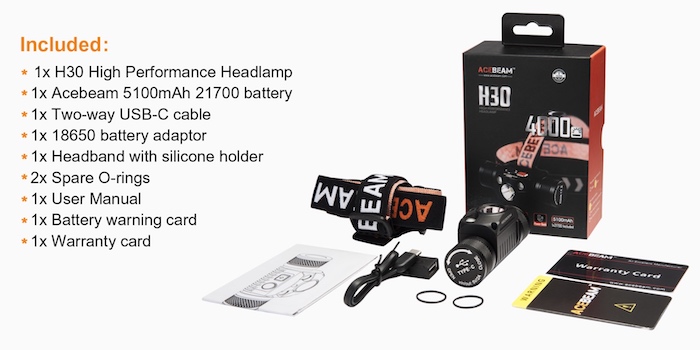 H30 Specs
Dimensions: 23 cm x 11 cm x 5.4 cm (8.94 x 4.45 x 2.13 inches)
Weight: 151.5 grams (5.3 oz.) with battery. 80 grams (2.8 oz.) for unit alone.
Bulbs: 3 CREE LED's. White (CREE XHP 70.2), Red 630 nm (CREE XPE2-R2), Green 530nm (CREE XPE2-G3). Main bulb life around 50,000 hours. Ultraviolet and CRI available as options.
Red Light: Yes, and Green, with the option for ultraviolet.
Lock Feature? Yes, a long push on a button locks and unlocks the unit.
Redundancy for Beam Failure? Color beams are separate.
Power Modes: All manual.
Max Lumens: 4000.
Max Beam Distance: 210 meters ( yards) on high.
Run-time Range: 200 hours at 6 lumens and 2 hours at 4,000 lumens with some drop-down to lower lumens when hot.
Battery Rating: 5100 mAh rechargeable Lithium Ion battery which is proprietary.
Recharge Time: 3+ hours from empty to full on a 2 Amp USB charger.
Water Resistance Rating: IPX68
Warranty: CREE Bulbs – 5 years. Battery – 1 year.
Tilt Range: You can choose and up to 180°.
---
ACEBEAM H30 MATERIALS | CONSTRUCTION QUALITY
The H30 is very strong and it doesn't give the impression that it can be broken. Certainly it will survive falls onto any kind of dirt. If you're in the rainforest or jungles of the world doing an ultramarathon or looking for bugs, you won't have to worry about breaking your ACEBEAM H30 when it hits the ground for any reason, even if you fall on top of it. This is the most solid feeling headlamp we own.
The head-strap is strong and thick and covered with rubber to grip your head, even when sweating.
The H30 is made of metal and hard rubber.
Overall impression? Feels unbreakable, like a Rolex or Leica camera of years ago.
---
WATER RESISTANCE
Fully waterproof and able to be submerged completely in water probably for hours. Probably for days. Headlamp companies are never that optimistic and tend to rate their units far below what they can really do. I think if you dropped this unit in the ocean and went back in a week and found it, you could turn it on and it would work fine. I can't overstate just how solid this headtorch feels.
---
BATTERY LIFE and OPTIONS
The battery life for the ACEBEAM H30 can be seen in the chart below from the manufacturer. FINALLY headlamps are beginning to get some decent battery life at high lumens output. It took years, but lithium ion battery technology is finally getting up to speed.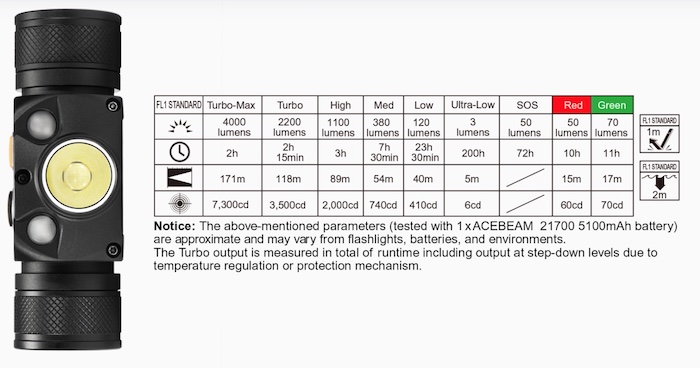 The H30 uses a proprietary battery that holds even more charge than the 18650 batteries you may be familiar with. They created their own to be able to crank out more power. This headtorch uses the 21700 (5100mAh) battery.
Seven and a half hours at 380 lumens is incredible, and I don't have any other headlamp that puts out that kind of power for so long. Eleven hundred lumens for 3 hours is also unreal. I love the battery strength and output of these headlamps. But, there's one thing I don't like.
The charging time to charge these units is almost unbearable. You're still going to have to buy an extra battery or two because you don't want to charge the drained batteries for 4-6 hours with the USB charger. I am experimenting with higher output USB devices to see if I can cut the time down a bit. Will add it here when I have good data.

Extra 21700 batteries are about $24.
---
BEAM QUALITY
There is just one LED beam that is used for the main white light and the red and green beams are separate. This may seem like a limitation at first, but really, ACEBEAM has chosen a beam width (span) that is perfectly wide for nearly all applications except hunting where a spotlight beam could be useful.
The white light is well-balanced and gives a true-to-life representation of wildlife and foliage in the forest at night. Max output 10,800 cd (candlelight).
Strobe and emergency lighting is exceptional!
---

---
WHICH ACTIVITIES IS the H30 BEST FOR?
There are many activities you can enjoy with this incredible headlamp.
running, hiking, camping, fishing
rescue operations, tactical ops, special operations
night tours
working indoors or outdoors
adventure climbing and caving (spelunking)
fast or slow cycling, skiing, skateboarding, scootering, and even surfing
---
CUSTOMER RATINGS
This relatively new Do-Anything headlamp is just now getting some ratings on Amazon and other retail marketplaces. The reviews have been very good, with most people commenting about the power output and long-lasting battery. The unit appears to be well-built for many tasks and is limited only by your lifestyle.
At Amazon currently, this one is enjoying a rating of 4.9 out of 5 stars with more than 20 reviewers.
---
PRICE and AVAILABILITY
The ACEBEAM H30 headlamp and extra batteries can be purchased online at Amazon here.

amazon.com
---
My H30 Video Review:
Comparison of our Top 4 Headlamps HERE >
---