The BioLite 750 is great for runners and some trail ultra-runners have been using it in races. This the first BioLite I've reviewed here at Headlamps101.com. I heard of them a couple of years back, but the design didn't interest me, to tell you the truth. Still, the design is a bit blocky, but plenty of people are singing its praises mostly because it features a comfortable design and is well balanced for running.
Table of Contents
Let's Check It Out!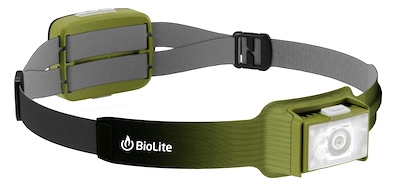 BioLite 750 Headlamp Pros
Good Battery Options – rechargeable 3000 mAh lithium-ion and pass-thru charging from any battery using the micro-usb cable.
Varied Beam Types. 8 different settings including red light flashing and steady in the back on the battery pack for visibility. One nice feature is press and hold the power button to dim whatever lights are active, including the red light on the rear.
Well-balanced for Running. Battery in back and light unit in front makes for a better running headlamp.
Focus on Comfort. The straps are thick and double up in the rear to support the battery pack. Surfaces are contoured to fit the head.
BioLite 750 CONS
Low Water Resistance. IPX4 just doesn't cut it for a headlamp around $100, or even $50.
Tilt Mechanism is Weak. Some reviewers said the headlamp cannot maintain chosen angle for long, it slips.
---
BIOLITE 750 HEADLAMP | 750 Max Lumens
DESCRIPTION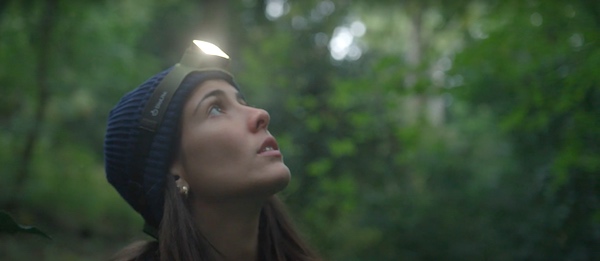 BioLite, Inc. headlamp company has been on the scene for a while for their portable wood burning electricity producing stoves. They started in 2006 in New York City and have expanded with offices around the world. They made their first headlamp in 2018. I remember seeing some of their first headlamps and thinking they had a long way to go to create something I'd use. Recently I saw some ultra-runners wearing BioLites and I thought I'd review their top unit – the 750 to see how much better it is than previous iterations. I've been pleased AND disappointed. Read on!
HEADLAMP SPECS
Dimensions: Big. They don't list dimensions, I guess because it's bigger than other headlamps.
Weight: 150 grams (5.3 oz.) including battery? They don't say.
Bulbs: Cree CRI 90 white bulb.
Red Light: Yes, on the rear battery pack is a light which flashes or holds steady. A separate power switch for it is on the top of the battery pack.
Lock Feature? Yes, a long button push for 8 seconds will toggle lock on/off.
Redundancy for Beam Failure? No, just one white light in the front. Though the rear red light may work if that light fails.
Power Modes: Manual.
Max Lumens: Burst mode gives 750 lumens for 30 seconds per push. Button on battery pack.
Max Beam Distance: 130 meters (427 feet)
Run-time Range: The Burst mode will give 30 seconds of light at 750 lumens with each push. High is 500 lumens for 2 hours on constant or 7 hours on regulated (gradually dimming). Medium is 250 lumens for 4 hours on constant and 8.5 hours on regulated. Low is 5 lumens for 150 hours with no regulated option. All modes have a reserve charge of 8+ hours at 5 lumens for an emergency.
Battery Rating: 3000 mAh (included)
Battery Options: Supplied battery, or plug into other USB power source with 1 meter long included cable for limitless power.
Recharge Time: 3 hours via micro-USB.
Water Resistance Rating: IPX 4, moderate rain and light splashing. Nothing about dust or drop-proof ratings stated.
Warranty: 1 year Holy Fit guarantee. Basically states that full money back if not happy within 30 days.
Tilt Range: Not stated.
Number of Tilt Clicks: Not stated.
---
CUSTOMER RATINGS
This headlamp gets decent ratings. BIOLITE Store: 3.9 out of 5 with 156 reviews. Amazon: 4.6 out of 5 with 460 reviews for their BIOLITE 200 headlamp. The 750 is too new for reviews at Amazon and has few sellers.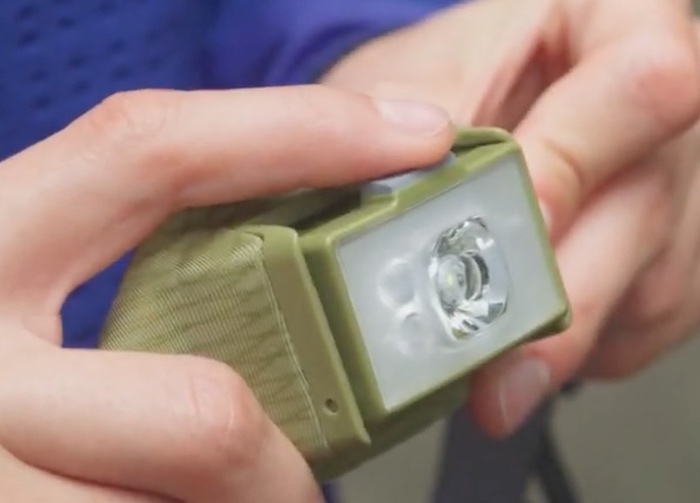 BIOLITE 750 RATINGS (16 out of 30)
Quality of Build – 3 out of 5 Stars *** Everything is fine except the tilt mechanism for the light unit. Cheaply done. Poor engineering.
Beam Brightness – 3 out of 5 Stars *** 750 Burst mode for 30 seconds isn't great. 500 lumens is high mode and can last for hours. That's nothing special.
Beam Quality – 3 out of 5 Stars *** One very small floodlight beam with a spotlight.
Battery Life – 3/5 Stars *** Average to below average. The 3000 mAh battery could be stronger.
Water Resistance – 2/5 Stars ** IPX 4 is about the bare minimum of any headlamp I've reviewed.
Price – 2/5 Stars ** With these options, and a company basically new to headlamps in 2018, the price should be around half of what it is.
---
FIRST IMPRESSIONS OF THE BIOLITE 750
This headlamp looks cheaply made and the part that is going to fail fastest is the hinge for tilting the light in the front. The straps are thick and comfortable. The unit is contoured to fit the head. Hard plastic is used throughout. The unit doesn't seem sleek or aero or uniquely designed, or anything really. It's pretty blah – as are the black and olive green color options.
This is basically a no-frills headlamp from a company that is used to making wood-burning stoves that produce electricity. They have a long way to go in the headlamp space as everyone, even Black Diamond, is far ahead of them. I hope their next headlamps are something special. I'd be happy to review them if that's the case. If not, I'll refrain from any more BIOLITE headlamp reviews.
---
MATERIALS – CONSTRUCTION QUALITY
Hard plastic lite body and battery compartment. Low water resistance. No stated shock or dust resistance. Straps are well designed, soft, and the unit will probably last for a couple of years.
Overall impression? Nothing special to see. Looks cheap. Not excited to own one.
---
WATER RESISTANCE / DUST / DROPS
IPX 4 rating for water resistance is super-weak and most Chinese-made flashlights you can buy at the dollar store can claim IPX 4 ratings. Not at all impressed with that.
Shockproof? Nothing stated. Not likely.
Dustproof? Nothing stated. Not likely.
---
BATTERY LIFE and OPTIONS

The 3000 mAh battery in the BioLite 750 is adequate for moderate runtimes, but it should be more like 3500 or more. The 3 hour charging time is decent but since we didn't have a unit to test in person, we're not sure on that claim.
The saving feature for this headlamp is that it offers pass-through power from any USB capable rechargeable battery via their supplied 1 meter long cable. You can keep a 10,000 mAh battery in your backpack and connect the cable to your headlamp and go all night with it if necessary.
Need a brighter light with better water resistance and
decades of reliability from the top headlamp company in the world?
The Petzl SWIFT RL PRO is one of our absolute favorite headlamps.
---
BEAM QUALITY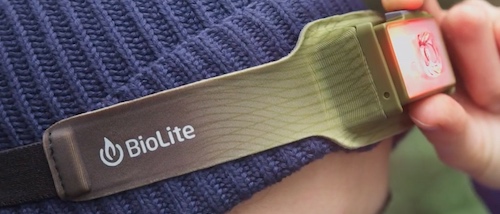 The two CREE bulbs in front consist of a tiny floodlight with evenly lit beam and a huge 'spot' beam which is just a more concentrated flood light and nothing like a true spotlight beam. Options include dimming. It's adequate for hiking or jogging.
The red light on the back is for visibility and doesn't produce any meaningful brightness you could use for other tasks like fishing or hunting.
One good feature is the ability to turn on and off the lights separately. The red light in the rear of the unit has its own power button.
---
LIGHT BEAM OPTIONS
Cycling through the power settings is as simple as pushing the rubber buttons on the top of the unit to control beam options.
Push the button on the front light unit to cycle through the lighting options:
1x – Red flood
2x – White spot
3x – White flood
4x – Combo white spot/flood
5x – Combo strobe (flashing). They call it strobe, but it flashes slowly, nothing like a strobe light.
6x – Off
Push the left button on the rear battery pack for the RED LIGHT options:
1x – Red rear flashing
2x – Red rear steady (.2 lumens)
3x – Off
Push the right button on the rear battery pack 1x for the Burst mode of 750 lumens on the white light combo in front.
WHICH ACTIVITIES IS THE BIOLITE 750 BEST FOR?
jogging and running on street or trail
slow bicycling on the street
hiking, walking, street or trail
fishing, hunting, camping activities
skateboarding
working outside on vehicles, or other heavy or light industrial work
PRICE and AVAILABILITY
This BioLite is available through various retailers around the world but we couldn't find it on Amazon. Not that we'd buy one!
Maybe browse around at BioliteEnergy.com if you'd like one.
---
Or, choose one of our other better headlamps from Petzl, ACEBEAM, or NiteCore below.
We strongly recommend the ACEBEAM H30 headlamp.
We love all of these Petzl headlamps: SWIFT RL PRO, IKO CORE, NAO+, NAO RL, DUO RL, ACTIK CORE
This NiteCore is priced well and does most of what the ACEBEAM H30 does.