We have never reviewed a NITECORE headlamp before, but we've borrowed friends' headlamps and used them in the rainforest over the past couple of years and been quite happy with them. This unit, the HC65, was sent to us direct from the company in Hong Kong a couple of months ago. We'd be more excited, but we also received the ACEBEAM H30 at the same time and it has become our favorite headlamp. Could this NiteCore headlamp replace it? Read on!
Table of Contents
NiteCore HC65 Ratings (27 out of 30)
Quality of Build – 5/5 Stars ***** Solid metal cylinder body, OK strap, and well engineered.
Beam Brightness – 4/5 Stars **** There was a time when 1,000 lumens meant a 5-star rating, but that time has passed!
Beam Quality – 5/5 Stars ***** It's good. It's basically a wide flood light that is strong enough to be appropriate for most activities except the fastest moving ones.
Battery Life – 3/5 Stars **** The battery is adequate. The battery is the typical 18650. It takes 7 hours to recharge.
Water Resistance – 5/5 Stars ***** Submersible at 2 meters for up to 30 minutes, but probably for much longer.
Price – 5/5 Stars ***** Around $60-80. A good price for the options offered. Read on to find out what all this headlamp can do.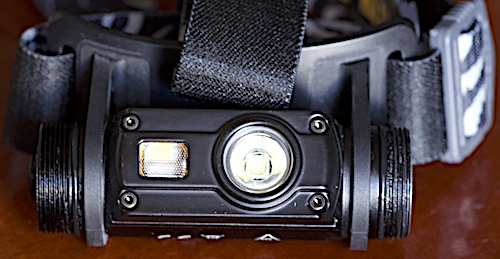 Headlamp Pros
Strong Anodized Aluminum Body, Drop-proof, and Waterproof puts it in the same company as the ACEBEAM H30.
1,000 Lumens Brightness. Good for most activities.
Lightweight at 138 grams with battery.
Battery Life is good.
White, Red, and Strobe Lights. Good for night vision.
Good Safety Options including 800 hours emergency light and strobe.
Headlamp Cons
Charging Time is excessive – it will take 7 hours for this unit to charge. If that's a deal-breaker for you, you might want to look at the HC65 V2 headlamp which charges fully in just 2.5 hours. It also has a brighter maximum lumens capacity. It is hard to find online.
---
NITECORE HC65 HEADLAMP | 1,000 LUMENS
DESCRIPTION
This is a new headlamp that is ideal for almost every activity except perhaps long-distance running because the unit can be heavy on the forehead over time.
Camping, hunting, bicycling, training runs, hiking, climbing, caving, skiing, or working around the house or business are all perfect use-case scenarios that the H30 fits. I've not been as excited about reviewing a headlamp ever before.
You can see the contents of the box in the image below. To be honest, I wasn't expecting anything great. I've seen China-made headlamps before and I wasn't that impressed. Fenix is a brand that comes to mind. Too little attention to detail. I was VERY surprised and pleased to see that ACEBEAM seems to have rectified nearly everything and produced a great headlamp that can be used for nearly anything. There is no spotlight beam, but that and the slow charging of the USB 2 Amp charging are the only two negatives I can even find after an extensive review.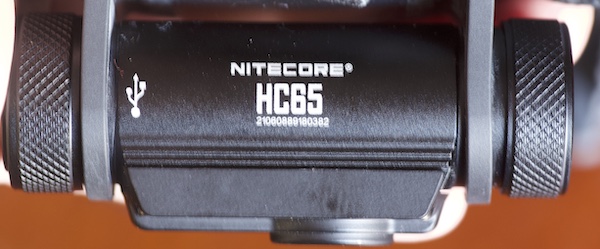 Ideal for activities that are dangerous and require a lot of light. Skiing, Rescue operations, Fast Trail Running, Fast Cycling, Climbing, Caving… these are all easily handled by this headlamp. Note – when enjoying dangerous activities please, PLEASE carry a backup headlamp and batteries. Something could go wrong at anytime and to be honest, you really cannot rely on any headlamp made to get you out of every situation. Be smart and add some redundancy into your safety preparations.
HC65 Specs
Dimensions: 83 mm x 33 mm x 27 mm (3.3″ x 1.3″ x 1.1″)
Weight: 63 grams (2.2 oz.) without the battery. Add 70g (2.5 oz.) for the 18650 battery.
Bulbs: 3 CREE LED's. White (CREE XHP 70.2), Red 630 nm (CREE XPE2-R2), Auxiliary low-light bulb for reading books. Bulb life claimed: 50,000 hours.
Red Light: Yes, with red and white strobe.
Lock Feature? No.
Redundancy for Beam Failure? Beams are separate and may work when one fails.
Power Modes: All manual.
Max Lumens: 1,000.
Max Beam Distance: 110 meters (361 feet) on high.
Run-time Range: 800 hours at 1 lumen for extreme emergency use and 1 hour at 1,000 lumens at the other end of the scale. Note, the unit may power down to lower brightness when overheating.
Battery Rating: 3400 mAh (3.7v) rechargeable Lithium Ion battery which is proprietary. OR, two CR123A store-bought batteries as a backup.
Recharge Time: 7 hours from empty to full.
Water Resistance Rating: IPX8, submersible.
Shock/Shatter Resistance: To 1.5 meters.
Warranty: CREE Bulbs – 5 years. Battery – 1 year.
Tilt Range: You can choose and up to 180°.
---
---
---
NITECORE HC65 MATERIALS | CONSTRUCTION QUALITY
The unit is anodized aluminum construction with an average head strap without rubber sticky gel to grab your forehead. There are reflective NITECORE logos on the strap for visibility. The ends screw on smoothly and it's obvious the headlamp was fairly well engineered. I'd have liked a foam pad for the forehead, but they just use the head strap as a cushion.
Overall impression? Feels pretty unbreakable, but if you hit the lens just right, I'm pretty sure you'd crack it.
---
WATER RESISTANCE
Fully waterproof and able to be submerged completely in water probably for hours, but they don't say exactly how long. Presumably this removes them from some liability. Other units of this quality can be submerged for hours, so you don't need to worry unless you lose it underwater and don't find it for a week.
---
BATTERY LIFE and OPTIONS
The battery life for the NITECORE HC65 headlamp can be seen in the chart below from the manufacturer.


The HC65 uses a regular 3400 mAh 18650 size battery (or two CR123A's).
Nearly five hours at 280 lumens is nice and probably where I would use it most often while in the forest at night.
The chart above looks good. This is about what I'd expect for a $60 headlamp in 2022. You know what they DON'T show you here? It takes 7 hours to charge the 18650 battery. You're going to need to buy some extras from the manufacturer or get a bunch of expensive CR123A batteries as backups if you're going to be out all night running or looking for bugs, or whatever it is you're doing.
Extra 3400 mAh 18650 NITECORE batteries are around $20 each on the NiteCore site, I cannot find them on Amazon. That may be because of Christmas.
Oh, I almost forgot. One crazy feature is that you can set the unit to blink a blue light off and on for up to 6 months so someone can easily find it. I'm not sure what sort of utility that has in the real-world, but someone thought it would be a nice feature. So, if you're leaving this headlamp on the ground in the forest for someone to find it and they know approximately where you left it, they should be able to follow the blinking blue light months later. I don't get it, but maybe you do.
---
BEAM QUALITY
The one CREE LED beam that provides most of the light is spread out at an angle of 100° and provides ample illumination for most activities. The red light is for stealth and saving your night-vision and is not very bright at all. The other bulb is the strobe.
The color balance is true white and gives an accurate representation of objects at night. The strobe and emergency SOS lighting is useful to have.
---

Â
WHICH ACTIVITIES IS the HC65 BEST FOR?
There are many activities you can enjoy with this incredible headlamp.
rescue operations, tactical ops, special operations
night tours looking for bugs, reptiles, amphibians, owls, anything you'd find at night
working indoors or outdoors on your home or vehicle
moderately fast or slow cycling, skiing, skateboarding, and scootering.
Â
CUSTOMER RATINGS
This headlamp has some great ratings. I have been told by friends that use it that they are more than happy owning one. My friends walk around in the forest at night too – looking for all kinds of wildlife. It rains often and is always very humid. This headlamp is built to withstand the environment. The reviews are overwhelmingly good.
The reviews have been very good, with most people commenting about the power output and long-lasting battery. The unit appears to be well-built for many tasks and is limited only by your lifestyle.
At Amazon currently, this one is enjoying a rating of 4.5 out of 5 stars with more than 168 global reviewers.
At AliExpress 77 reviewers rated it 4.8 out of 5 stars.
Â
PRICE and AVAILABILITY
The NITECORE HC65 headlamp is priced anywhere from $70 to around $90 depending where you purchase. You can check the prices at Amazon with the button below.
Â
My HC65 Video Review:
coming shortly…