[Last updated: 15 March 2022]
What is the Best Work Headlamp You Can Buy?
There are many different types of work and many headlamps which might match what you're doing. Not everyone can use this one (best for us).
In this article, we'll cover the 5 best headlamps for heavy construction, oil rigs, HVAC, working on vehicles, and other work uses.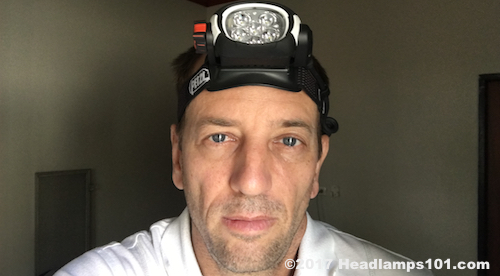 Headlamps range in price, primarily by the quality of the build. Before writing this, I checked out headlamps from Fox Fury, and other older manufacturers of headlamps from years gone by.
IF YOU'RE READY TO GET STRAIGHT TO IT…
---
Guess what? As I go to their websites, they have the same headlamps they've had for sale for the last 15 years. Lights with 40 lumens, 70 max. Headlamps which look like that thing the blind buy on Star Trek used to wear across his face. Come on. It's like they haven't innovated for the last decade at least.
For recent headlamp manufacturers, I checked out Black Diamond, Nolan, Fenix, and Petzl headlamps. Here's what I found…
Black Diamond Headlamps?
Clunky, box-type headlamps lacking in lumen output. It's unbelievable that this brand is showing up on headlamp review sites online for their old models! It's ludicrous really. These headlamps were appropriate about 9 years ago. Their time is over. I have to stop myself from writing the company and begging them to innovate. They must have the infrastructure in place, and yet, they are churning out garbage headlamps for some reason.
Wait, no. If you're on the garbage truck, you wouldn't want these headlamps. They are useless unless you get the top model.
Update: The Black Diamond Icon is a vast improvement, and worth considering. We included it on our Best Headlamps of list here.
Nolan Headlamps?
I thought the old Fox Fury and Black Diamond lights were bad. Then I found Nolan headlamps. These are even older models – 10-15 yrs old. I think they have stopped designing new headlamps for the last decade and a half and are just trying to sell their old surplus lights. These headlamps too – are on many of the best headlamps review sites because at one time, years ago, they were the best made. Today, just about everything is better, especially one of our favorite headlamps.
Fenix Work Headlamps
These are made in China and have a couple of things going for them. I can't deny, they are TOUGH. I have a couple of the HP25's, and an HL60R I borrowed and I used the HP25 for a year, probably 240 times. They still work fine. The headlamp beam characteristics are really poor – being ideal only for long-range spotting of animals for hunters.
The flood beam is too weak and too wide for much. The center spot beam is like a laser beam – focused and too small for much of anything except game spotting. Fenix has another couple models with higher lumens rating and slightly better beams, but they keep cranking out headlamps with tight center beams and weak, just about worthless flood beams. So, if you can use one of their headlamps for your work – whatever it is, you would be OK buying a couple of them (one as backup).
OLight Work Headlamps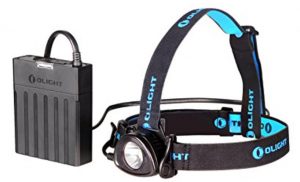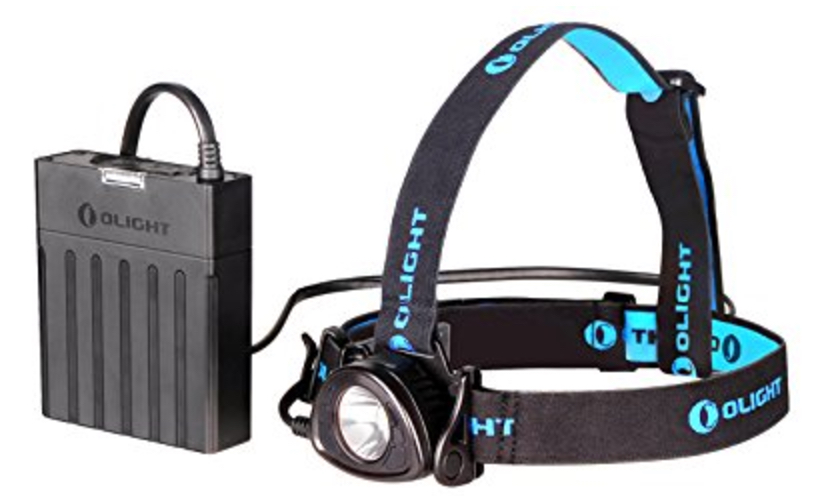 The Wave 25 is an interesting light that throws a very even flood beam, which could be very good for some work situations. It's great for caving too. The OLight beam has a color temperature that is on the warm side – the yellow side. I don't prefer it because it's too much like tungsten light, and I have become much more accustomed to CREE LED bulbs adjusted to daylight rating. You may find the OLight perfect for your needs though. Worth checking out! Then, when you decide it isn't right for your needs – check this one out, it's our best headlamp of 2022.
Petzl Work Headlamps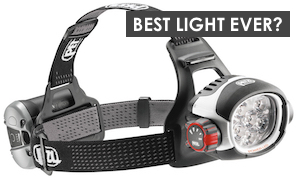 If there is another headlamp company on the face of this earth that is making better headlamps for such a variety of uses, I don't know about it. PLEASE TELL ME. I'd love to find another company making great headlamps which are half as expensive… even one-third as expensive as the Petzl headlamps I love.
Petzl beams cover all different ranges.
The MYO headlamp has a nice flood beam which is bright enough for most uses most people need it for. For work,
The Petzl NAO+ has a super bright beam with Reactive Lighting Technology which might fit your work habits. The beam can last for hours and hours – programmable with an application on your mobile phone you connect to the headlamp by BlueTooth.
The Petzl ULTRA VARIO has an evenly lit, wide flood beam which is rated for HVAC, and explosive work environments. If you don't need extremely bright light, this headlamp might be the one for you. Here are ULTRA VARIO Pros and Cons.
Petzl's ULTRA RUSH headlamp is simply the best headlamp I have ever seen or used. I have one for my own work use – herping field trips to find venomous snakes in the rainforest in Southeast Asia. This headlamp isn't right for every work situation, but if you need a very bright light from 65 to 760 lumens, you will definitely want to SEE THIS HEADLAMP.
One problem, the price. At the moment, it is retailing for around $430. That's SUPER expensive. It's a great light, and you'll pay for great equipment, but wow – right? As I said, I bought one, and I am very glad I did. Total satisfaction. Make sure you check out my YouTube video on this Ultra Rush headlamp – a full review, and then if it matches your needs – Just GET IT. Really, spend the money and get it. You'll be getting 30 years of Petzl manufacturing quality. You'll be buying peace of mind because you have the absolute best headlamp made.
---