While many people are very concerned about whether the headlamp they buy can handle their activities like running, cycling, camping, fishing, and skiing, some people want to know what the best headlamp is for reading books!
Lots of people love sitting in their tent, or at the campfire and reading a paperback book. The proper headlamp makes that possible, and enjoyable!
Our research shows that there are a couple of great outdoor headlamps for reading books in a tent or anywhere outside. Have a look at the headlamps we chose below and see which one is right for you!
Best Headlamps for Reading Books
Judging Criteria Used
Lightweight – No sense wearing a 1-pound headlamp on your head just to read a book! We choose only very lightweight headlamps.
Steady Beam Strength in Lumens – Petzl has some headlamps with Reactive Lighting Technology that adjust to the distance your subject is from the headlamp. This results in constant adjustments as you turn a page or change hands holding the book.
Fine Brightness Balance Adjustment – Ideally we'd find a headlamp that allowed dimming at many different brightness levels so the person reading the book can adjust the light perfectly.
Flood Beam – A spot beam is not appropriate for reading books, a nice even beam shape – flood beam – is ideal.
Reputable Manufacturer – Chinese no-name ripoffs abound in the electronic space. We chose only from companies that have high standards and who have been around for many years.
Our Daughter – The Reading by Headlamp Judge
Our daughter is 11 years old and frequently reads about a book a day. On this past Sunday we gave her a 350 page thriller and told her she had to read it in the tent in the living room with one of the 3 following headlamps. She used them all and decided she liked the lightweight and soft beam of the Petzl ACTIK the best. We agreed and so we gave the ACTIK 350 the #1 spot.
Note – a new headlamp, the reasonably priced NightBuddy may be a great alternative. It's like a headband with a row of LED bulbs. It has some other cool features. Review coming shortly.
#1 Best Reading Headlamp – Petzl ACTIK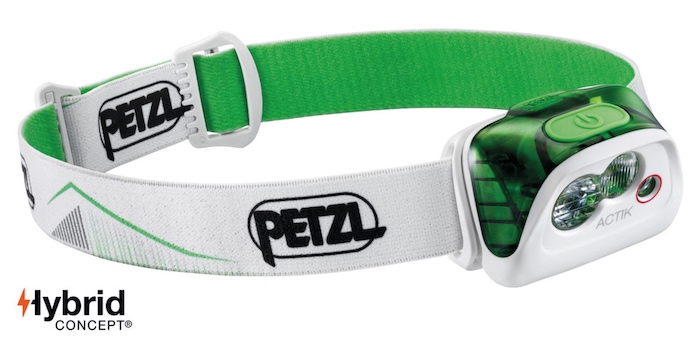 Up to 350 lumens brightness.
Ultra-lightweight ( 86 grams / 3 ounces).
6 lumens for 120 hours or 100 lumens for 12 hours. Low light flood setting ideal for reading by headlamp light.


---
#2 Petzl ACTIK CORE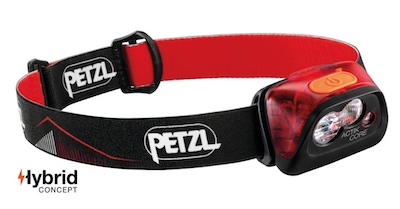 Up to 450 lumens brightness.
Ultra-lightweight at just 75 grams / 2.6 ounces.
Low light flood setting of 6 lumens for 130 hours or 100 lumens for 8 hours, both great for reading a book.
Red light you can use for quick tasks so you don't lose your night-vision.


---
#3 Petzl NAO+ Plus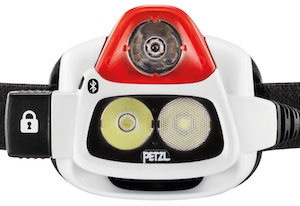 Up to 750 lumens brightness.
Ultra-lightweight at just 185 grams (6.5 ounces).
Low light flood setting of 120 lumens for 8 hours.
Programmable! You can choose any level of brightness using the MyPetzl app for your mobile phone. Custom lighting level – whatever you need!
See Full Review >

Any action sport including skiing, running fast, trail running, hiking, camping, fishing, working around the house, reading books. Almost anything.