[Page updated 1 June 2022]
When the Bluetooth app "MyPetzl" was released in 2016, it had some bugs. Since then I've been having nothing but good experiences with it because they've ironed out all the problems connecting the Bluetooth tech with the Petzl Nao+ headlamp.
We had really poor directions for how to do it in the past but now Petzl has revamped their instructions and they're easy to follow.
If you are having problems connecting your Petzl NAO+ plus headlamp with your iPhone or Android phone using the MyPetzl mobile application – read through the instructions to fix your problem below.
This step-by-step tutorial will fix your Connection Problems with the MyPetzl App on your Android or iPhone and put a smile on your face!
How to Pair your Smartphone MyPetzl App with your Petzl NAO+ Plus Headlamp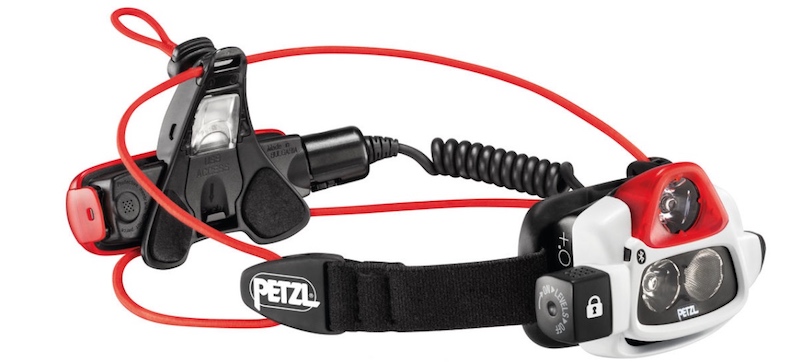 STEP 1 – Download the MyPetzl Light application to your Apple or Android smartphone via the Apple App Store or Android's Google Play store.
STEP 2 – Turn ON Bluetooth on your smartphone.
STEP 3 – Turn on and look at your Petzl NAO+ Plus headlamp. Is there a blinking blue light on the front? If yes, Bluetooth technology is activated. If there is no blue light flashing, twist and hold the power knob for five seconds and it will blink.
STEP 4 – Click the MyPetzl Light App on your smartphone. Click the "+" sign button on the Status / Welcome screen, and select the Petzl Nao+ Plus headlamp to pair it. If you don't see the headlamp, turn your headlamp on and off and check again. If you still don't see it, turn your phone's Bluetooth on and off again. Check again.
You should be able to pair it. If you STILL CANNOT CONNECT – scroll down to the bottom of this page and see if your phone is on the compatibility list. If not, write Petzl to tell them to get your phone approved! My Samsung J7+ is not compatible, so I use my wife's iPhone. 🙁
STEP 5 – Confirm the connection using the power knob on your headlamp.
Keep Track of Your Headlamp Performance in Real-Time
Using the status screen, you can instantly see Battery Life; Activity Profile; and Remaining Burn Time.
Also while on the status screen, you cannot choose the lighting levels – twist the knob on your Petzl Nao+ Plus.
Choose your red light operability from the status screen.
Choose a Lighting Profile for Petzl NAO+ Plus
Change your lighting profiles on the PROFILES screen.
Petzl supplies pre-set configurations, or you can create your own custom profiles to suit the activity you're doing. For instance, when I know I'll be doing a 3-hour tour for looking for reptiles in the forest, I set a custom profile for the most light possible over 3 hours for my "Constant" profile. For my "Reactive" I make it 4 hours so in case the client books another hour, we can just switch over to that setting and get 4 hours of light instead of 3.
Pre-Set Profiles
To select a pre-set profile, go to the Petzl tab at the top of the Profiles screen.
Choose a profile to match your activity.
You can modify these pre-set lighting profiles too – or choose a Custom Profile like below.
Press LOAD to activate the profile on your Petzl Nao+ Plus headlamp.
You should now see the profile you chose in the status menu.
Custom Lighting Profiles
To create a custom profile, click on the "My Profile" tab at the top of the Profiles screen and then click "Add a Profile".
Name your new Lighting Profile.
Choose at least one Reactive Light Setting and one Constant Light Setting by clicking "Add a Level" and then click "Modify".
Each Light Setting can be customized based on activity, burn time, or distance.
Choose the activity that most closely matches your activity. This decides the pattern of the headlamp beam.
Slide the slider to choose Burn Time and Lighting Power.
Click "Save."
To activate this profile on your headlamp, click "Save" button and then click the "Load" button.
The Profile Screen saves all your created profiles and allows you to load them at will.
Adjust Petzl NAO+ Plus Brightness from Smartphone App
The Live Screen puts your headlamp in Constant Lighting Mode and allows you to adjust the lighting power whenever you choose.
Using the slider, adjust the brightness of your Nao+ to match the time you need light.
Keeping the app on the Live Screen will let you quickly change brightness settings as you wish, while also staying alert to how much battery remains.
Morse Code Emergency Distress Signals
The Emergency screen is for writing a short distress message which is then converted into a morse code light signal. Please only use SOS or someone may ignore the random flashing.
Type in your short SOS message and click "Send."
Your headlamp blinks to send the SOS message.
Press "Stop" to when finished.
MyPetzl Light App Smartphone Compatibility List
Apple (iOS 10 or later): The Petzl Co. states that the following Apple phones are compatible with their MyPetzl Light App.
iPhone 5C
iPhone 5S
iPhone 6
iPhone 6S
iPad Mini
iPad Air
iPad Retina 7.4
iPhone SE
iPhone 7
Android (iOS 4.3 or later): Petzl states that the following Android smartphones are compatible with the MyPetzl Light App. Some smartphones not listed can also be compatible. Try yours. Contact support to petition them to add your device.
ARCHOS AC45BHE
Huawei Honor 5
Huawei Honor 7
Huawei P8 Lite
HTC-one m9
LG G3
LG G4
Meizu M2
Meizu M3S
Nexus 6
Nexus 5
Nexus 7
Nexus 9 5.1.1
Samsung Galaxy S4-mini
Samsung Galaxy S6
Samsung Galaxy Grand Prime
Samsung Galaxy Tab 4
Samsung Galaxy Note 3
Samsung Galaxy S7
Samsung Galaxy Core Prime
Samsung Galaxy J1
Samsung Galaxy Note 4
Samsung Galaxy S5 mini
Samsung Galaxy S5 4G
Samsung Galaxy A5
Galaxy Note 8 GT-N5110
Sony Xperia XA
Samsung GT-S7710
Sony Xperia Z3
Sony Xperia ZR
Sony Xperia Z5 compact
Motorola MOTO G 3e Génération
Petzl's Video about How To Set Up MyPetzl Light App with Mobile Smartphones (for Nao+ Plus)
The following are excellent headlamps you won't go wrong with:
---