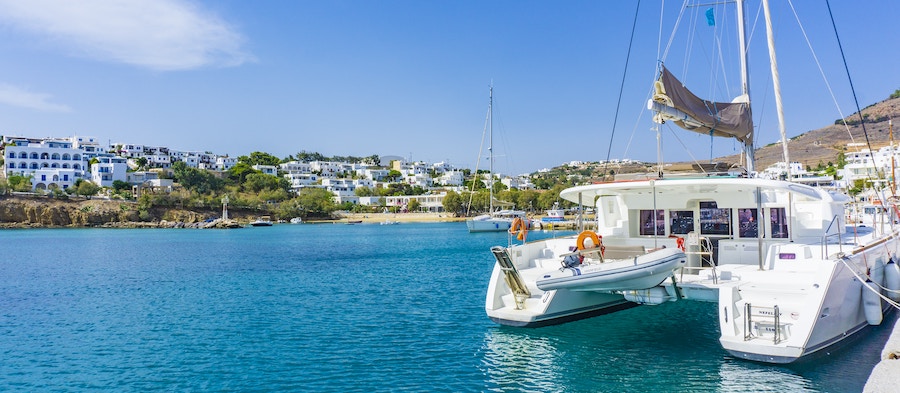 I don't know about you, but I recently (this year) got treble-hooked on a few YouTube sailing shows like Sailing SV Delos, Sailing Zatara, and that couple from Sweden, RAN Sailing! I've never sailed, and never considered it. Until now. I'm going to be sailing before 2022, I'm sure of it!
Sailing Headlamp Criteria
Which headlamp is best for a boat depends on a number of things. I just wrote a post about the best headlamps for skiing, and the criteria are completely different. For each activity, the headlamp you need can be very specific. That's true for sailing headlamps too!
On a sailing yacht, catamaran, trimaran, or whatever you have, you're going to need a headlamp at night for many different activities like:
to go up on deck and change sails or perform some other maintenance
to signal other boats
for playing cards/games when you don't want to drain the boat batteries
for maintenance tasks
as an extra light when provided light isn't strong enough
when batteries are dead or you want to conserve boat batteries
---
Top Sailing Headlamp Criteria
1. Durability – boats are hard places and any fall or drop is going to mean a hard bang on the fiberglass. Many headlamps just won't last in a sailing environment. All the headlamps you see for under $100 are probably best left on the store shelves if you need headlamps for a boat. We'll cover which headlamps are tough enough for boat use below.
2. Ease of Charging – if you have a headlamp that charges only with A/C power, that's fine most of the time, but what about when your main batteries or invertor are broken and you cannot use A/C charging? You'll need another way to charge your emergency headlamps. Solar? USB? AAA or AA batteries? A headlamp with more options is obviously better.
3. Brightness and Other Beam Characteristics – the number of lumens your headlamp is putting out, and for how long, is pretty important. So too is the shape of the headlamp beam. On a boat, you'll generally need flood beams that light up a wide area, rather than spotlight beams which are tight and bright. But, you'll need to signal ships sometimes, so either a headlamp with a good flood and spotlight, or a dedicated spotlight beam for giving notice is required.
4. Waterproof – one essential criterion that you're absolutely going to need on a sailing boat is a headlamp that is waterproof. This cuts out the vast majority of headlamps because it's one thing that is added as an afterthought, not a main feature. Many sailors use waterproof diving flashlights for that reason. A headlamp is SO much more convenient though, so we'll make a case for them here!
---
So, not only do you want a headlamp that does most or all of the above very well, but you also will need to buy at least one for every crew-member on the boat. You're probably going to want to have a spare or two as well because on a boat your preparedness is critically important. What if you find a mermaid and she comes on board for a couple of nights? You'll need an extra headlamp. Better to be prepared!
A good practice is to buy headlamps with interchangeable batteries as well, so you should probably get the same model.
Best Sailing Headlamp Recommendations

#1 – OLight H2R Nova Cool Headlamp (600 + 2300 lumens)
This is a great all-around headlamp that will work well for boat sailing!
Reasons to Buy the OLight H2R Nova Headlamp for Sailing
Wide Beam – this headlamp has the perfect beam shape necessary for most boat activities, the beam is nice and wide, enough to light up the interior space or exterior of the boat, or the crawl space as you work on the engine or other equipment.
Turbo Mode – if you're in a dangerous situation and need to alert a boat that you are about to crash – use the Turbo Mode that blasts them with 2,300 lumens of brilliant light. This only lasts briefly, but for a quick bright light, there's nothing like it.
Emergency Flashing – the headlamp will flash SOS signals for many hours to help signal help.
H2R Cons
Waterproof Issue – though waterproof, this headlamp has a very tiny rubber O-ring seal around the battery cap that can move or drop off without your knowledge. As long as this seal is in place, you can count on the headlamp being very waterproof. It's a rather weak design, and I guess you could just ensure you have a bag of extra rubber O-rings.

---
# 2 – Petzl ULTRA RUSH Headlamp (750 lumens)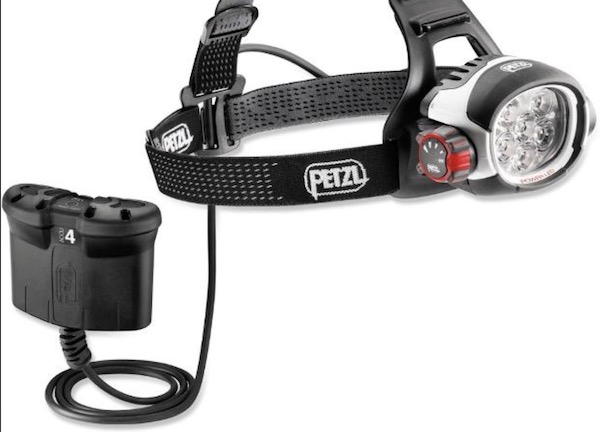 Reasons to Get the ULTRA RUSH Headlamp for Your Boat
Indestructible – of all the headlamps we've had and tested, we think the Petzl ULTRA RUSH is the toughest and least likely to stop working with simple falls. Even hard falls, I think the design of this headlamp prevents breakage in most falls. If you're looking for something tough – this is your headlamp.
Long Battery Life – you probably won't be using your sailing headlamp at maximum power usually, so the ULTRA RUSH is a great option because you can get 5 hours of use at 420 lumens strength, 7 hours at 300 lumens, or 38 hours at 65 lumens. There is also another 2x size battery called the ACCU4 which gives twice the power and can be worn on a belt on the waist.
ULTRA RUSH Cons
Price – the price is still over $400 for this headlamp. It is one of Petzl's best for sure, and we have 2 of them, but most people don't want to pay that much for a headlamp. The best costs money. If you want the best, get this or better yet, the DUO S, reviewed last.

---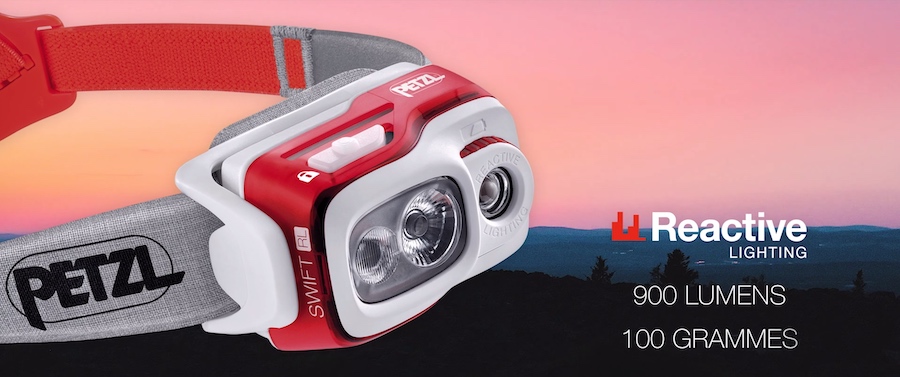 # 3 – Petzl SWIFT RL or RL PRO Headlamp (900 lumens)
Reasons the SWIFT RL is a Great Sailing Headlamp
Super Lightweight – at just 100 grams, this is the lightest full-featured headlamp we've ever tested. This is one of Petzl's newest headlamps and they put a lot of good technology into it.
Brightness – at 900 lumens of brightness possible in Reactive Lighting mode, this is a very bright light that will be great for many activities.
Flood and Beam – this headlamp has both beam types which are used in different settings. Flood for soft light and flood and spotlight for maximum brightness.
Reactive Lighting – depending how close objects are in front of you, the SWIFT RL adjusts the light output to match what is needed, not blasting you with very strong light when it isn't needed. The technology has been refined over the years and is now quite accurate. This extends the life of the battery significantly!
SWIFT RL Cons
Not Tough – the one drawback of this headlamp is that it is not made to withstand very tough conditions. A drop on the hard deck of a sailing vessel could break it. Of course, you could break just about everythin in a drop onto a boat's deck!
Waterproofing – not ideal. The IPX rating is only IPX4. That is OK for rain, but not heavy or blowing rain. Of course you could fix that by wrapping a clear plastic baggie around it.
These are incredible lights from the #1 headlamp manufacturer in the world – PETZL. If it was us, and it will be someday, we'd buy one of these SWIFT RL headlamps for everyone sailing on our boat, and a spare. At just around $115 they are the perfect price and blend of features that we'd be able to use not just on the boat, but exploring new cities at night as well.

---
#4 – Petzl DUO S Headlamp (1000 lumens)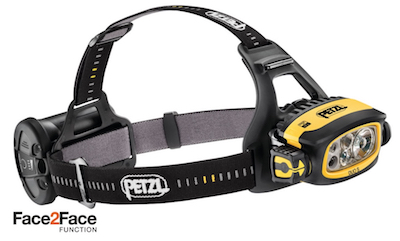 Reasons to Outfit Your Boat with DUO S Headlamps
Auto-Dimming – the Petzl DUO S is ideal for sailing in which working in close contact is inevitable. There is a cross-beam dimming function that cuts the light dramatically when you're looking at another person with a headlamp on. That means you won't blind them!
Wide Flood and Tight Spot Beams – both beam types.
Long-lasting Battery – 700 lumens brightness for 3.5 hours and as long as 23 hours at 80 lumens brightness. It comes with a 450 lumens spot beam as well – ideal for contacting or warning other boats on the water.
Burst Mode – lasts 5 seconds and gives 1,100 lumens brightness as an emergency warning burst.
DUO S Cons
Price – these are Petzl's newest high-end headlamp and they have all the features possible. The price for these is coming down from $500 each and probably will drop to around $450. Petzl is known for making the best headlamps in the world, and this is their top of the line headlamp. Prices will stay high, but you'll have the comfort of knowing you have the best.
Here's a closer look at the exact run times and type of beams claimed for the DUO S headlamp. Very good battery life!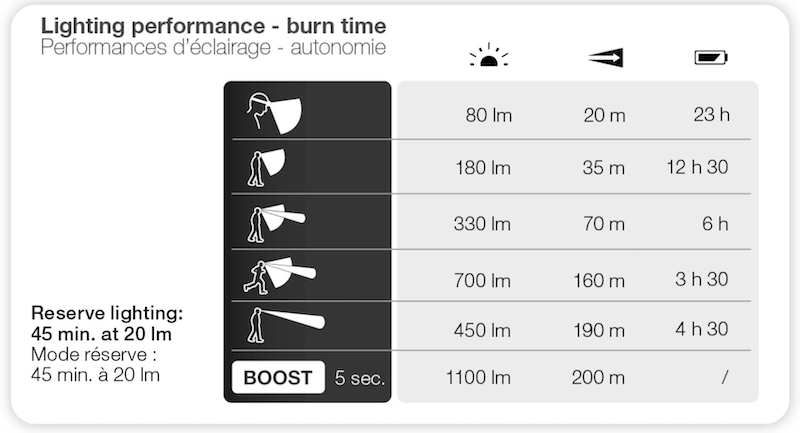 Any action sport including skiing, running fast, trail running, hiking, camping, fishing, working around the house, reading books. Almost anything.