[Page updated 1 June 2022]
New in 2021 and still here in 2022 is this incredible headlamp from Petzl company, the SWIFT RL PRO in black. The older RL's from last year come in blue (E095BA02), black (E095BA00), and Orange (E095BA01).
The Petzl SWIFT RL PRO headlamp will be in our top 3 headlamps for 2022, without a doubt.
Table of Contents
The couple features of these new headlamps from Petzl will appeal to the masses. This is the ALL-IN-ONE headlamp that fits 98% of users. Then Petzl did us one better… the new SWIFT RL headlamp is retailing for just around $100 USD and the PRO is around $140! Finally, an affordable headlamp with the best features. Sure it is NOT perfect, but check out our Pros and Cons list below to see what you get for the money.
The SWIFT RL and SWIFT RL PRO headlamps from Petzl are powerful enough for every activity you can dream up. Battery life is good, and it has Reactive Lighting Technology like the more expensive Nao+ 750. We're STOKED!
Petzl SWIFT RL and SWIFT RL PRO Headlamp PROS
Very bright at 900 lumens! This brightness in RLT mode (auto-dimming) for up to 2.5 hours.
High moderate mode of 550 lumens for 2 hours. Perfect for nearly all other activities requiring bright light capability.
Ultra-lightweight at 100 grams (RL) and 123 g. for the RL PRO.
Interesting set of extras. Very reflective headlamp strap and ultra-lightweight. Easy to see battery strength indicator. Reactive Lighting Tech was totally unexpected for this headlamp, and SO appreciated. The PRO has a red light and works better in the cold.
Great price! Petzl is known for headlamps well over $150, so either of these two headlamps under $140 are the perfect affordable option for many runners and campers needing a great headlamp.
---
SWIFT RL and RL PRO CONS
6-hour charging time is long. Multiple batteries will be needed by anyone doing a long excursion. This is a step backward by Petzl. For comparison, their NAO+ charges in about 4 hours. The ULTRA RUSH – in about 2 hours. Those are MUCH bigger batteries.
IPX4 water-resistance is a bit weak. Runners often run in the rain. I tested ours in heavy rain walking through the forest and it did fine.
See if the SWIFT RL headlamp is available now at Amazon >
There is now an upgrade, the SWIFT RL PRO.
See if it is available at Amazon here:

---
PETZL SWIFT RL HEADLAMP | 900 Max Lumens
MODELS: Blue (E095BA02), Black (E095BA00), and Orange (E095BA01)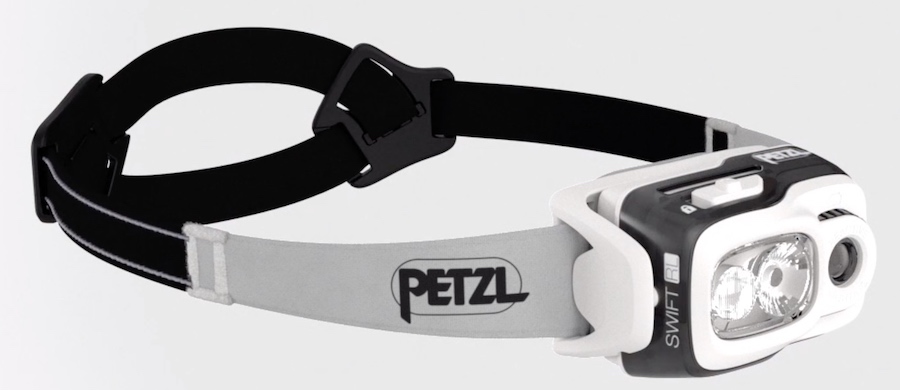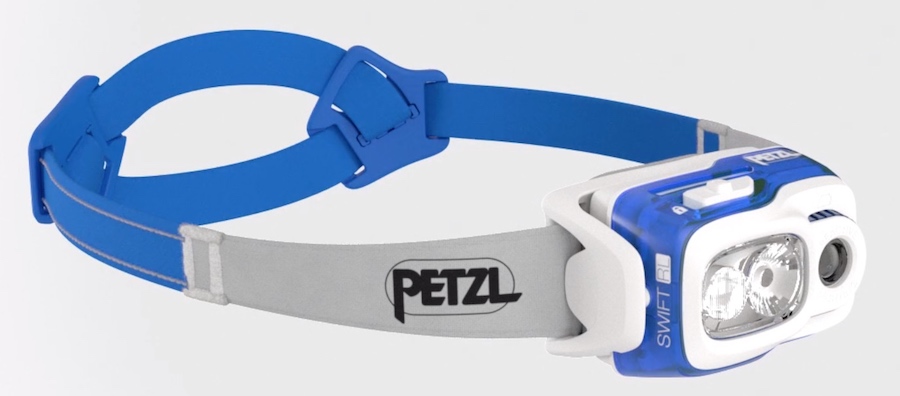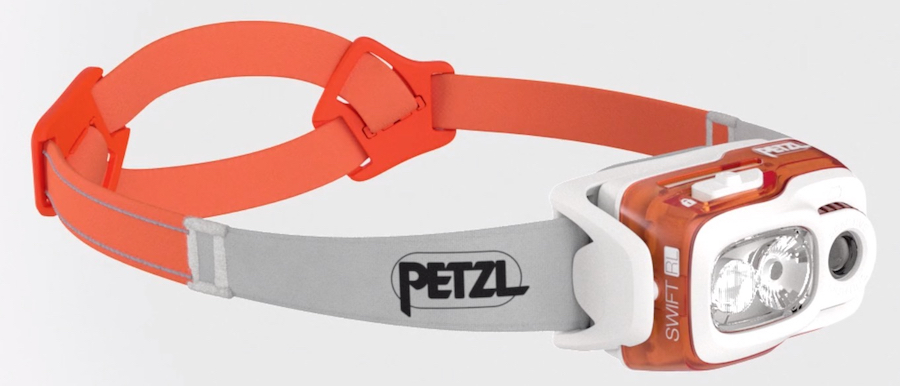 ---
SWIFT RL + PRO HEADLAMP DESCRIPTION
This new SWIFT RL headlamp was first shown in a video entitled My Light, My Night Run. Petzl appears to have created this new headlamp for runners specifically. That is fantastic news because there is a huge number of ultrarunners who are going to immediately buy this new lightweight running headlamp.
The description? Well, you see it above. The SWIFT RL is in a similar size and shape as the Petzl Actik Core headlamp, but slightly larger. There are 2 beams – a flood and a spotlight. You can use the flood on its own, or blend it with the spotlight. I'm sure the two blend nicely together – that is one of the great features about Petzl engineering, they always get this part right.
The SWIFT RL is made of hard plastic in three different styles: blue, black, and orange. The headlamp band is designed to be highly reflective, increasing the visibility of runners at night. This is a great addition to the headlamp and something runners have been asking about since the Actik Core reflectivity was first introduced.
This is a very lightweight headlamp (100 grams for the RL and 123 g. for the PRO!) that is fine for adults or children, but children are maybe better suited to the Actik Core 350 headlamp which is even lighter and less expensive ($40).
Petzl has finally created what is almost the ultimate headlamp. Check out the Pros and Cons below to see if this SWIFT RL is the right headlamp for you.
---
Here are the FULL SPECS!

PETZL SWIFT RL and RL PRO 900 LM HEADLAMP SPECS
Dimensions (headlamp beam case): 4 cm x 7.6 cm x 4.6 cm (1.6 x 3 x 1.8 inches)
Weight: 100 grams (3.2 oz.) total with the battery installed and 123 g. for the PRO model.
Bulbs: Two CREE Neutral White LEDs. Life – 50,000 hours.
Red Light: none for the RL and the PRO has a red light (bonus).
Lock Feature? Yes. Sliding switch.
Redundancy for Beam Failure? Two separate beams – one spot, one flood.
Power Modes: Manual: Low, Medium, High. Reactive Lighting Tech: Low, Medium, High.
Max Lumens: 900 lumens. 1 spot beam and one wider angle beam combine to create the beam shape. with high and low settings.
Max Beam Distance: 150 meters stated. Testing soon.
Run-time Range: Using RLT can power headlamp for 2 hours at 900 lumens. 5:40 at 300 lm. At 100 lm for 10:50. Using Manual Mode: 550 lm for 2 hours. 300 lumens for 5 hours. 10 lumens for 100 hours.
Battery Rating: 2350 mAh. ACCU SWIFT RL Lithium-ion battery (included). The new ACCU SWIFT RL PRO battery works better in the cold weather.
Recharge Time: About 4 hours with micro-USB cable and 2 amp converter. Around 6 hours with 1 amp.
Water Resistance Rating: IPX 4 (fine for light rain).
Warranty: 5 years on CREE bulbs. 3 years on the battery (or 300 charging cycles).
Tilt Range: 70° range – starts at 100° and tilts down to 170°. Note – can also tilt UP for runners wearing it around their necks.
Number of Tilt Clicks: 7 angles.
Special Technology: Reactive Lighting Technology – for battery conservation. Brightens when needed and dims as necessary.
---
CUSTOMER RATINGS
Today, this immediately became our FAVORITE moderately expensive headlamp. We are going to sell some of our older headlamps and buy a few of these because we're sure these SWIFT RL's will be perfect for what we use them for – night wildlife tours in the jungle.
Headlamps101 Rating
Quality of Build – 4/5 Stars **** Stronger plastic and build than the Actik Core. I'm sure it is tough enough for nearly all falls. The strap is quite comfortable and is very reflective – ideal for being seen in traffic.
Beam Brightness – 5/5 Stars ***** 2 hours is more than we could have asked for at this price range.
Beam Quality – 4/5 Stars **** Color is right on – pure white. The max beam setting is great for running and many other activities. It has a center bias and is longer than just a circle in the center. Good for showing where feet are about to hit the dirt.
Battery Life – 4/5 Stars **** Getting there! Almost perfect, but of course, we'd always like longer battery life. This is perfect for our needs. Ultrarunners in an all-night event might want to buy an extra battery.
Water Resistance – 3/5 Stars *** Not amazing, but probably fine for most uses. We'll test with a lot of rain and let you know.
Price – 5/5 Stars ***** At this price, we're highly recommending the ACTIK CORE. Price is just around $100 for the SWIFT RL and around $140 for the new in 2021 SWIFT RL PRO. The feature set is great for runners and also about 98% of all headlamp users. Petzl NAILED IT on this one.
Note – We love the pure white color balance and the super-lightweight headlamp in the SWIFT RL. Ideal for kids and adults for most uses.
See if the SWIFT RL headlamp is available now at Amazon >
There is now an upgrade, the SWIFT RL PRO.
See if it is available at Amazon here:

---
Let's See What We've Got…
PETZL SWIFT RL FIRST IMPRESSIONS
Super lightweight, at just 100g. Our #1 headlamp of 2019, the OLight H2R is also just 100 g. Petzl is gunning for it! The styling of this headlamp is functional, with reflective areas of the strap, and a variety of three colors to choose from.
There are two light beams – a flood and spot, which blend or stay separate. A battery indicator lets you know exactly how much charge is left with 5 bars of light. There is a micro-USB for charging. Now with the SWIFT RL PRO we get a red light – which is great for fishing, hunting, and other stealth uses. ALSO with the new PRO version we get a strong spotlight beam of 550 lumens in Reactive Lighting mode which is really nice.
The strap is thick and strong and holds the SWIFT RL / RL PRO firmly. The weight is all in the front, but Petzl compensates by creating a double-strap system for the back of the head, to stabilize the light as you run. The SWIFT RL has one-button operation, controlling all options.
---
MATERIALS – CONSTRUCTION QUALITY
The SWIFT RL has hard-plastic construction similar to the Reactik+, Actik Core, and NAO+ headlamps from previous years. The light can handle simple falls, and unless you fall on top of it, the SWIFT RL will likely work fine after falls. Petzl makes durable products and this is mid-range in their product line, so it should be better built than the Actik Core – another reason to buy one.
---
WATERPROOFING
These SWIFT RL headlamps have a water resistance rating of IP X4. The PRO model didn't add any increased water protection.
This means this headlamp is water-resistant to splashing water from any direction for a minimum of 5 minutes. The Actik Core headlamp has the same rating, and I've used it in medium rain for an hour at a time without any issue. Petzl is notoriously conservative on the water-resistance ratings in my experience.
---
BATTERY LIFE
The ACCU SWIFT RL battery has 2350 mAh capacity and weighs just 50 grams. There is no store-bought AAA battery option available for this headlamp at this time. Actually, there is no information being released in this regard. So, we can HOPE it's coming. On a down-note, the SWIFT RL takes 6 hours to reach full charge from 0%. Six hours! Yikes.
SWIFT RL Headlamp Lighting Profile

---
SWIFT RL PRO Headlamp Lighting Profile
The columns below are Brightness (lumens); Distance of Beam (meters); Duration of Battery (hours); Reserve lumens/hours.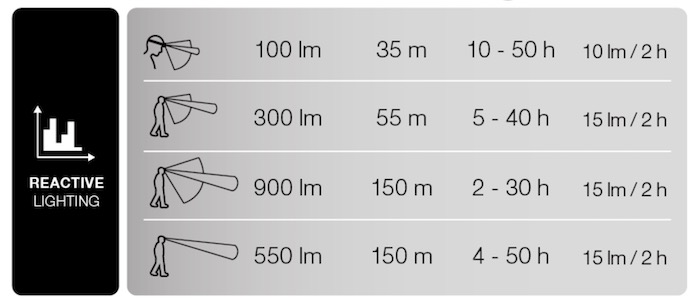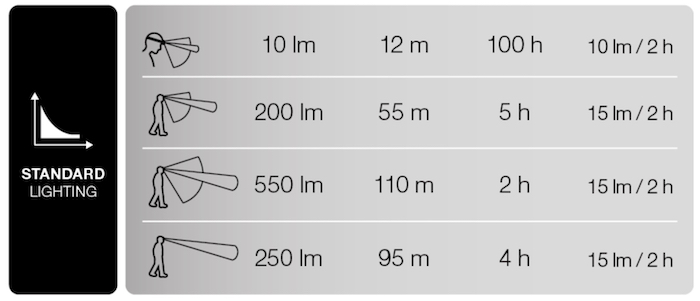 The two charts above show the lighting profile for the SWIFT RL PRO headlamp, which is slightly different – offering 4 level options vs. the RL standard with just 3. The spotlight feature is a plus. Also there is a RED LIGHT in the new PRO that the original version does not have. NOTE – there is no change in battery duration at various levels. Battery remains same strength, but not sure if they are interchangeable between the PRO and standard models.
SWIFT RL BEAM QUALITY
This was just released, so we cannot show a video of the exact beam configuration at various settings. We're excited to get our first on in the mail next week. We imagine it is VERY similar to the Actik Core beam style with some improvement because it is nearly 3x the brightness at max setting.
I am sure the white-light color balance will be right on – all the Petzl headlamps have perfect white light without any orange tint.
---
SWIFT RL HEADLAMP SETTING OPTIONS
One push-button on the top of the SWIFT RL cycles through all options and also includes a sliding lock switch so you can manually see the headlamp is locked and not going to turn on while in your luggage or at other odd times. Short and long presses of the button get you to and from Reactive Lighting Technology and back to manual settings.
When the batteries can no longer output the needed charge for the setting you're in, it will drop down to reserve mode and go for quite a few hours at around 10 lumens, depending on which mode you are in.
---
WHICH ACTIVITIES IS THE SWIFT RL HEADLAMP BEST FOR?
I think some people will really enjoy this inexpensive headlamp for the following activities:
RUNNING – street or trail
WALKING – trails or streets
FISHING – pier, boat, shore, wade-fishing
CAMPING – has a low setting ideal for reading books too!
SKIING – bright enough to use for nigh skiing.
WILDLIFE EXCURSIONS at night – like we do for ThailandSnakes.com.
CLIMBING – the new SWIFT RL PRO model added a bracket that allows easily removal to be placed into a bracket on one of their climbng headlamps: VERTEX or STRATO.
DOWNLOAD USER'S MANUAL – SWIFT RL HEADLAMP MANUAL (PDF).
---
PRICE and AVAILABILITY
This PETZL SWIFT RL in orange, black, and blue is available on Amazon. The SWIFT RL PRO in black (only) was available for a short while and then seems to have already sold out on Amazon.
If you are like me, the comfort of knowing that you're actually going to receive the items you order – is very important. There are very few places I trust when ordering items over $50. I use online shopping for everything I can. If I can't find it there, I'll try to find the item at some other online chain, but I can almost always find everything I need online.
See if the SWIFT RL headlamp is available now at Amazon
Or, price the upgrade here…
See if it is available at Amazon here in black, orange, or blue:

---
Comparison of our Top 4 Headlamps HERE >
---