[Page updated: 1 June 2022]
The ULTRA RUSH Headlamp | 760 Lumens | E52 H
To be honest, it is very difficult to find this headlamp in 2022. Petzl has discontinued it. Instead, we recommend the Petzl's DUO RL, ACTIK CORE, IKO CORE, or NAO RL headlamps.
Honestly, this Petzl ULTRA RUSH (UR) Headlamp was an impulse buy. I saw it for a price that made me go "WHOA!" and that was it, I bought it with a smile on my face, and it arrived in December 2016. I loved it so much, I bought another one. I have been putting this headlamp through the paces, looking for wildlife in the rainforest of Thailand, and it seems like a VERY CAPABLE light. I've had 2 of them for over five years and I still love them. The batteries are still retaining about 80% of their full charge!
I think the quality of the light beams (all 6 of them) is fantastic, and it's definitely one of the top two headlamps we have reviewed. I have never seen a review of this Petzl product, so likely – you're seeing it close-up here for the very first time.
Though hard to find, Amazon sometimes has them in stock — Shop here.
Most of You Won't Need to Pay $430+ for a Headlamp.
Check Out These: Swift RL | NAO+
---
Pros
Bright enough for any activity. 760 lumens on high setting lasts for over 2-hours.
Ideal beam spread. Covers the same angle of sight your eyes naturally use.
Perfect white light balance. No orange tint. Ideal for seeing the true color spectrum at night.
Built tough! Hard plastic and rubber coatings ensure this headlamp can take a beating. We're going on two-years ownership and have never had a problem with both of ours.
Submersible! Will be fine with the occasional drop into 1-2 meters of water.
Great for any activity except long-distance running. There is a waist strap to hold the heavy battery for long treks, but that is another $40.
Massive ACCU 4 battery option gives 200% the power.
---
Cons
Ultra expensive. Price has dropped to around $330 because it is discontinued.
---
Read our entire review below, or skip to the video at the bottom of the page here.
The couple differences between this light and the top of the line Petzl Nao+ is that the UR has much better waterproofing standards – you can even submerge it in a meter of water for 30 minutes. Likely much more, but that's how they rate – conservatively.
There are two 18650 batteries, so it's cranking out much more light over a longer duration – which, in my case is going to make me really happy. And finally, there is no need to have the light intensity changing all the time with Reactive Lighting Tech, because the batteries are so strong, they put out as much power as you need – anytime.
I was really excited to get this in the mail. It's likely the most expensive light I'll ever see, except maybe in the dentist's chair! Before we get started, you're probably not in the market for headlamp over $300. If not, here are our two best options for headlamps that we have used and reviewed – and found them to be exceptional:
TESTIMONIALS FROM ULTRA RUSH USERS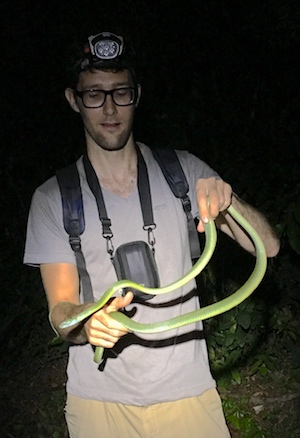 ALEX GILLARD. "I've been using the Ultra Rush for around 3 months now and it is far and away the best headlamp I've ever used. The spread, range and the luminescence (and the ability to adjust it) sometimes makes me forget I am outside in the pitch black.
I've been using it primarily to go on nighttime jungle excursions looking for wildlife (mostly snakes), and I can confidently say that much of what I have been able to see has been due, in large part, to just how effective this headlamp is. After a night out, the battery is fully rechargeable in around two hours and it will give you 4+ hours of continuous light (at the second-highest power setting).
If you work in the dark or if you like to go out exploring in the dark, your lighting makes a world of difference, both in terms of safety and how enjoyable the experience will be. Highly recommend the Ultra Rush."
VERN LOVIC (Thailand snake guide). – "Yes, I own this site. Yes, I have a vested interest in your buying something here, but you won't see another testimonial by me for another headlamp on this site, as strong as this one. I have 2 of these Petzl Ultra Rush Headlamps, and yeah, they are expensive. I spent the same money you will on buying one – I didn't have any discounts.
Know what?
THIS IS THE BEST HEADLAMP ON THE MARKET FOR JUST ABOUT ANYTHING YOU WANT TO DO.
The only thing I can think of that it just isn't good for is running FAST. The weight on your head will bounce the unit up and down too much. That said, you can solve that by putting the ACCU 4 battery on your WAIST, and running the cable up to power the lamp. In that way, you'll get an insane 14 hours of very bright light for running ultras, or crossing the arctic circle. Or, just use the Accu 2 battery the same way, and you'll get 7 hours of great light.
I've used this ULTRA RUSH headlamp exclusively for hiking through the rainforest at night in monsoon downpours in Southern Thailand for 7 months. It has performed FAR BEYOND ANY EXPECTATION I could have had for the light. I am extremely satisfied as a customer. If you have a business where you must take clients out into the forest, or anywhere at night, or, if your job requires you to have a 100% reliable and bright, long-lasting headlamp – this is absolutely the only light you need. Buy it now and you'll be so happy you did."
Though hard to find, this site sometimes has them in stock — Shop here.
---
DESCRIPTION
Petzl has really built a name for themselves over the last four decades. A headlamp like this one is ideal for people needing a very bright and durable light for their harsh working conditions, or for long-distance treks, runs, or whatever else might put you in the middle of a dark place for up to 38 hours.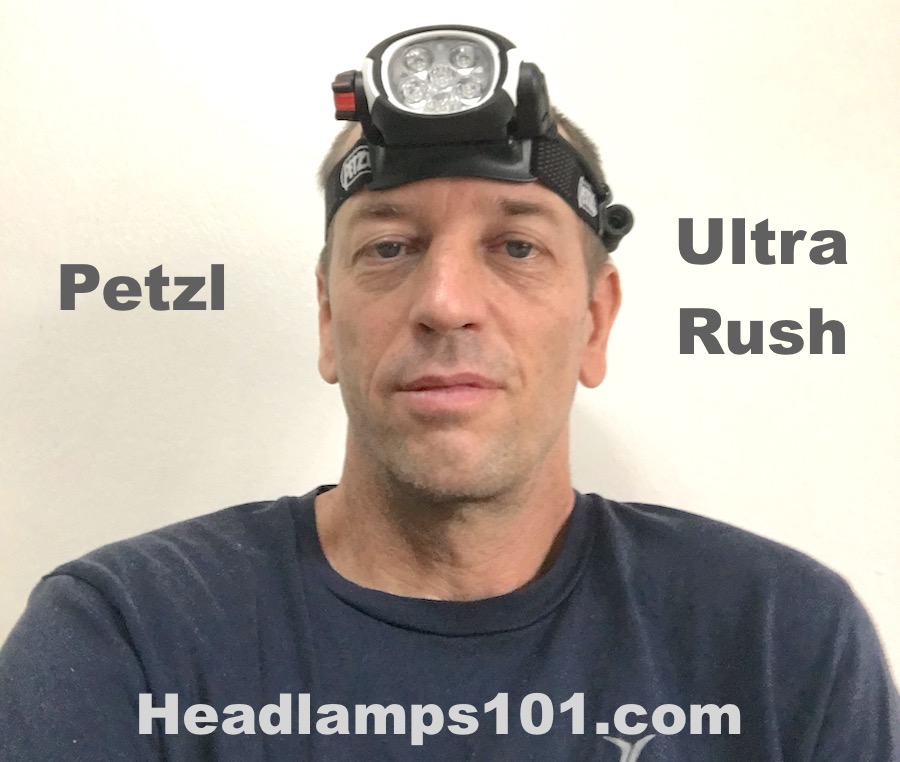 This light is a bit heavier and quite a bit larger than the NAO series headlamps, but is much more powerful in cranking out the lumens for hours longer. It is expensive for me, and honestly, I'll likely sell some of my other lights in order to justify buying some more of these Ultra Rushes, but they are definitely the only light I want to use in the rainforest. I couldn't ask for anything more considering the current state of battery technology – headlamp technology.
The Ultra Rush uses all 6 CREE LED bulbs when it is turned on – no matter which setting you use. This ensures the quality and shape of the beam – it doesn't change, just gets stronger as you cycle up through the power settings.
If you need the best light you can find – this is probably it. Pay the $400 and be happy owning it. If you don't need a $400 light, choose either the NAO+ or the NAO 2 – either of which will probably fit your needs.
This headlamp is the best we have, but we chose the NAO+ as our Top Headlamp in 2017 because the price is just more reasonable and more people can afford it. I think more people can use the lighter form-factor and Reactive Lighting Technology as well. This one will be used primarily by professionals in the field.
Let's get started with the review!
---
ULTRA RUSH E52 H SPECS
Dimensions (longest): 6.3cm x 3.8 cm x 3.8 cm (2.5″ x 1.5″ x 1.5″)
Weight: 370 grams (13 oz.). Battery pack: 160 g. (5.6 oz.)
Bulbs: Six Cree LED's – mix of spot and flood. Life – 50,000 hours.
Red Light: None.
Lock Feature? Yes, just reverse twist the beam selector to show the 'off' position.
Redundancy for Beam Failure? If one burns out, you have 5 more.
Power Modes: Manual control only, no Reactive Lighting Technology.
Max Lumens: 760, and lower power 65 lumens.
Max Beam Distance: 170 meters (186 yards)
Run-time Range: 2 hours (760 lumens) to 38 hours (65 lumens).
Battery Rating: ACCU 2 – Two 2,600 mAh rechargeable 18650's, proprietary
Recharge Time: 3.5 hours quick charge (fully charged from empty) From experience it never takes 3.5 hours. It is fully charged in 2-2.25 hours from empty. This may be a function of Thailand's electricity being 240 V.
Water Resistance Rating: IP67 – 1-meter submersion for 30 mins.
Warranty: Bulbs – 3 years. Battery – 1 year.
Tilt Range: 90° – points straight down to the ground from the 90 Degree position.
Number of Tilt Clicks: 9 (10° per click)
Note – this is our personal favorite headlamp for everything. It's expensive. Too expensive, but we still have 2 of them because we need to rely on them to always work. I can't risk having a headlamp quit in the middle of the rainforest in Thailand.
Note 2 – the new Petzl Duo S is coming out this month (Mar 2018) and it will likely be a close race between the Ultra Rush and the DUO S for number one headlamp! Super excited to see how it plays out!
Price at Petzl.com: Unavailable. Can find online.
---
RATINGS
Quality of Build – 5/5 Stars ***** Lightweight and very strong. Straps don't rot and nothing breaks.
Beam Brightness – 5/5 Stars *****
Beam Quality – 5/5 Stars *****
Battery Life – 5/5 Stars ***** Though I always want a stronger battery, this is pretty good for today's technology. I won't complain. It does everything I want it to do.
Water Resistance – 5/5 Stars ***** I haven't heard of any other headlamps this powerful that are rated so high.
Price – 2/5 Stars ** If they would have added another 18650 battery to the Nao+, I'd have been quite satisfied with that. However, the Petzl Ultra Rush is a slightly different light, and it's even better for what I use it for – looking for snakes at night in the rainforest in Thailand. I do think $160 for a battery pack is ludicrous. I would not buy one if I thought I needed an extra battery pack. As it is, I bought 2 of these headlamps so I have an extra battery when needed.
Though hard to find, this site sometimes has them in stock — Shop here.
I would have bought one of these if they were available 4 yrs ago:
PETZL DUO S Headlamp
(upgrade to the discontinued ULTRA RUSH)
---
LET'S SEE WHAT WE'VE GOT
Detailed Images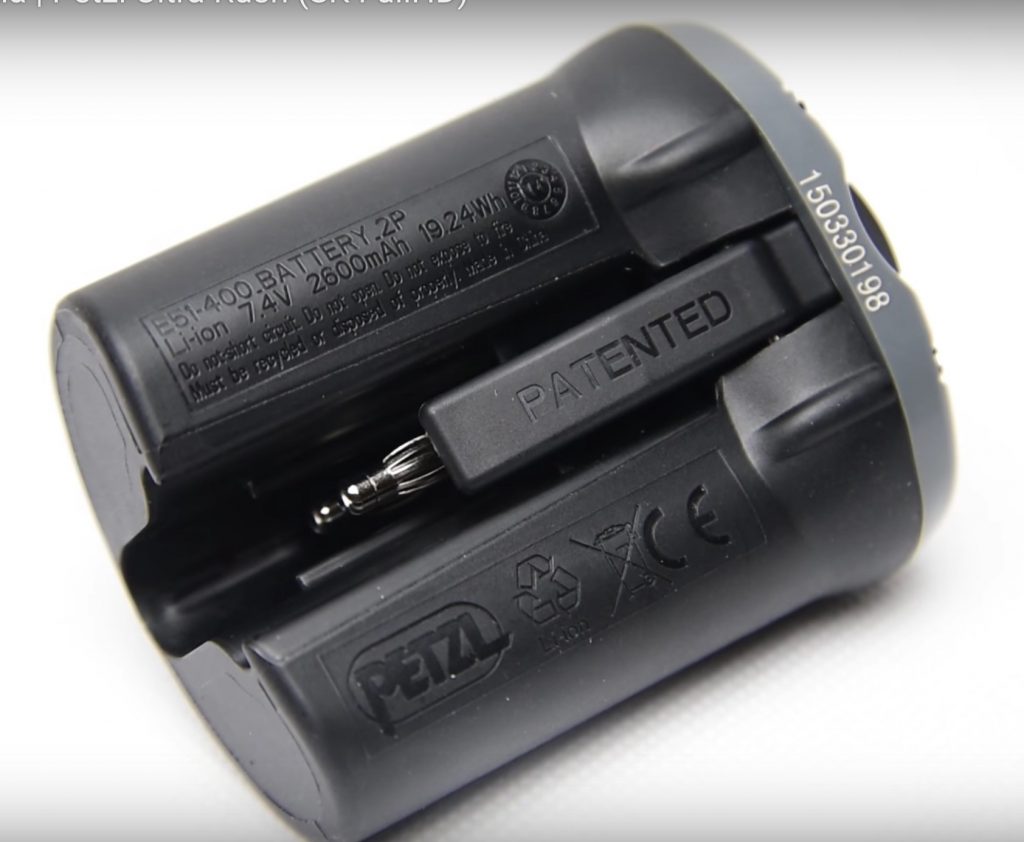 FIRST IMPRESSIONS
When I first unboxed this headlamp, last week, I was really excited. I mean, more excited than I've ever been over a headlamp. Maybe that's because I paid over $300 for it and I had high expectations!
My first thought as I looked at the unit, was – it's BIGGER than the Petzl NAO 2 or NAO+. Considerably bigger, but not massive. It has a lot more battery power and 6 Cree LED bulbs – so, it needs to be a lot bigger. It isn't overly large, considering those factors.
It is very comfortable, despite the weight. I have walked with it for four hours and though I'm twisting my neck often to look in different areas, my head and neck didn't get tired. Quite comfortable! The straps and shape of the ULTRA RUSH forehead and back of the head plate have all been greatly upgraded to make this more comfortable on the head. Very welcome changes, and necessary due to the extra weight.
I couldn't wait to turn it on – and when I did – WOW!! Even at 65 lumens, the lowest setting, it seems so bright. At 300 lumens, I figure I can probably use that for herping if I needed to go for 7 hours. At 420 lumens, it's bordering on too bright for herping anything close distance. At 760 lumens, I'm sure I'll be spotting slow lorises in the trees better than ever – at 200 meters distance.
The light this headlamp cranks out is like sunshine. It's super-bright and white – no blue or orange tint. I think at high setting it is far too bright for my use in the forest for most things, but for regular use at a lower setting, I'm going to get 5-7 hours on the next two brightness settings – which makes me SO HAPPY.
The NAO line of Petzl headlamps is already built very well. This Ultra Rush is built exceptionally well. They didn't just make a NAO with brighter lights and more battery power – they created something entirely different. This headlamp is waterproof and crush-resistant to 80 kg. It can be dropped from 2 meters in height onto a hard surface. Really tough! Kudos to Petzl for that. This is a beast of a light – and one that I quickly tried out in my favorite spot for night wildlife on the planet – Krabi, Thailand.
MATERIALS | CONSTRUCTION QUALITY
All the higher-end Petzl headlamps are built to last. They're solid and appear to use quality materials. Their molds are smooth, with no rough edges. Their lights last. I have seen no forums dedicated to destroying their reputation online because – they just work. This Petzl Ultra Rush headlamp is definitely built to last, there will be no doubt in your mind that it is a quality light when you finally get it in your hands. I'm still astounded. Of course, I've never held a headlamp that cost so much either.
The selection knob is large and bumpy, ensuring an easy grip – with, or without gloves. To select a brightness level – you twist the selector forward to one of the four settings. The head-strap has been made wide all around, and on the top, and is a nice quality upgrade from the Nao line of headlamps.
The battery in the back and the light unit in the front are fairly well-balanced. I can't say I don't notice the headlamp on my head, but it isn't so heavy that I couldn't stand it for 12 hours or so. The longest I've worn it so far was 5 hours, and that presented no problem.
I tried jogging with it briefly, and it sits snug on my head when adjusted correctly. I can see that it wouldn't be ideal for running, but it could work if you were in a jam and had to use it. The beam is absolutely mind-blowing, and perfect for running or biking. Petzl sells adapters to fit the Ultra Rush headlamp on a bike handlebar.
The rubber cable running from the battery pack to the headlamp triangle is solid and doesn't get in the way. The battery pack is strong and has a nice 4 LED light battery power indicator available at the push of a button.
Overall impression? IMPRESSED!
Though hard to find, this site sometimes has them in stock — Shop here.
To be honest, it is very difficult to find this headlamp in 2022. Petzl has discontinued it. Instead, we recommend the Petzl's DUO RL, ACTIK CORE, IKO CORE, or NAO RL headlamps.
---
WATERPROOFING
These headlamps have a high level of waterproofing and dust-proofing – rated at IP67. This means dust cannot enter, and water cannot enter when submerged to 1 meter for 30 minutes. Probably the water rating is drastically underrated, and you can use it in the water for hours. Water-resistance ratings are always underrated to protect the company from having to replace damaged units.
Do be careful your battery compartment is sealed shut properly before you go out.
---
ULTRA RUSH BATTERY LIFE and OPTIONS
There are two 2600 mAh batteries in a sealed proprietary container which you can buy extras of for just $160. I know. It's really starting to get expensive now.
The massive battery power available is the main reason I wanted to get the ULTRA RUSH. Currently, on the NAO 2, I can get 90 minutes of high power manual setting at 290 lumens – which is great while it works, but 90 minutes?
The Ultra Rush boosts me up to 420 lumens at 5 hours, or 300 lumens for 7 hours! Talk about an upgrade! Then, I can also choose the 760 lumens in short bursts to supplement my needs, or I could use it flat-out max for 2 hours straight. It's really quite a perfect light, and I have zero complaints.
Could I want anything more? Actually, yes. I always want more. If this could also have the Reactive Lighting Technology, I'd be in heaven. As it is, the ULTRA RUSH gives 38 hours of light at 65 lumens. If it had RLT, like Petzl's Nao series – I could maybe get 10 hours of light on max level. That would be enough for 2 days of use in the field. So, there's always something more… but honestly, this light is damn-near perfect as it is.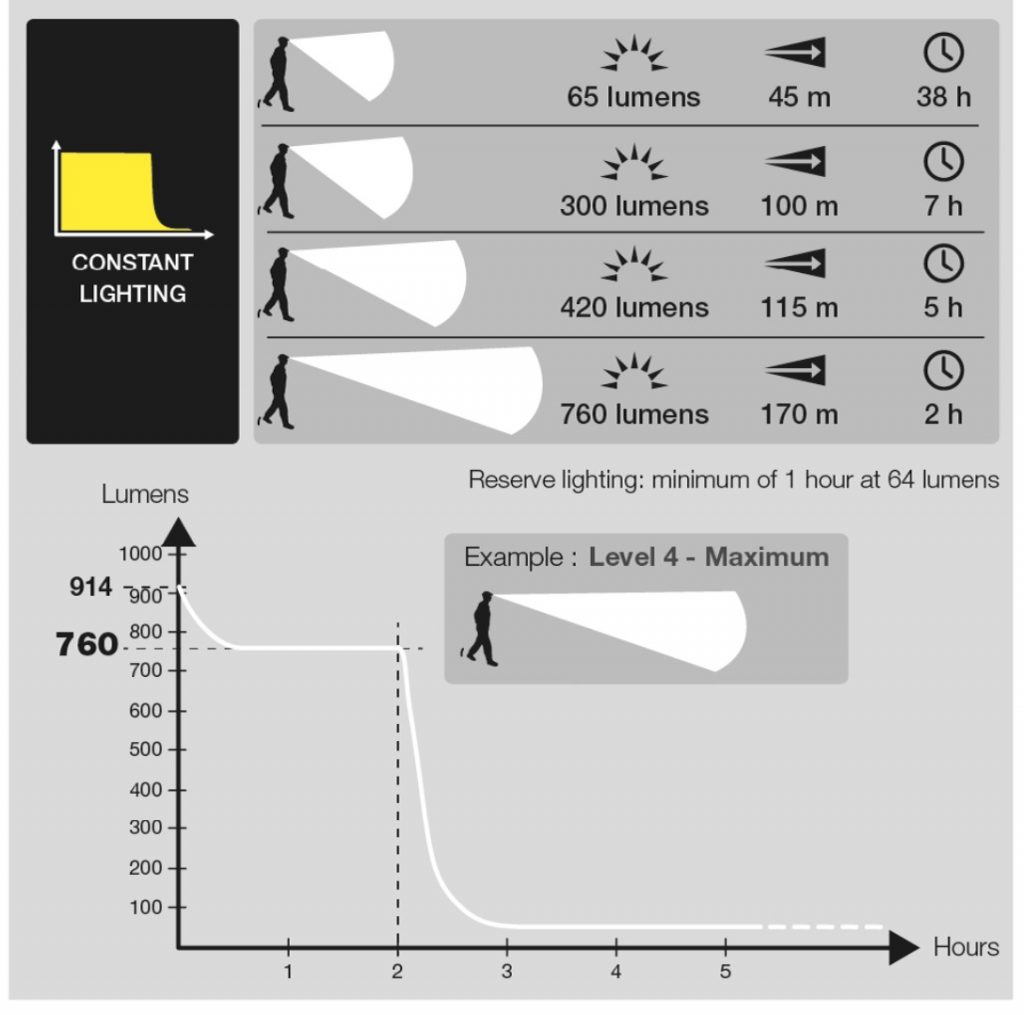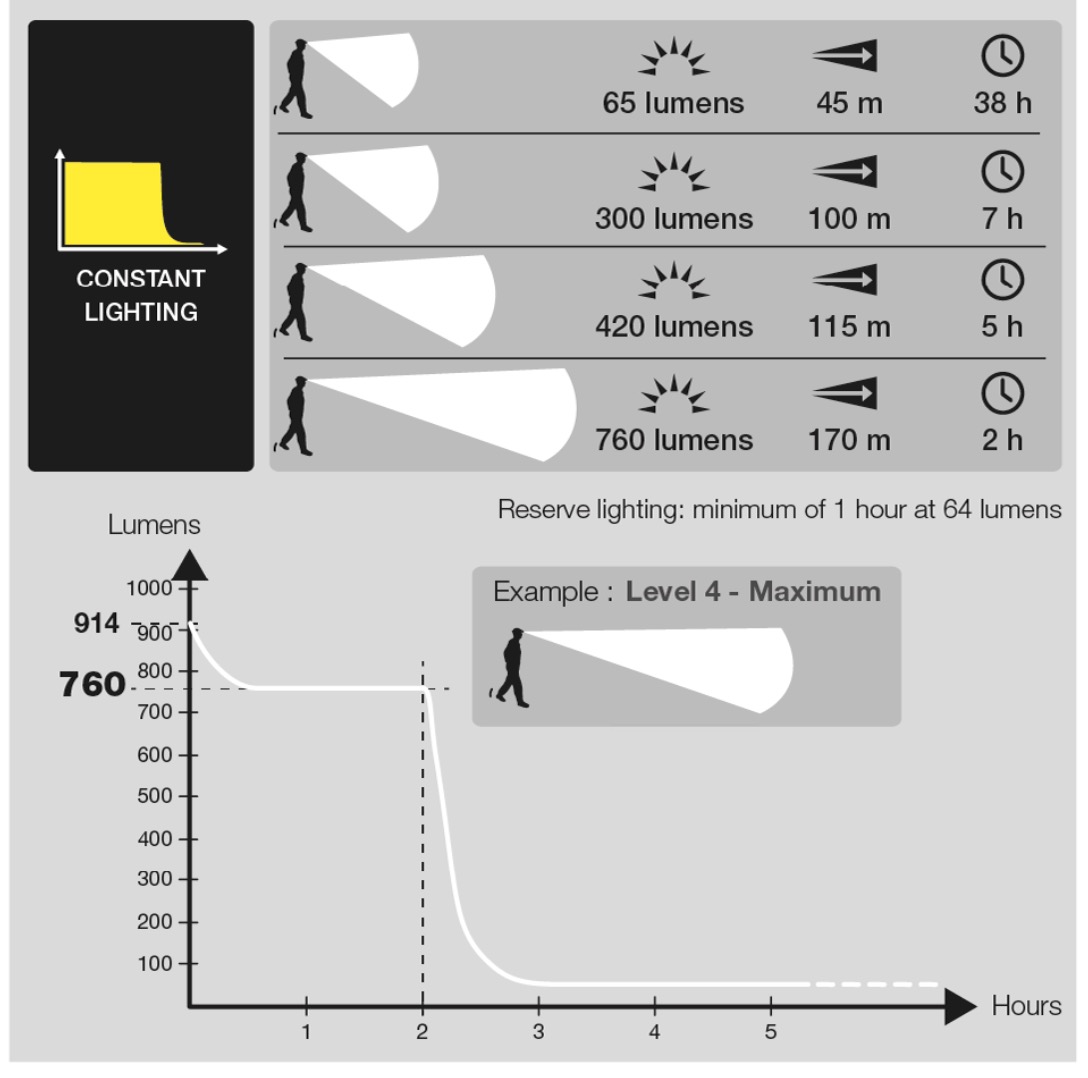 Emergency backup battery option? There is no way to use AA or AAA batteries as a backup when the ACCU 2 battery dies in the ULTRA RUSH headlamp. There is a reserve mode of lighting – but Petzl doesn't say how many lumens it puts out in that mode. It does say you'll get almost 3 hours from it – which is great. I tested it after a battery drain, and I couldn't even guess how many lumens there are. It's weak light for sure. Could you walk on a path at night using it? Probably, slowly.
---
BEAM QUALITY RATINGS
There are six beams from high-efficiency CREE LED bulbs, a mix of flood and spot. I think what that means is, there is one spot in the center and 5 floods around the side that are more like combination flood/spot beams, and not really giving a very wide light profile.
The quality of light is perfect, just a little brighter in the center, and the entire area in front lit up strongly. I couldn't ask for a nicer light spread. I like the quality of this light even better than the Nao+, but of course, you're going to pay for it.
There is no red-light mode or red flashing light on the back of the battery pack on the ULTRA RUSH headlamp.
One bonus is that the light is adjustable down to 90° (pointing at your feet). Some people may need this setting. It also is nice to have that greater range even if using off the head and laying on the ground providing light in a tent or somewhere else.
I honestly cannot wait to see which headlamps Petzl releases. Hope they're coming soon, but they don't release every year. Let's see what happens…
Though hard to find, this site sometimes has them in stock — Shop here.
---
SETTING OPTIONS
Petzl made it easy on this premium headlamp – you turn the selection knob to one of 4 positions: minimum – economic – optimum – maximum. Doesn't get much easier than that.
---
WHICH ACTIVITIES IS THE ULTRA RUSH BEST FOR?
This headlamp really shines in outdoor use. I think it is best for these activities:
hiking – trekking
cave exploring (spelunking) – can get in the water a bit. Best to use Ultra Vario.
working oil platforms or other heavy industry work
adventure climbing
skiing
bicycling
a temporary replacement for a motorbike headlamp!
wildlife excursions at night – it's perfect!
---
SPECIFIC DIFFERENCES BETWEEN ULTRA RUSH and NAO+ (Plus) Headlamp
ULTRA RUSH headlamp is twice as heavy.
NAO+ has 750 max lumens vs. ULTRA RUSH's 760. However, with the UR, you actually get to use all 760 lm. With the NAO+ you get brief bursts at 750 lm in automatic lighting mode (RLT). (** important to note)
On Max manual brightness the NAO+ goes 90 minutes at 530 lumens. The UR will give you 5 hours at 420 lumens or 2 hours at 760 lumens.
NAO+ has Bluetooth connectivity options. The UR has no computer connection capability or way to change the lighting profiles. I think they figure, you're getting huge amounts of light – for hours at a time, you should surely be able to use it as it is. I certainly can, but I'm sure some people would prefer the ability to create specific lighting profiles.
Automatic red flashing light on the reverse of NAO+ ensures some visibility from behind for runners, bikers, and well, anybody. The UR headlamp – has none.
NAO+ has a programmable strobe option to flash a message in Morse code in case of emergency. Requires Bluetooth connected phone – Android or Apple. Ultra Rush has none.
Longer reserve mode on UR (2:45) vs. NAO+ (1 hr.)
Can dunk the Ultra Rush under water – NAO+ is not specifically rated for that level of water protection.
---
CUSTOMER RATINGS
I'll rate the light myself below, and then add some other ratings I find online as well.
---
ADD-ON ACCESSORIES
There are a number of accessories for the UR headlamp, from a more powerful ACCU 4 battery (twice the power) and it comes with a clip for your waist and a cable to run up to your head – keeping the weight off your head.
There are ways you can put this headlamp on a helmet for caving or riding a bike or motorbike. You can even attach the UR to a body harness or your bicycle handlebars. Item numbers beside each product for easily finding them to order.
Click Here to see ALL UR Accessories listed below.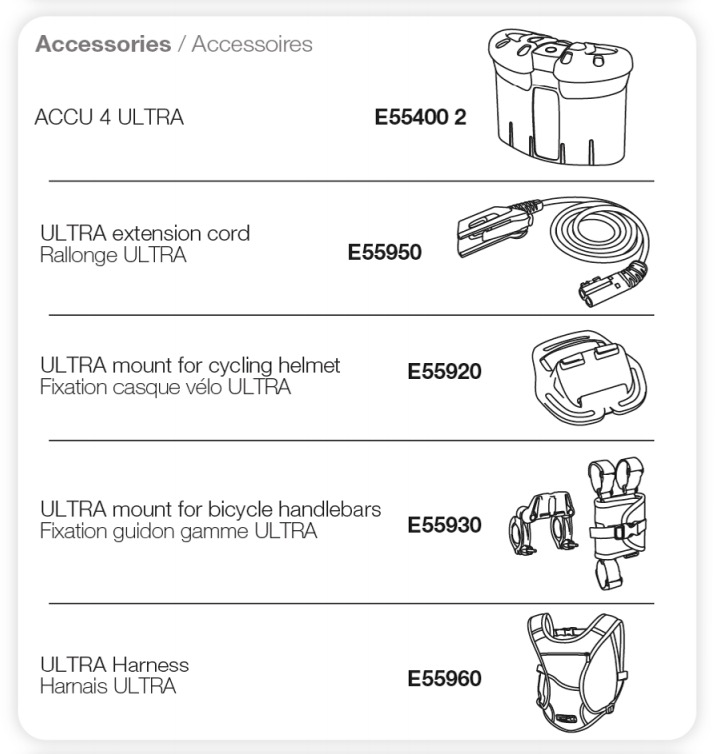 PETZL EXTENSION CORD – Attach the battery in your pocket and run the extension up to the headlamp to take the weight off your head. Best for extended us – like Ultra-Running, or night hiking, or just where you might use the headlamp for over 2-3 hours at a time. Extension Cord for ULTRA RUSH
PETZL ULTRA RUSH USER MANUAL (a free PDF) – PETZL ULTRA RUSH Headlamp User Manual (PDF)
Compatible Accessories – PETZL ULTRA RUSH Accessories (PDF)
PRICE and AVAILABILITY
The Petzl Ultra Rush Professional Headlamp is available at high-end sports locations online, and eBay sometimes. If you are like me, the comfort of knowing that you're actually going to receive the items you order – is very important. There are very few places I trust when ordering items over $50 or more. I use online stores for everything I can. If I can't find it there, I'll try to find the item at some other online chain, but I can almost always find everything I need.
Here are some of the Petzl ULTRA RUSH Headlamps…
Though hard to find, Amazon sometimes has them in stock — Shop here.
To be honest, it is very difficult to find this headlamp in 2022. Petzl has discontinued it. Instead, we recommend the Petzl's DUO RL, ACTIK CORE, IKO CORE, or NAO RL headlamps.
---
See Comparison of our Top 4 Headlamps HERE >
---
Or, watch these ULTRA RUSH videos…
Headlamp Review:
Headlamp Beam Test Outdoors:
Spanish, French, Italian specifications (click one if you'd like to read one of these languages).