New for 2022 is this major update to the Petzl NAO headlamp series. This is one of Petzl's top running and all around use headlamps that they've updated for about a decade. Better battery life! Brighter! More CREE Bulbs! See the cool changes they made for 2022 now!
[Page updated 6 June 2022]
Table of Contents
PETZL NAO RL RATINGS (26 out of 30)
Quality of Build – 5/5 Stars ***** Lightweight and well made, this epitomizes Petzl's manufacturing strategy for their high-end headlamps. Straps are thick where necessary – forehead, and light body and battery compartment have plastic that matches the contours of your head.
Beam Brightness – 4/5 Stars **** I wavered between a 4 and 5 star rating. The 1,000 lumens is available only in Reactive Lighting mode – the automatic setting – and cannot be chosen manually.
Beam Quality – 5/5 Stars ***** Petzl lamps always have great beam patterns and white-balance.
Battery Life – 5/5 Stars ***** The battery itself is 3300 mAh. That's OK, but what is fantastic is that we can now use ANY battery that we can connect to this headlamp with a USB C connector. We're not locked into Petzl's proprietary (and expensive) batteries.
Water Resistance – 4/5 Stars **** The NAO line has typically had decent IPX8 water resistance. I doubt if that has increased greatly with this seemingly all-plastic unit.
Price – 3/5 Stars *** This headlamp will be released in 2022. The price will likely be about $220. That's much too high, but Petzl's quality cannot be beat. I will definitely buy one.
Petzl NAO RL Pros
1000 lm max brightness. That is plenty bright for most activities.
Lightweight, Compact, Excellent for Running.
Reactive Lighting. Great for saving battery and reducing eye-strain. They really have engineered this to be helpful.
Long battery life in RLT mode. The small lightweight battery has 3300 mAh. That's a 700 mAh improvement over the last NAO+ iteration.
Batteries are now Bring Your Own. I love this concept. All you need is a long USB C cable to use any battery charger you have.
Red Light. On the battery pack you can push a button to get a steady or flashing red light that can help you be seen by traffic from behind. Excellent implementation. In the NAO+ you had to use the Bluetooth App which was not fun.
Petzl NAO RL Cons
Expensive at over $200 USD.
Still not 100% waterproof.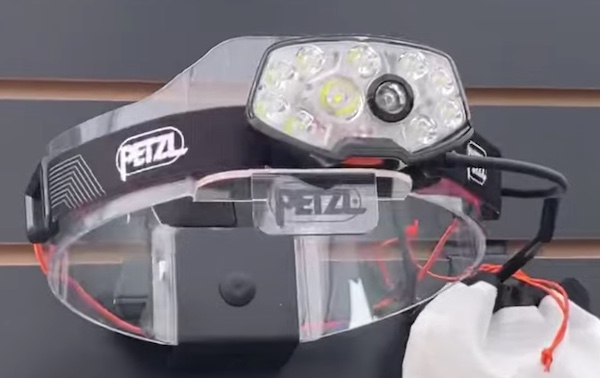 ---
PETZL NAO RL HEADLAMP | 1000 LUMENS
Update 19 May 2022: Petzl has still not released this headlamp. I hope it isnt' the case where they will release it in October like they have in the past. The NAO RL needs to hit the stores NOW because I'm literally dying for it. This is going to be the #1 headlamp for runners around the world. Already some top runners have them and are using them in ultra trail running races all over. I will keep you up to date here – make sure to bookmark this page!
DESCRIPTION
The NAO line of headlamps has been one of my favorites since I first had the old black and white Nao 2 from almost ten years ago. I still have it and it still works fine. The battery capacity has diminished a bit, but it's quite usable.
This new NAO RL headlamp looks similar to the NAO+ Plus that came before it, but there are significant differences. The straps are very similar and it still comes with a top of the head strap that helps the headlamp to balance the front light body and the rear battery compartment.
This is one of the top (I think THE TOP) headlamps used by professional ultra-runners, so Petzl made it even better for them by increasing comfort, brightness, battery life, and ease of use. I think probably nearly everyone on the ultra-running circuit will begin to use the NAO RL because of the ease of using your own battery pack. This is a game changer and will bring thousands of ultra-runners over to Petzl via the NAO RL.
Though plastic throughout, Petzl has chosen a hard and durable plastic which doesn't change color, crack, break, or shatter easily. I've dropped my Petzl's many times and never had any damage. You can be sure this one is well made and strong enough to withstand the rigor of whatever you're doing with it.
NAO RL SPECS (As far as we know – this has not been released yet!)
Dimensions:
Weight: The NAO+ was 185 grams (6.5 oz.). This new one likely won't be over 200 g. to keep runners happy.
Bulbs: Ten Cree LED's, that's 8 more than the last NAO. Bulb life should be around 50,000 hours.
Red Light: 1 rear flashing or solid red light with a dedicated on/off button.
Lock Feature? Yes, just reverse twist the beam selector to show the padlock.
Redundancy for Beam Failure? If one burns out, you have the other 9.
Power Modes: Manual and Reactive Lighting (RL) technology.
Max Lumens: 1000 with RL.
Max Beam Distance:
Run-time Range:
Battery Rating: 3,300 mAh rechargeable. You can also use any battery you can connect with a USB C cable.
Recharge Time:
Water Resistance Rating: IPX 8 most likely.
Warranty: Bulbs – 3 years. Battery – 1 year.
Tilt Range: At least 75°.
Number of Tilt Clicks:
Special Technology: Reactive Lighting. Adjusts beam brightness to match surrounding ambient light and light produced by the headlamp itself. If looking at somethign close, the brightness drops off. If looking far away, brightness is very bright.
My Petzl Light Mobile Software: No. Bluetooth has been discontinued.
Price: Unavailable until Spring 2022. And it is now past Spring and we still don't have it! Maybe soon. Fingers crossed.
---
LET'S SEE WHAT WE'VE GOT!
NAO RL IMAGES

---
MATERIALS | CONSTRUCTION QUALITY
Petzl headlamps are always built well, especially when they are over $100. You can compare the build quality against Black Diamond, NiteCore, ACEBEAM or anyone else and it will fare well against competition.
PETZL NAO RL WATERPROOFING
My idea is that Petzl will increase the water resistance of these headlamps to at least IPX 7 or IPX 8. The previous NAO was just IPX 4. It was nearly waterproof, and I've used it in heavy rain, but the added assurance of a higher IPX rating would be nice. There are probably runners who refuse to use the NAO because of its low water resistance rating.
---
BATTERY LIFE and OPTIONS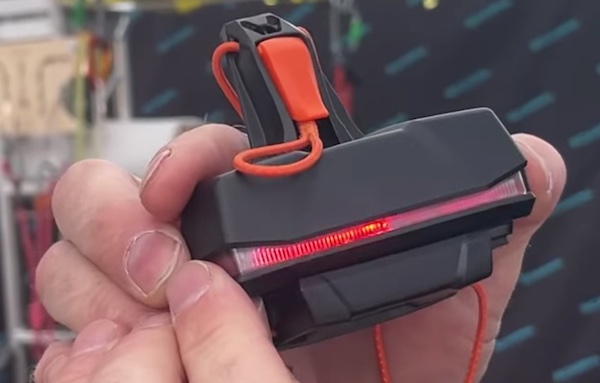 The R1 battery has USB C connectors, so it also allows for bringing your own battery to the party. This is an incredible break from Petzl's previous proprietary lockdown on their batteries. In the past you couldn't even exchange a previous NAO model's battery for another model. Now you can bring any battery you can connect with a USB C and get hours and really entire nights of bright light at maximum settings.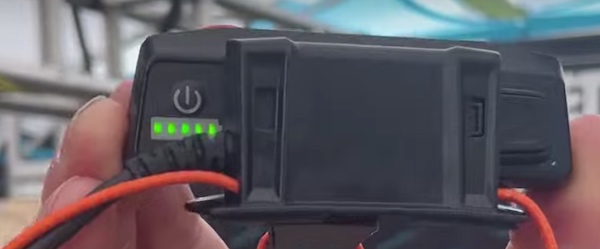 ---
BEAM QUALITY
There are ten CREE bulbs in this headlamp, and Petzl has always done a good job of creating a nice even output beam pattern with its other headlamps. The IKO CORE headlamp is very similar to this new NAO, and the beam is quite nice for runners – with a good degree of width to it and a focus on the center.
There is no red beam on this headlamp, but there is the rear red light that flashes or can remain steady to help you be seen.
---
SETTING OPTIONS
The manual instructions for operation of the NAO+ is below. This new headlamp will likely have a very similar if not same set of instrutions. It would make sense to keep it the same for all the runners who will purchase this upgrade so they don't need to learn a new system.
If we're lucky, we'll get an extra click or two so we have more than the 2 levels of light output of the NAO+. Maybe we'll get 3 or 4 with this new light? Wishful thinking!
The two lighting modes are:
Reactive Lighting – automatically adjusts beam strength depending on where Nao+ is pointed, saving batteries and eye-strain.
Constant Lighting – manual control of lighting – either high or low beam power. Petzl calls the high power beam "Max Power" and the low power setting "Max Autonomy," regardless of which mode the headlamp is in.
---
AUTO ADJUSTING BEAM (RLT)
Many of Petzl's headlamps have the RL or RLT auto mode. We have the SWIFT RL and SWIFT RL PRO, the NAO RL, and the DUO S and DUO Z which all have the technology. Petzl has improved on it with each new headlamp release and it is quite good. You're going to enjoy it.
---
WHICH ACTIVITIES IS the NAO RL BEST FOR?
The Nao RL is meant for the outdoors, like all NAO headlmaps before it. Reactive Lighting works best outdoors and in caves, but better in the wide open outdoors. I think the NAO RL is best for these outdoor activities.
hiking, camping
adventure climbing
bicycling
wildlife field trips at night – it's perfect!
---
SPECIFIC DIFFERENCES BETWEEN NAO+ (Plus) and this NEW NAO RL
NAO+ has 750 max lumens vs. NAO RL's 1000.
NAO RL's battery is 700 mAh more powerful.
NAO RL's light can be powered by any battery that can connect by USB C.
NAO RL has 10 CREE bulbs. NAO+ has 2.
NAO+ has Bluetooth connectivity options. This is a bit wonky, but some people like it. You can program the light power output for your headlamp. NAO RL removed Bluetooth connectivity.
Automatic red flashing light on the reverse of NAO+ must be activated with app on your phone (painful). On the NAO RL the power button is on the battery and you can choose between flashing and steady red lights.
Battery life indicator on the NAO RL has a button on the battery to check.
---
PRICE and AVAILABILITY
The PETZL NAO RL is a new headlamp that is due to be released in Spring 2022. We will let you know where we see it available to purchase first.
---
My Petzl Nao+ Plus Review Video (coming as soon as we get one!)