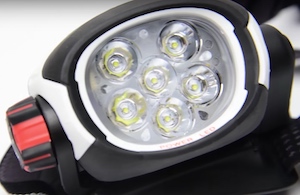 Below are some of our older headlamp highlights showing 12 of the top headlamps that are still good today if you can find them new.
If you haven't seen it yet, this is our 2022 BEST HEADLAMPS GUIDE >
Want One of the World's 12 Best Headlamps for Work? Running? Hiking? Caving? Herping?
You want the details about the headlamp you're buying because you're making a significant investment. On this page we have heaps of details and links to full reviews of the 12 best headlamps as rated by independent poll (us).
So you are in a GOOD PLACE! Let's Get Started!
[Last Updated: 8 June 2022]
Some Top Headlamps
We looked at the top criteria to figure out which are the best headlamps for 2017 and 2018, and we put all the information for you below. If you don't see a headlamp that you're looking for, have a look at what we have listed here because we really think we've got the best of the best on this list!
Headlamp Index (click one)

See Our 12 Best Headlamps in a Comparison Chart (click) >
---
1. Petzl Ultra Rush | A Top Headlamp but Expensive!
One of the top headlamps to buy for Professionals at Work, Camping, Trekking, Herping, Biking, for most people who can afford it, will be this ultra-bright though manually controlled Petzl Ultra Rush headlamp (E52 H). It is one of the newer technology lights on the market, and Petzl has over a 30-year history of creating original and quality headlamps.
If you haven't yet heard of this brand, you're about to because they took five of our top spots on this list! We weren't even sure whether to rank the ULTRA RUSH or the NAO+ PLUS as #1 because they're both so good, but a little different, and a big difference in cost.
Really – the RUSH is the best unless you're using it for running. So, we called the NAO+ Plus the best RUNNER's Headlamp. 😛
The Ultra Rush really shines in situations that require constant lighting, with instant-on power on standby. Oil platform workers, and those working on wind farms, or others scaling heights to do their jobs – use this headlamp because, quite frankly – it just works, and it's the best there is unless you have Petzl or some other top company custom-make the perfect headlamp for you.
The ULTRA RUSH has been discontinued by Petzl. The NEW headlamp to take it's place is the PETZL DUO S. See it HERE >
In addition to professional uses, it just whacks the competition for battery life – giving 38 hours low-light use – perfect for construction work, camping, fishing, trekking, climbing volcanoes, etc. Because the Petzl Ultra Rush is built so solidly and has two batteries in its ACCU 2 battery pack (E52 ACW), it is best for applications in which you're not moving too fast. Meaning, horseback riding is going to bounce this headlamp all over your head.
You probably won't want to run with it either, at least not fast. Some do anyway because they want the quality of light this headlamp puts out. I read a review from a trail runner who ran his fastest time down the mountain with this headlamp because the light quality is amazing – it's just heavier than most would prefer.
Ultra Rush Technology
The Ultra Rush is built very solidly. It's tough. You won't break it unless you launch it off the top of a mountain. I think if you fall on it, you'd have to hit it just right to crack one of the lenses on the front. They're strong. The guy who established the brand, Ferdnand Petzl was a pioneer in caving and climbing. He made the first Petzl headlamp in 1981!
The Ultra Rush is super-bright – cranking out 760 lumens at the top power setting for up to two hours. The second brightest setting is 430 lumens and you'll get that level for 5 hours. That's really bright. If you need the light just for walking, you'll have 38 hours of juice at 65 lumens – which is more than adequate lighting. Most people who buy this light will want something SOLID, BRIGHT, and LONG BATTERY LIFE. The PDF mentions – "Excellent resistance to falls, impacts, and crushing." Sounds good, right? I'll certainly be using my Petzl's into 2018.
Summary
This is a top-of-the-line headlamp from one of the best manufacturers of headlamps in the world. Thousands of professional runners, climbers, and workers on oil platforms and other rigs and boats in the middle of the ocean, use the Ultra Rush and have used Petzl headlamps over the last 40 years. There are good reasons why!
Activities the Petzl Ultra Rush Headlamp is Best For
Biking – Best on 3rd or 4th setting for lighting up the trail.
Camping – from low 65 lumens to 760 max, there isn't much you couldn't do.
Hunting – best on low setting, or high for spotting to 170m.
Skiing – on high setting, you'd have 2 hours of very bright 760 lumens!
Trekking – Hiking – with 2 – 38 hours battery life, you probably won't need more than this headlamp.
Working – construction, boats, farm, heavy industry.
Activities Petzl Ultra Rush is Not So Good For
Cave exploration – spelunking – the beam is too tightly centered.
Running – it's just too heavy for most people. You can get around this by purchasing the waist pack kit with cable. You can use with the ACCU 2 or ACCU 4 battery, taking the weight of the battery off your head and putting it on your waist.
Petzl Ultra Rush Headlamp PROS
6 Super bright LED beams
Round light footprint – evenly lit, biased toward center
Waterproof to 1 meter for 30 minutes
Great battery life for all but the highest setting (2 hours)
All manual settings
Good for almost any activity
Ultra Rush CONS
Not so good for runners – a bit heavy
Expensive – but built to last
The ULTRA RUSH has been discontinued by Petzl. The NEW headlamp to take it's place is the PETZL DUO S. See it HERE >
---
2. Petzl Nao+ Plus | Best Runners Headlamp and Best Semi-Affordable Headlamp
If we hadn't decided to increase the cost limit for our Top Headlamps List, the Petzl Nao+ Plus headlamp (E36 AHR 2B) would have been our #1 Recommendation. As it is, it's very close in capability to the Ultra Rush, but it's lighter and has some other benefits you can find in the Pros and Cons table below. Ultra-runners and other people who are weight-sensitive and want a lightweight unit will appreciate the Petzl Nao+ Plus headlamp without a doubt.
Before buying a number of the newer headlamps for our 2017-2018 list, I used the Petzl Nao (2) headlamp for over a year. The Nao+ Plus is the new model and they've increased the brightness over time, and also gave the Nao+ Bluetooth connectivity so you can create custom lighting profiles from your smartphone (Android and Apple). Petzl appears to have slightly tweaked the RLT algorithm so it nails most lighting situations, saving, even more, battery than the older model. The new battery model is E36200 2B. If You Want a WELL-BUILT, DURABLE, BRIGHT, AUTO ADJUSTING LIGHT – the Petzl Nao+ Plus headlamp is probably for you.
Reactive Lighting Technology (RLT)
The Petzl Nao+ top line of headlamps comes with Reactive Lighting Tech which senses the environment and automatically adjusts the light beam output to match. RLT saves precious battery juice to extend battery life beyond what most headlamps can provide on just one 2600 mAh 18650 rechargeable battery.
There are dozens of climbers and running professionals on the Petzl Team, including Kilian Jornet – the world's best ultrarunner, Tony Krupicka, and Sebastien Chaigneau. Three champions. There are 1000's of other Petzl users, you can see them lined up at the start of every ultra race around the world that includes an overnight section. When you buy a Petzl, you're in the company of world-class athletes.
Summary
Excellent build quality, beam shape and quality of light combined with Reactive Lighting Technology makes the Petzl Nao+ Plus one of the top headlamps in the world. All of the headlamps on this page are highly recommended for specific uses, this light covers more activities than the others. Grab One!
Activities Petzl Nao+ Plus Headlamp is Best For
Biking – on 3rd or 4th setting will be best results.
Caving – recommend you set up the MY PETZL LIGHT application on your phone and custom program the Nao+ to give the max duration of time at the brightest possible output for cave exploration/spelunking. Also recommend you bring spare batteries, and even better – a spare headlamp!
Camping – perfect for any need.
Hunting – Not great for spotting far in the distance, but for close needs – works well.
Running – perfect beam shape, color balance, and size of the beam for trail or street running.
Skiing – on 3rd or 4th highest brightness setting – best results.
Trekking – Hiking – great for walking!
Anything!
Activities Petzl Nao+ is Not So Good For
Petzl Nao+ Plus Headlamp PROS
Reactive Lighting Technology saves battery!
Lightweight, durable, comfortable, easy-to-use
Customizable Lighting Profiles
Round light footprint – evenly lit, bias on center
Red Light on Reverse for easy visibility
Water resistant in heavy rain
Good for almost any activity
Petzl Nao+ Plus CONS
Max 750 lumens Only Available in RLT Mode
Battery replacements are expensive ($60-80), but really, these are the most reliable 18650 batteries I've ever used.
The Petzl NAO PLUS is one of our ALL-TIME Favorite headlamps. See if they're available HERE >
---
3. Petzl Nao (Nao 2) | Best Budget Runners Headlamp
Over one year of use and this Nao headlamp (E36 AHR) is still cranking! I don't notice a difference in battery life from the first day to now, I still get over 90 minutes at maximum power on the manual setting. Max power with this light is probably as much as you will ever need, but the other two headlamps above put out some extra light if you need it.
The Petzl Nao – we also call the 'Nao 2' because it's the 2nd edition but with the same name (Nao). This headlamp is ideal for hiking, camping, running, biking, climbing trees to get coconuts, whatever you're doing! Right now you can get this headlamp for around not much over one-hundred dollars, which is a substantial discount off the price before the new model (Nao+) came out.
One of the Top Headlamps for Years and Years
Last year, the Petzl Nao (2) was listed as our best-rated headlamp – and it would have been the same story this year, but Petzl came out with the new Nao+ Plus, an amazing Ultra Rush, which both improve on a couple things with the Nao. The Nao was the ultimate light for me as I used it for finding venomous snakes in Thailand's humid rainforest over 250 times in 2016 and over 200 times in 2017. In 2018 we've had bad weather so far, but anxious to get out there!
Then I also did some night runs on my favorite mountain trail – and at both of these activities, this Nao+ headlamp excels. If you are conflicted about which headlamp to buy – the Nao+ Plus might seem like too much money. Even the Nao, you may not be sure you want to spend that much. You may be looking at the Petzl Reactik+ or one of the other headlamps and wondering if one of them can suffice. I strongly suggest you get one of the Nao headlamps.
Summary
My advice is to just buy the Nao. It really is still my favorite because it provides everything I need, and does it daily without a problem. It's a nice feeling to use a product for a year and never once have to worry about it working or not. Ferdnand Petzl created a company I've grown to love. Their products are exceptional.
Activities Petzl Nao is Great At
Biking – slow, not full out Gonzo on the downhills. Get the Ultra Rush above for that.
Caving – if you need for caving, you're better off with the Nao+ Plus above.
Camping – great for camping – all uses!
Running – light and great beam for street or trail running. Used by some top ultra trail runners in the world.
Skiing – not fast, but slow skiing – yes, good for this.
Trekking – Hiking – yes!
Almost anything!
Activities Petzl Nao Headlamp is Not So Great At
Fast activities – biking, skiing, rollerblading, skateboarding, kite surfing, hang gliding, etc.
Hunting – the center beam strength is probably not enough for what most hunters would like for spotting game far off.
PROS
Reactive Lighting Technology saves battery!
Lightweight, durable, comfortable, easy-to-use
Round light footprint – evenly lit, bias slightly on center
Water resistant in heavy rain
Good for almost any activity
Price is dropping because new model (Nao+ Plus) is available
CONS
Max 575 lumens Only Available in RLT Mode
Battery replacements are expensive but are exceptionally reliable.
SORRY, we could not find this discontinued headlamp online any longer.
HERE is a great replacement, better in every way. Promise. (SWIFT RL PRO)
---
4. Fenix HL60R | Runner-Up Best Running Headlamp
The FX-HL60R headlamp popped up on our radar a couple of times during our search for the top headlamps of 2017. At first, we glanced over it because in the past all Fenix was putting out were bad beam patterns that personally, I had no use for. Then, most of the Fenix models were using the 18650 batteries and they are very hard to get overseas. Fakes abound. I was really excited to see this headlamp has a decent beam pattern and power, lightweight, and all for a very reasonable price! The Fenix HL60R is going to be primarily for walkers or runners at night.
HL60R's Strong Beam and Good Battery Life
Though the beam has one shape and doesn't offer a spotlight or true wide-angle flood beam, many people will love the quality of light the Fenix HL60R puts out. The beam has a small, soft beam biased toward the center and weak light on the sides.
The beam footprint is round. Not only that, but the beam can get as bright as 920 lumens for as long as 48 minutes. Now, that's with the supplied Fenix 18650 battery rated at 2600 mAh. There's no reason you can't buy additional batteries to extend the length of time you have light.
For that reason, some people will find the HL60R to be the perfect light for them because it has bright light, moderate to long battery life with extras, and Fenix is a durable brand, though, from China, it is a stable product that has been around for nearly 10 years now.
One problem with this light is that it gets very warm, causing foreheads to sweat. Not ideal for running, though some use it for that.
Activities Fenix HL60R Headlamp is Best For
Biking – ok, but tight beam. Biking slow, OK!
Caving – a nice wide flood light!
Camping – all uses!
Hunting – great spotting light – with a beam that will show eye-shine at 300m.
Running – slow running, OK!
Trekking – Hiking – sure!
Almost anything!
Activities HL60R is Not So Good For
Seems to be capable of anything! It does get very warm, so if you're in a hot environment, you'll want a Petzl lamp for your head.
Fenix HL60R Headlamp PROS
950 lumens max – Super bright! + Red beams
Lightweight, durable, comfortable, easy-to-use
Great battery life and cheap replaceable 18650s or CR123A
Round light footprint – slight center bias
Waterproof to 2 meters deep for 30 minutes
Good for almost any activity
Price is reasonable
Fenix HL60R CONS
Max lumens of 950 is only available for 48 minutes
No auto mode or custom profiles
CHECK PRICES and AVAILABILITY Now >
---
5. Petzl Reactik+ Plus | Best Lightweight Headlamp
We've used the model that came before this Reactik+ Plus (E95 HMI – coral; E95 HNE – black) and it was brilliant. This new model improves upon the Tikka RXP considerably with longer battery lifetimes, brighter beams, and Bluetooth connectivity to your smartphone – using the My Petzl Light application for Android or Apple. Beam strength in auto-mode (RLT) is 80 lumens at low, 170 on medium, and 300 lumens at the brightest. On manual mode, it takes a hit and is at 30 – 100 – 200 lumens on those settings.
Runners and Campers Rejoice
The Petzl Reactik+ Plus headlamp with Reactive Lighting Technology is ideal for runners and campers alike. It really is good in just about any situation you could think of at the campsite. Reading a book. Setting it up as a tent light hanging from the center pole. Red light for saving battery and not waking anyone up.
A shaped beam which is perfect for running straight ahead or walks on trails. Great for fishing too. I can't see any sort of downside for either of these two uses, though trail runners might want another light that gives a bit of a wider beam to show hazards. Plenty of ultra-runners use this light too – so, it's just a preference of mine for a wider beam like the Nao or Nao+ Plus.
Activities Petzl Reactik+ Plus is Best For
Biking – slow
Camping – all uses!
Running – yes, there are still ultra runners who use this light. Will need extra batteries to go all night on high power.
Trekking – Hiking – yes!
Activities Reactik+ Plus is Not So Good For
Caving – not bright enough.
Hunting – the center beam strength is not strong enough for spotting.
Skiing – beam is probably not strong enough unless skiing slowly
Petzl Reactik+ Plus Headlamp PROS
Reactive Lighting Technology saves battery!
AAA battery option with separate battery case
Lightweight, durable, comfortable, easy-to-use
Bluetooth enabled for Custom Lighting Profiles
Water resistant in heavy rain
Good for many activities
Petzl Reactik+ Plus CONS
Max 315 lumens only available in RLT mode
Not as easy to use as Petzl Nao line
Light not nearly as bright as some of the other top headlamps
This Headlamp is older and we cannot find new ones any longer. But, THAT'S OK because there is a replacement we have for you that is FAR BETTER IN EVERY WAY.
The SWIFT RL PRO – CHECK AVAILABILITY HERE >
---
6. Petzl Tikka RXP | Lightweight General Use
Along with the Nao 2, I used the Petzl Tikka RXP headlamp (model E95 RC) on my night wildlife field herping expeditions, probably over 200 trips in a year. The quality of beam put out by this headlamp is not really close to the light from the Nao series, the Tikka has more of a person-shaped beam.
They developed it this way for running because it really shows the vertical area well – and lights up the path. I wouldn't say it's ideal for nighttime wildlife tours, but for anything else related to camping, sure, you can't go wrong with one of these, or the Reactik+ Plus headlamps.
Affordable and Moderately Bright Light
Though this headlamp is ranked 6th on our list of the Top Headlamps for 2017-2018, it is really a nice lamp for the small amount of money you'll pay for it in 2018. We are keeping it and will use it this year along with some of our other new lights, and we have no doubt, it will perform!
If you are looking for a beginners headlamp and you don't need it for much, maybe occasional outside walks or camping – get this one and see how it works for you. If money is no object, I'd suggest the Petzl Reactik+ Plus or the Nao+ Plus, also excellent headlamps!
Activities Petzl Tikka RXP Headlamp is Best For
Camping
Running
Trekking – Hiking
Activities Tikka RXP is Not So Good For
Biking – not bright enough for anything but very slow biking at night.
Caving – beam too weak.
Hunting – the center beam strength is not strong enough
Skiing – beam is not strong enough unless skiing slowly
Petzl Tikka RXP Headlamp PROS
Reactive Lighting Technology saves battery!
AAA battery option with separate battery case
Lightweight, durable, comfortable, easy-to-use
Water resistant in heavy rain
Inexpensive now that the new model (Reactik+ Plus) is available
Petzl Tikka RXP CONS
Max 215 lumens only available in RLT mode
Not as easy to use as Petzl Nao line
Light not nearly as bright as some of the other top headlamps
This Headlamp has been DISCONTINUED.
The SWIFT RL PRO is our suggestion. You'll LOVE IT.
---
7. Fenix HP25 | Best Long Beam Headlamp
With two separately controlled Cree bulbs, the Fenix HP25 has some functionality that some of the other headlamps just don't offer. On the right side of the unit (user's perspective) is the spotlight beam which has 3 levels of brightness.
A quick half-second push turns the beam on and off with the button on the top right of the headlamp. The spotlight beam is super-strong and stays pretty tight even at 100 meters (yards) distance.
Max distance you can see is over 550 feet. If you need to be able to spot something far away – like dogs running at you, for instance, this headlamp can be a great tool to have on your head. The left side beam is a flood – very wide, almost 180° spread. This beam has 20 brightness levels, ideal for walking or reading.
The beams can be used together – which really brightens up the area. Note – this beam has a strong center beam when both flood and spot are activated, it is very intense. I've had these Fenix lights for almost 2 years now, and they've NEVER let me down. I'll be using them in 2018 too!
Separately Controlled Cree Spot and Flood Beams
Quite a few 2017-2018 headlamps have dual and even more Cree beams to blend flood and spot to give a really nice effect. Plus, on some of the units like this Fenix HP25, the beams can be controlled separately, to give the best mix possible – all on manual settings. The manually controlled spotlight beam on the HP25 is brilliant.
If you want a very strong center spotlight beam, with 3 levels, this could be your light. You can easily see well at 100 meters (yards) at the highest brightness setting. The flood beam by itself has 4 adjustable levels, and the turbo mode is good for running on a non-technical trail. Combine the two in any combination you wish – 20 settings in all.
Activities Fenix HP25 Headlamp is Best For
Camping – any use!
Hunting – 300m spotting distance
Running – OK, the beam is tight. Other headlamps would be better.
Walking – great!
Activities HP25 is Not So Good For
Fenix HP25 Headlamp PROS
Bright center beam for spotting
Flood and spot beams individually controllable
Powered by 4 AA Batteries or Rechargeable
Good in heavy rain
Price is reasonable
Fenix HP25 CONS
No auto-mode or Custom Profiles
Very bright center beam, not gradual drop-off
Somewhat heavy – the 4 AA batteries weight it down.
---
The next group of headlamps is easily affordable. We are including these because we know not everyone can spend $150+ on a headlamp. These are solid affordable options for you!
---
8. OLIGHT H25 Wave | Bright, Great Battery
Lumens Output: 800 max (updated for 2017) for 5 hours.
Weight: 443 grams (15.6 oz.)
Max Beam Distance: 212 meters (696 feet)
Positives: Very bright. Well made. Diffuse flood is good for some applications. Cool shut-off with a wave of your hand.
Negatives: Mandatory battery waist pack – cannot wear on the head.
This is a new brand for us, and we are anxious to give it a full review. I've used my friend's Wave H25 headlamp for a night of looking for wildlife in the Thailand rainforest, and it was really good. I am very impressed and so happy to find the brand. They have a number of other headlamps as well, and flashlights (torches). See MORE OF THEM HERE – OLight Headlamps Available Now
.
OLight is a company based out of Georgia, USA. It is refreshing to see a price on these headlamps that is less than the defacto standard – Petzl brand from France. Already, I'm calling OLight headlamps a great alternative because the price is so different for specs that are so similar.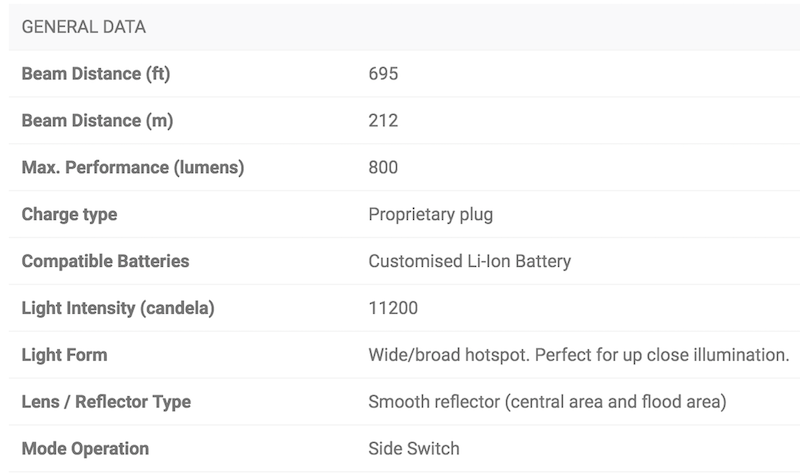 At less than $$ for this headlamp (and sometimes as low as $), this is a remarkable light that appears built to last. It has an aluminum frame for the CREE Beam, power, and infrared sensor on the front of the lamp. It has strong straps and a well-made battery pack. Get this, the battery pack even has an external USB 2.0 charging output port – so you can charge your phone for it in emergencies! Really well thought out.
I'll have a full shoot-out for this Wave H25 vs. Petzl Ultra Rush in a couple days. I just need to borrow my friend's light and put it through the paces. It's a good deal and worthy of inclusion on our list. The focusing beam works OK, it can be helpful in the case of needing to see further in a spot beam type spread. Of all the headlamps Coast has, this one is probably the one we'd purchase.
So, to review – the positives are the price; the very bright flood beam; the build quality; battery life; the instant on/off with a swipe of your hand in front of the beam, and the external power jack for USB 2.0 charging capability.
The OLIGHT H25 Wave is ideal for night running, hiking, exploring, wildlife tours, bicycling, cave exploration (spelunking), or working on your car or in your home in dark areas. This light is highly recommended, and we are picking up two of them for ourselves this week.
---
9. Coast FL85 | Super-cheap, Bright
Lumens Output: 615 max (updated for 2017)
Weight: 128 grams (4.5 oz.)
Max Beam Distance: 183 meters (600 feet)
Positives: Bright enough for nearly all applications and the focusing ring, though gimmicky, works moderately well.
Negatives: Build quality less solidly built than Petzl or Fenix. Battery went quickly in high mode. The lamp gets a bit hot.
The Coast brand headlamps are from Oregon, USA, and have been around for a few years. I've used their FL85 headlamp for a test while out in the field and thought it was good enough for average use scenarios. Nothing where you're going to be putting your life on the line. This is what my mom would buy to keep in the house for when the power shuts off.
This is an inexpensive light – it's a good deal and worthy of inclusion on our list. The focusing beam works OK, it can be helpful in the case of needing to see further in a spot beam type spread. Of all the headlamps Coast has, this one is probably the one we'd purchase.
The weight is not balanced – all weight is forward, so using this headlamp for running or even jogging is out. Mountain biking? Nope. Something slow and deliberate… yes. Stock up on AAA batteries for this unit, and if you need it for something important, you might be kicking yourself for not buying a more expensive Petzl brand headlamp instead.
---
10. Black Diamond Icon – Best Update
Lumens Output: 500
Weight: 230 grams (8.1 oz.)
Max Beam Distance: 125 meters (410 feet)
Positives: Bright light and decent waterproofing standard
Negatives: Design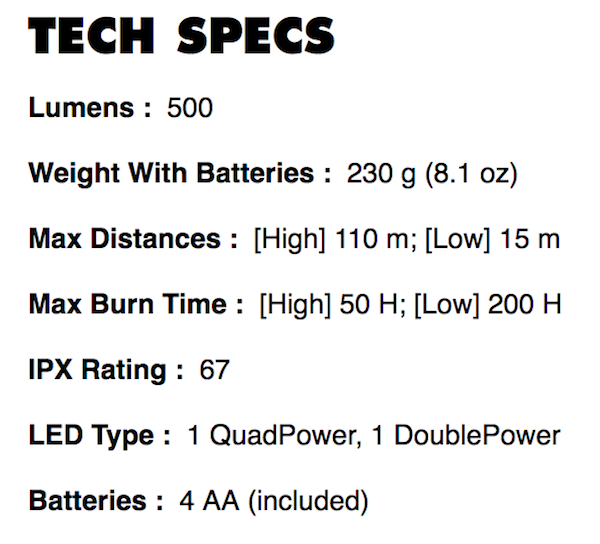 While some review sites are hailing this as the K-bar of headlamps, it really is barely capable of handling what we'd throw at it here on night herping trips and trail running. Finally Black Diamond is swinging the bat with this latest attempt. They jacked-up the lumens output to 500 lm, and that's about the minimum you'd need for use on a motorbike, motocross bike, or other serious applications. For the price, around $, it's probably not the best choice. Unless you like Black Diamond lights, and have used them in the past and found them to be all you need.
The design of this unit, like all BD's – is just nothing like Coast or Petzl, or even the Chinese brand – Fenix. Still, it's a light that can handle most tasks, but if you're going to be lugging around that weight on your head, shouldn't you really have a PETZL instead?
---
11. Coast HL7 Headlamp | Useful Focusing
Lumens Output: 285
Weight: 125 grams (4.4 oz.)
Max Beam Distance: 119 meters (390 feet)
Positives: Balance of unit on head, intuitive controls
Negatives: Battery life
Less bright and yet more balanced and better designed than the Coast FL85 mentioned already, this headlamp is probably the one that most people will buy and be happy with over a couple of years. Unless you need more powerful light beam for something like riding your bike or running or looking for wildlife in the forest, this headlamp will probably suit you fine.
The adjustable beam focus could be helpful for people needing to spot deer or something long-range. The Fenix HP25 above, does it better, but the HP25 is having some availability issues, and you'd be fine buying the Coast – made in the USA, vs. the Fenix from China.
Battery life is not stellar, and it relies on AAA batteries. If you can deal with that, this headlamp may fit your purposes.
---
12. Fenix HP25R | Cranks 1,000 Lumens
Lumens Output: 1,000 (burst); 350 (high)
Weight: 278 grams (9.8 oz.)
Max Beam Distance: 187 meters (614 feet)
Positives: Two separate beams – one flood, one spot. Super bright. Many combinations.
Negatives: Heavy, and battery is gone in a puff of smoke!
We have a number of Fenix lamps mentioned already, but it wouldn't be right not mentioning the newer HP25r – the successor to the hugely successful HP25. These are made by a Chinese company which crushed the competition for years in the low-end headlamp space. It wasn't until the last five years that Coast, Black Diamond, came into the mix. So, Fenix lights are bright, durable, and have some crazy-high lumens rating. This headlamp cranks 1,000 lumens for a brief burst. That's like sunlight. Its high rating is 350 lm, and that makes more sense for a lot of activities. Still, it's good to know you have the power of the sun on-tap.
---
Headlamp Buyer's Guide Extras
The Technology of Headlamps
Headlamps have changed a lot since the early 1980's when Ferdnand Petzl was making tungsten headlamps for climbing.
How to Decide on the Right Headlamp?
The best way to figure out which headlamp you need as you look to purchase, is to reverse engineer it. First – figure out what activities you'll need your light for. Camping? Non-technical trail running? Road running? Skiing? Mountain biking? Spelunking? Some people need a light for many varied uses, and there might not be a headlamp that does EVERYTHING. Which criteria are you willing to compromise on? Battery life is probably a good compromise because you can always buy more batteries. It can get expensive, but if you find a headlamp that does everything you need, but the battery life isn't up to par – you should probably just bite the bullet and grab an extra battery too.
Beam Characteristics
What kind of beams will you need – and how bright – will be the next questions. If you're hunting, you'll want a strong center spotlight beam like provided on the Fenix HP25. If you will be reading at night in your tent, or want a tent light, you can be fine with the Petzl Reactik or Reactik+, or the HP25.
The Nao series is best for runners and those who want a light unit with bright light for a long time – hours. If you're exploring caves, you probably want a Nao+ or Ultra Rush – or two of them to give you redundancy so you're not stuck without light at some point. If you want a headlamp to strap on your bike occasionally, the Ultra Rush is great for that.
What About the Shape of the Light Pattern?
You may not have even thought about it yet, but the shape of the light cast is one major factor that you'll need to take into account when choosing your headlamp.
The shape you want depends on the activity you're doing. For looking for wildlife in the rainforest and on the road, the Nao series or the Ultra Rush works perfectly for me. The beam is bright in the center and gradually gets lighter on the sides.
The beams have a nice width to them. The Petzl Reactik+ beam is vertically oriented a lot more than the other headlamps. It's for running short distances at night – and gives nice coverage of the area in front of you, but little coverage of the sides – where you don't need it so much.
The Fenix HP25 gives a great wide flood and a very tight center spotlight beam. The reason the Ultra Rush got our top beam of 2017 and will surely be one of our top headlamps in 2018, is that it has 6 LEDs which are finely tuned to give a really nice quality of light – it lights up the area in front of you brilliantly.
It doesn't cover very wide, and nor does it make the center too bright. It's just a nice implementation of a lot of light looking generally forward – and it's great for most applications.
Maximum Brightness Levels:
Reactive Lighting?
Do you need really long battery life, and are you willing to sacrifice a light pattern with constant brightness level? The Reactive Lighting Technology by Petzl was created to save battery and provide great lighting when you need it. Petzl has definitely succeeded – and their lights with RLT are definitely some of the best on the market. Personally, we feel they are the gold standard by which we judge other headlamps. RLT is not a gimmick, it works for most activities.
Three Headlamps with Reactive Lighting Technology:
Batteries
If you're going on an extended trek across mountains in Nepal or the Rockies, you'll want to have either an excellent solar charger to charge your batteries, or you'll want to stock up on AA or AAA batteries to provide you ample light over that long time-frame. Here are the battery options for the top headlamps listed above:
See Our Headlamp Battery Replacements List HERE >
Waterproofing
Headlamps are not really made for underwater use, though of course there are diving lights that can be used for that purpose. Headlamps maximum water resistance is at a depth of around 2 meters for 30 minutes. Any of the headlamps above will do well in a hard rain. Here are the ratings…
Headlamp Brand and Model
Max. Lumens Brightness
Max Battery Life at # of Lumens
3 Activities Headlamp is Best For?
Check Price (click to see)

Petzl Ultra Rush
760
38 hours at 65 lmn
Ultra Running; Biking; Camping
Check
price

Petzl Nao+ Plus
750
15 hours at 320 lmn
Any running; Camping; Fishing
Check
price

Petzl Nao 2 (2015 model)
575
12 hours at 40 lmn
Any running; Camping; Fishing
Check
price
350
15 hours at 30 lmn
Street running; Camping; Hiking
Check Price

Black Diamond Icon
500
40 mins at 500 lumens
Running; Hiking; Camping
Not avail.

OLight H25 Wave
800
24 hours at 60 lmn
Caving; Hiking; Hunting
Check
price

OLight HS2
400
2.5 hours at 400 lumens constant light
Running; Camping; Fishing
Not avail.

Fenix HP25R
1000
150 hours at 4 lmn
Hunting; Camping; Hiking
Check
price

Fenix HL60R
950
100 hours at 5 lmn
Hunting; Camping; Fishing
Check
price

Black Diamond Icon
500
175 hours at 4 lmn
Camping; Street Running; Fishing
Check Price

Coast HL7
285
70 hours at 4 lmn
Camping; Hiking; Fishing
Check
price

Coast FL85
540
17 hours at 75 lmn
Camping; Hiking; Street Running
Check
price
OLight H2R Nova
2300
1 minute at 2,300 lumens then 100 minutes at 750 lumens.
Running; Cycling; Skiing
Check Price
Energizer Hard Case Rugged
325
3+ hours at 325 lumens
Camping; Fishing; Running
Check Price
Petzl DUO S
1100
5 seconds at 1100 lumens then 3.5 hours at 700 lumens
Running; Cycling; Skiing
Not avail.
Petzl MYO
370
hours at 170 lumens constant lighting
Running; Camping; Fishing
We hope this page helped you choose one of the best headlamps!
If you haven't seen it yet, this is our 2022 BEST HEADLAMPS GUIDE >
Cheers!
Vern Lovic
Headlamps101.com
(Headlamps101 is a participant in the Amazon Services LLC Associates Program, and we receive a commission on purchases made through some links on this page. The price you pay is not affected at all by whether you buy through our links or direct from Amazon.)