[Page Updated: 1 June 2022]
If you don't know everything you need to know to make your decision about which is the best headlamp to buy in 2019-2020 – Read THIS Page you're on – it will help you decide which headlamp is right for what you're using it for.
10 Criteria to Help You Choose the Best Headlamp
1. Price
Let's just say that if you have $300+ to spend on the best headlamp you can get, the Petzl DUO S or DUO RL is probably the right light for you. It is a bit heavier than other headlamps, but, for most applications – it's simply awesome. Or, Choose a Price Range if the price is the most important consideration: Under $100; Under $200; Under $500. We recently added more headlamps to our Buyer's Guide here. The headlamp that is right for most people is this one.
2. Weight
Weight won't really matter for many people because really, none of the headlamps are all that heavy. They can all be worn comfortably on the head if walking. But, if you're an ultra-runner or using your head torch during other activities where weight is a consideration, you'll probably not prefer one of the heavier headlamps. Choose a Weight Range to see which lights might be right for you. 50 g to 150 g; 151 g to 250 g; 251 g to 350 g; Over 300 g.
3. Max Brightness
This is a tricky category because lumens can be measured in different ways, and two lights with the same lumen rating can measure drastically different depending on how the measurement is taken, the beam characteristics (shape, size, the color of light), and the batteries used. We cover Beam Comparisons here. Or, Choose a Max Brightness Rating: 200 to 300 lumens; 301 to 400 lumens; 401 to 500 lumens; 501 to 600 lumens; Over 600 Lumens. Also, beware gimmicks – like 3,200 lumens, 12,000 lumens – these are only good for defense as you completely blind your attacker as long as the light is on their face.
4. Battery Life
At maximum power settings, most lights just don't have the power to put out that much juice over a long time. Though extra lithium-ion rechargeable batteries can be very expensive, there really isn't much of a choice, unless you can carry other battery packs to charge your headlamps. In some cases, it makes more sense to just buy another complete headlamp because you get a backup headlamp and the battery that comes with it.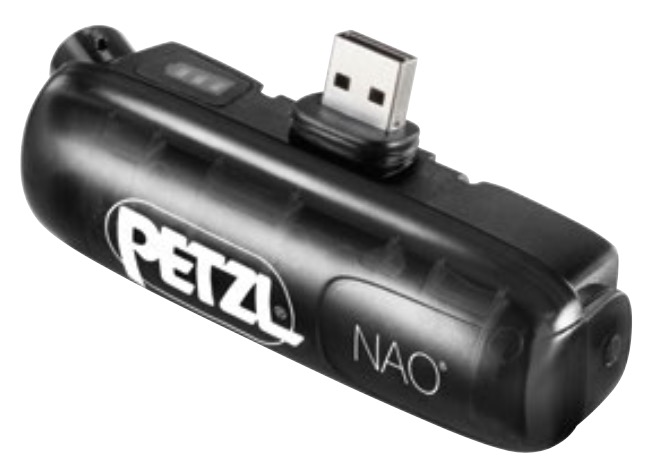 Lithium-ion rechargeable batteries are nice because they work better, longer, and are stronger than batteries you can buy in a store, or rechargeable replacements. But, be careful with that. If you're running your headlamps on just maximum brightness – the Alkaline batteries provide a longer duration! Weird, right? That's how it works. Some people want both options. Choose a Battery Option to see headlamps that match: AA only; AAA only; AAA and Lithium-ion (Petzl Tikka RXP headlamp); AAA and Lithium-ion; Only Lithium-ion; CR123A. Or, see our Batteries page for more information.
6. Beam Quality and Options
Some people need a great spot beam in the center to locate trails that are far away, or even game they're hunting. Most people need either an evenly spread out beam or a beam with some brighter spot to the center. Choose a Beam Type: Evenly Lit Flood Beam (Petzl NAO, NAO+, ULTRA RUSH, ULTRA VARIO); Strong Spotlight; Both Flood and Spotlight Beams (Petzl NAO, NAO+, ULTRA RUSH, Fenix HP25, HL60R).
7. Auto-Adjusting Beam
Three of the Petzl headlamps have automatically adjusting beam strength based on how close objects are to the light – and where you are looking. It's called Reactive Lighting Technology (RLT). It's pretty ingenious, though not perfect yet. Evidence for its utility is that many top ultra-runners use these lights and are happy with the performance of the self-adjusting beam. The main benefit is that it adds hours of battery life savings. These two headlamps have RLT – Petzl NAO, and NAO+.
8. Activity
Which activity you need your headlamp for will dictate which headlamp is best for you. Choose an Activity: Street Running 1-2 Hours; Street Running All Night; Trail Running 1-2 Hours; Trail Running All Night; Cave Exploring; Climbing at Night; Trail Hiking (Petzl Nao, or Nao+); Camping; Hunting; Fishing; Fixing Your Car or Other Home or On the Road Use; Reading at Night (choose any of our headlamps).
9. Headlamps Durability
If you're going to be trusting your headlamp to keep you safe in potentially unsafe situations, you'll want to choose one of the best headlamp brands. We review only the top headlamps here at this site, but even so – of those, you'll want to choose one of the best of the best to take with you. These 3 Headlamps are Recommended: Petzl NAO+ (Plus); Petzl NAO 2; Petzl ULTRA RUSH. Ideally, you'll take two or more of each of these lights for long hikes or runs, or in situations in which lighting is absolutely critical – like spelunking (cave exploring).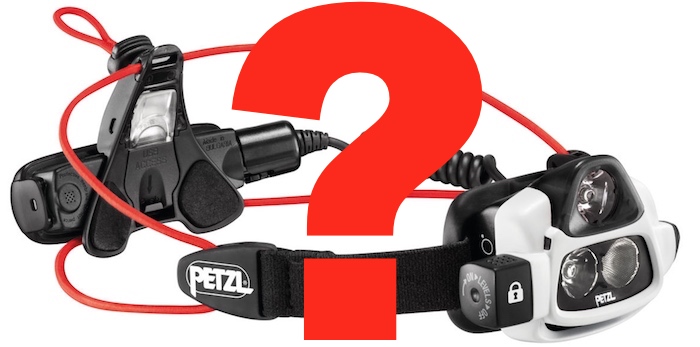 10. Waterproofing
If you'll be using your headlamp in the rain, or other environments where it will get wet, you'll need to be sure the light can handle it. A couple of the best headlamps are capable of full submersion for up to thirty minutes. In general, headlamps are not waterproof for long! Choose a Waterproof Level: Light Rain; Hard Rain; Submersion Under 5 Minutes; Submersion Over 5 Minutes. Note – All of the headlamps we feature on this site can stand the hardest rain, and most can withstand some submersion in water without bad effects.
NOTE
Keep in mind that you probably won't be choosing your next headlamp on the basis of just one of the criteria listed above. There are always multiple considerations, and the choice is often quite difficult to make.
Usually, you can resolve the problem of choice by spending more money to get one of the best head torches you can. You can be sure that the headlamps listed here for over $150 are top of the line, and you cannot go wrong with them. Personally, our favorites are the Ultra Rush, Petzl Nao 2 and Nao+.
They are the right combination of power, beam quality, waterproof level, the battery life on auto-brightness, and quality of the build. We've used these lights for 6 to 18 months now, and recharged them 150 to 350 times – and they have worked perfectly for all this time. We are using our lights to look for wildlife at night in the rainforests of Southeast Asia – so, these lights can definitely be counted on to perform for you. We just ordered more of them. 😛

Petzl NAO+ – Newest upgrade to Nao 2. Bright, durable, lightweight.
Petzl DUO RL Headlamp Review (2800 Lumens) – The ultimate bright light. Very durable. Expensive.