Growing up in Western Pennsylvania and getting my hunter's license at the earliest possible age, I took part in many different hunting excursions with friends and relatives in the Allegheny and other forests. We didn't even have headlamps back then, I'm talking the late 1970's and 80s here people! My uncle Jim had a huge Winnebago mobile home that was like driving an entire house around. A small house, sure, but it had a shower, refrigerator, stove, oven, and places for up to 8 people to sleep.
All of that and not one damn hunting headlamp!
SCROLL DOWN FOR 3 TOP HEADLAMPS FOR HUNTING >
Hunting Headlamp Uses?
There are many things you can use a headlamp for while hunting, I'll cover some of the best reasons to get one of our suggestions below and then give you a short overview of the 3 best headlamps for hunting.
LIGHT YOUR WAY! The first thing you need a hunting headlamp for is to light your way. I remember walking through the forest with my uncle Jim and uncle Mike. This was in the heavily forested area of Tionesta in middle/northern Pennsylvania. It had snowed, It was about 18°F. It was around 4 am. and they were leading me down a path in the absolute pitch black. I could barely see their FEET right in front of me, and they had no flashlight or headlamp. WTF!? I know, right? This was hunting before hunters started to buy heaps of gear. I remember I had two pieces of hunting gear. One was a double-gauge shotgun. I think it was a 20-gauge because the 12-gauge would have hurt me too bad. I weighed about 90 lbs and I was about 12 yrs old. Whatever the barely legal age limit was! I can't recalle, it was a heck of a long time ago. Anyway, we tripped over lots of rocks and branches on the way down this trail.
Damn it Jim, a headlamp would have helped SO MUCH!
Before headlamps, we had these junk plastic flashlights that put out about 20 lumens of light and the D or C batteries drained within two hours for sure. Today we have headlamps that can put out 4000 lumens for two hours and it fits on your head. It doesn't even weigh that much! I'm of course talking about the ACEBEAM H30 headlamp. I haven't reviewed it yet, but it's coming as soon as I can get a quiet moment away from the kids at home.
2. STEALTH. After you reach your destination and you're sitting there in the dark, you'll probably need to do a few things. You're holed up in your tree stand or blind… or maybe like me just sitting on a fallen log and freezing your 90 lb. ass off. I remember having to find my hand warmer in one of 17 pockets and lighting it. The whole process took about 10 minutes in the dark because I could literally see NOTHING. Finally I got it lit and had warm hands for about 12 minutes. I sat there on that log for 12 hours that day because my uncles lost me for 8 hours. They were supposed to come back to get me for lunch and couldn't remember where they dropped me off. NO JOKE! I sat there in 18F freezing air, with snow on the ground with inadequate clothing and froze my ass numb for 12 hours. It was a great introduction to buck (male deer) hunting.
If I had the ACEBEAM H30, I could have warmed my hands for hours with it! It's funny right? Technology, I mean. We used to have heat warmers, fire starters. Now we have a headlamp that warms our hands and can even start fires because the light is so intense! I would have LOVED to have a good headlamp every single time I went hunting.
Oh, I almost forgot, the cool thing about headlamps these days is they have not only the bright white beams that CREE LED bulbs are famous for, but they also have other colors of light too. Red is the most popular light. It's great because it doesn't ruin your night-vision. You can use a red beam or green beam and have enough light to do whatever you need to – and then when you shut it off, you can still see in the dark. Cool, huh?
3. PROTECTION. I've blasted barking dogs with 2000 lumens of light from my headlamp in the past and it obviously bothers them a lot. If you keep it trained right on their eyes, they usually don't come any closer. I honestly don't know what would happen with a bear. I need to do some research and see if anyone has experimented with ultra-bright headlamps for warding off bears, mountain lions and other pests. I know it can work for dogs, that's all.
3 Best Hunting Headlamps
A great hunting headlamp has a few essential features:
It WORKS WELL IN RAIN – it has a high water resistance rating. IP8 and better is ideal. Fully submersible and able to take a lot of rain for hours.
It has a STRONG SPOTLIGHT BEAM (compressed beam) to see long-distances to spot threats or game.
It HAS A WIDE BEAM as well that can light up the area aroun dyou for when you need to light a fire, break camp, or clean your game.
It has a red or green (or other color) beam that can be used when you need to retain your night vision and/or stealth. A red light lights up far less than a white beam.
It should probably have a strobe beam that will alert others to your location in an emergency.
3rd BEST INEXPENSIVE HUNTING HEADLAMP – PETZL ACTIK CORE 450

If you want something that has a bright enough light to help you set up camp in pitch darkness, and a red light for stealth activities – the simple ACTIK CORE Headlamp by PETZL might be enough for your simple needs. This headlamp is not all that waterproof, and heavy rain may cause it to malfunction. I have used mine in some medium rains and it did fine for an hour. If you just drop it into a waterproof plastic baggie, you can use it in there as a flashlight during very heavy rains. The battery lasts a while and the replacement lithium-ion batteries are only $30 each.
CLICK HERE to review ACTIK CORE 450 prices at Amazon >

2nd BEST MODERATELY PRICED HUNTING HEADLAMP – PETZL SWIFT RL PRO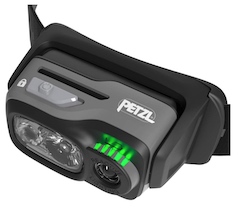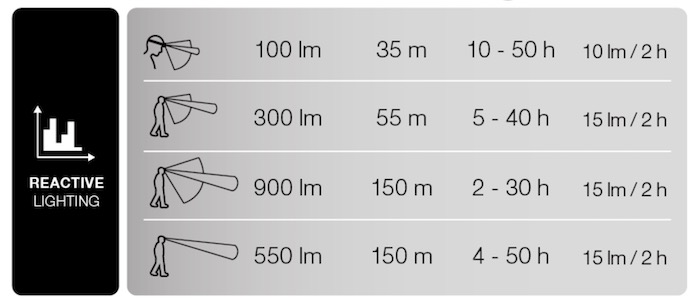 Very bright at 900 lumens! This brightness in RLT mode (auto-dimming) for up to 2.5 hours.
High moderate mode of 550 lumens for 2 hours. Perfect for nearly all other activities requiring bright light capability.
Ultra-lightweight at 123 g. for the RL PRO.
Interesting set of extras. Very reflective headlamp strap and ultra-lightweight. Easy to see battery strength indicator. Reactive Lighting Tech. The PRO has a red light and works better in the cold.
Great price!
CLICK HERE to Review the SWIFT RL PRO 900 Headlamp >

1st BEST EXPENSIVE HUNTING HEADLAMP (TOP-OF-THE-LINE) – ACEBEAM H30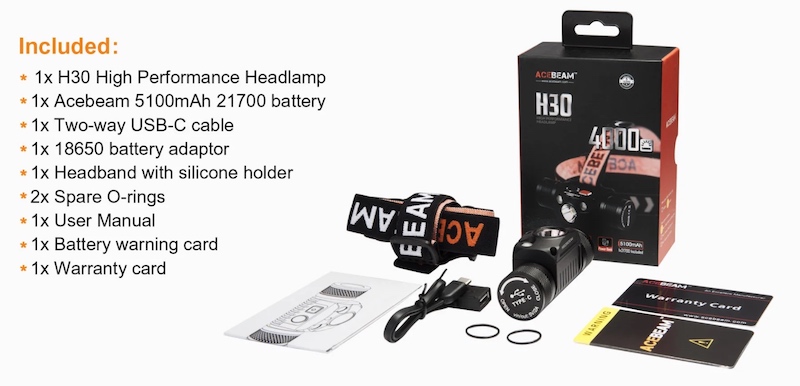 With 4000 lumens brightness, it's all the light you'll ever need to scare off wildlife, and to see distant threats at 170 meters.
Other Highlights of the ACEBEAM H30:
White beam – combination flood/spotlight; Red beam (50 lm) and Green beam (70 lm) will last 10 and 11 hours respectively.
Red strobe light lasts 72 hours (doing SOS MORSE Code).
Very strong design withstands drops from 1 meter and submersion underwater to 2 meters (IPX68 water resistance). Any rain conditions!
Comes with proprietary battery and charging is by 2A USB. Also can charge your phone or another device through USB 2.
6 lumen Emergency Mode lasts 200 hours!
Detailed Runtime Chart for H30 Hunting Headlamp: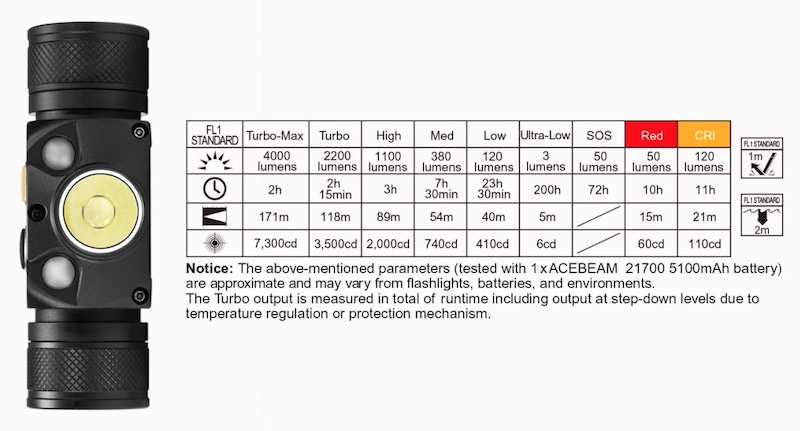 We have just received this headlamp from the manufacturer two days ago. We're trying to find a couple of hours to test it. I can honestly say I've never been more excited by a headlamp before. It's small, tough, completely waterproof, and has unbelievable runtime and options.
CLICK HERE to view H 30 Price and Availability at Amazon >
FINAL WORD
When you're spending money on a headlamp, you need to look at all the uses you're going to find for that unit and decide which one is best. Hunting has a specific use-case where a good spotlight (tight) beam and a red or other colored light beam is strongly preferred. You can use both the SWIFT RL PRO and the H30 for many different activities. Almost everything you can think of. The H30 looks like it is going to get our 2022 headlamp of the year if Petzl doesn't quickly come out with something better. Both fine lights, and you won't go wrong with either one.