So excited to see a number of new headlamps (4) coming out of the Petzl Lab today. Anxious to get a couple of these headlamps to review ASAP too!
New Petzl Headlamps
DUO S Headlamp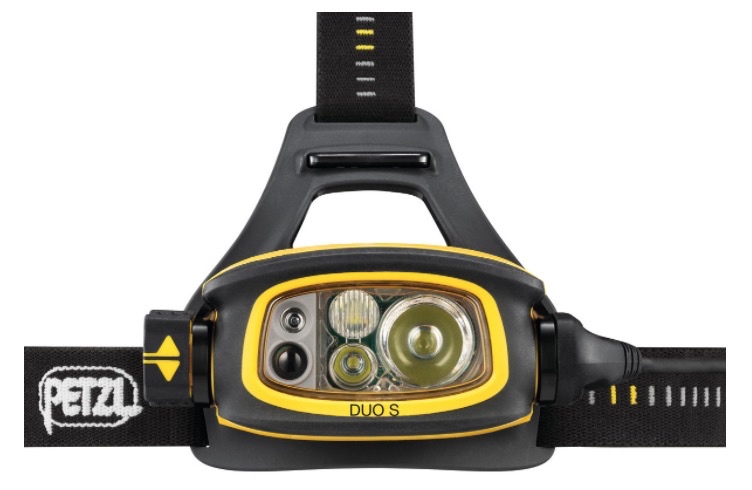 This headlamp resembles the other DUO models – with the yellow headlamp setup on the front and battery in the back, but the design is completely new. For 2018-19 Petzl has decided to make the constant lighting technology a little more varied – by giving more types of options for people with varied uses.
Petzl stated in their announcement that the new DUO headlamps (there are 2) will be ideal for Orienteering, Caving, and active sports where you are moving fast – like mountain biking. But, this can also include skiing, sledding, ski-boarding, boating, anything where you are moving fast and need a very bright headlamp to shed light on a wide area in front of you.
Petzl DUO S Review of Features and More Photos >
---
The second new Petzl Model that is similar to the DUO-S is the DUO Z2
DUO Z2 Headlamp
The same in appearance as the Petzl DUO S, the DUO Z2 has a yellow battery instead of a black battery. That's all that appears different. However, the Z2 utilizes store-bought batteries, or rechargeables you supply. Apparently, there was a market for this because though it isn't environmentally friendly at all, some people just cannot rely on recharging batteries for long hikes, extended camping, power outages, etc.
The DUO Z2 headlamp appears to be waterproof and has the same design – with an easy to turn large power and function selection knob.
DUO Z2 Review of Features and More Photos >
---
A special headlamp for kids, the TIKKID is kind of like baby's first headlamp, will also be available shortly.
TIKKID Headlamp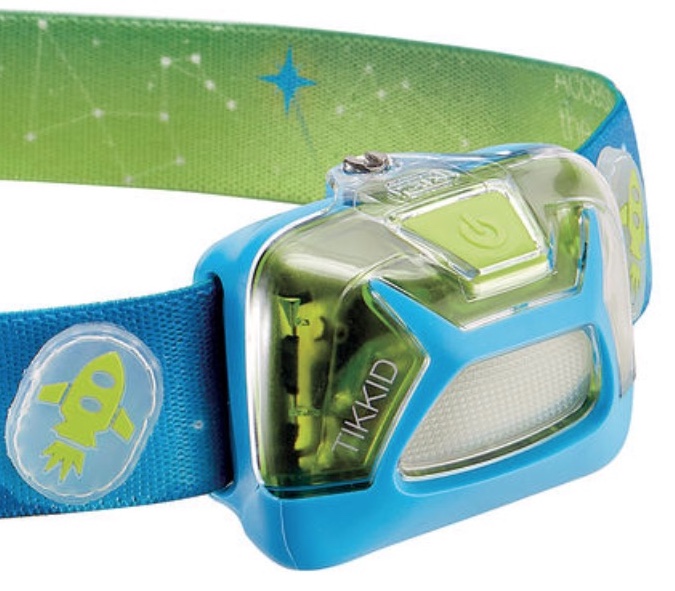 For children 3+ years, the TIKKID headlamp enables even your youngest kid to feel like one of the adults. This headlamp is 20 lumens in brightness, with a soft beam which may help kids see something at night. Possibly for use as a nightlight. The beam on high (20 lumens) can power the light for over 60 hours. This headlamp also features a strobe which can be seen for 1 km. for 100 hours.
TIKKID Headlamp Features and Photos Review here >
---
BINDI Headlamp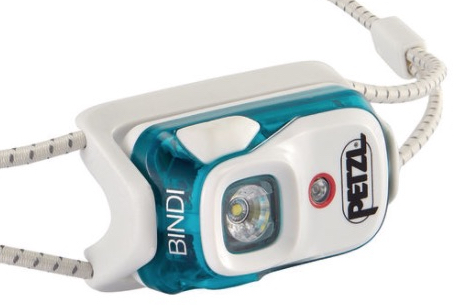 Finally, Petzl will be releasing an entirely new headlamp concept called the BINDI. This is a 200 lumen light that is super-lightweight at just 35 grams. It isn't clear whether that is with or without the battery, but it appears to be with the battery! That's the lightest headlamp in the world, I'd guess. This one is also waterproof.
BINDI Headlamp Features and Photos Review here >