[Page updated: 1 June 2022]
This Petzl BINDI headlamp was released over a year ago and we considered doing a review on it, but chose to review the high-end headlamps like the IKO CORE, NAO+, and SWIFT RL and RL PRO headlamps instead. We are finally getting around to the Petzl BINDI, so let's just jump right into it and show you what it has to offer.
Table of Contents
The IKO CORE is a lightweight running headlamp at 127 grams. It's perfect for running, it isn't hardly felt on the head. The BINDI is almost one fourth as light coming in at just 35 grams! It's kind of hard to fathom, yet here it is. They've even shrunk the battery to save weight, but you'll still get 2 hours of use at maximum lumens (200).
The Bindi is a very affordable headlamp from Petzl, and one of the cheapest they offer. Have a sneak peak at the price over at Amazon right now, or read on below to see whether this headlamp has what you require for your night time activities.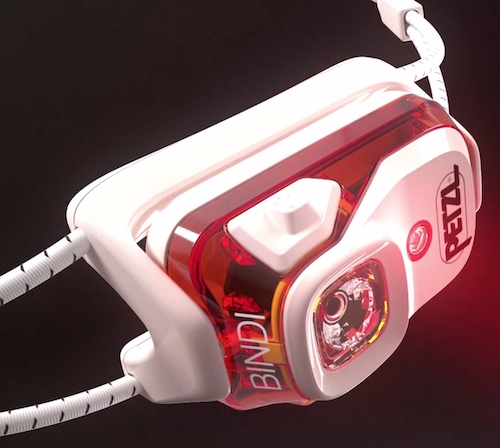 ---
Petzl Bindi Ratings (16 out of 30)
Quality of Build – 3/5 Stars *** Extremely lightweight, even cutting down the head strap to the bare minimum by using stretchy cords. Probably will not survive a hard fall.
Beam Brightness – 1/5 Stars * Let's be honest. I was going to give it 2 stars, but 200 lumens these days isn't good for much. I wouldn't even consider it good enough for fast running. Walking and reading a book, tying on hooks in the dark while fishing? OK. Not too much else.
Beam Quality – 3/5 Stars *** For as weak as the maximum beam strength is, the shape of the beam is nice and it has the same sort of emphasis on the center of the beam. OK for jogging and walking.
Battery Life – 3/5 Stars *** Two hours is OK for most headlamps, but we're talking about two hours at 200 lumens. I think they should have kept more of the battery and added another 30 grams of weight.
Water Resistance – 4/5 Stars **** IPX4 is fine for all but the heaviest rain shower with hard winds.
Price – 2/5 Stars ** It isn't expensive, but then you don't get much either. The ACTIK headlamp with 350 lumens is a much better deal and has a better head strap, much stronger light and battery, and is built a little stronger.
BINDI Pros
Super lightweight – probably great for kids running if they only need 200 lumens.
Red Light and Strobe – Good to see this feature here, a red light and strobe should be standard on all headlamps.
Ideal for Kids! Though not intended as a children's headlamp, I can't think of a better use for it. Kids over 5 years old will love it.
Price – OK price, but there are better deals. I suggest the ACTIK for adults, or this page to see a range of Kids' headlamps.
BINDI Cons
Strap is Minimal – as a trail runner, I'd like a thicker strap and with bigger surface for reflective markings.
Fragile? At 35 grams, we're talking the one of the lightest headlamps we've ever tested. That's super light and probably not strong.
Beam Strength – Not strong enough for many uses.
---
BINDI HEADLAMP | 200 LUMENS | E102AA00 (black), E102AA01 (orange), E102AA02 (emerald)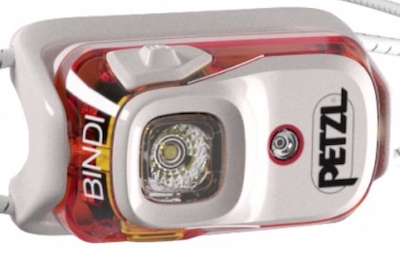 DESCRIPTION
This is a very small headlamp that goes even beyond the ultra-light nature of the SWIFT RL and ACTIK CORE headlamps from Petzl. This one is geared toward people who run less than 2 hours per night and don't need anything too sturdy. You probably wouldn't want to trust this while running an Ultra Run through dense forest unless you bring a spare or two. If running all night, you'd need at least 3 spare batteries to go with the one in the headlamp.
The price changes daily – see what it's selling for right now.
BINDI Specs
Dimensions (longest):6.3cm x 3.8 cm x 3.8 cm (2.5″ x 1.5″ x 1.5″)
Weight: 35 grams (1.2 oz.).
Bulbs: One white CREE, one red LED. White beam has a center-bias. Bulb life around 50,000 hours.
Red Light and Strobe: Yes, both.
Lock Feature? Yes, 2 lock features. A long-press of 4 seconds locks it and you can turn the headlamp into the plastic brace to lock it as well.
Redundancy for Beam Failure? No.
Power Modes: Manual.
Max Lumens: 200.
Max Beam Distance: 100 meters (62 yards) on high.
Run-time Range: 2 hours at 200 lumens, 3 hours at 100 lumens and 200 hours at 1 lumen.
Battery Rating: 680 mAh rechargeable Lithium Ion battery. No store-bought battery option like AAA. Cannot replace lithium-ion battery either.
Recharge Time: 4 hours from empty to full
Water Resistance Rating: IPX4
Warranty: Bulbs – 3 years or 300 charging cycles whichever comes first. Battery – 1 year.
Tilt Range: 180° (stated) 45° reported.
---
MATERIALS | CONSTRUCTION QUALITY
Super light. Bare minimum everything. Cannot be trusted to withstand a fall on concrete or rocks. It may, you may get lucky, but if you want a headlamp that will survive multiple falls, get something like the NAO+, SWIFT RL PRO.
Overall impression? Good for running at night on the roads around your home, but don't take it too seriously.
---
WATER RESISTANCE
IPX4 water resistance rating is OK for general rain, but you cannot drop the headlamp in the water and submerge it for any length of time. This is fine for most people's use. In my experience, Petzl underrates their lights for water resistance capability. Their lights can withstand more than the rating generally. We haven't tested the BINDI in water yet, so don't do anything crazy with it.

---
BATTERY LIFE
The small and lightweight battery is quite efficient with this new headlamp. For it to last 2 hours on high setting (200 lumens), is pretty good considering the small size of the battery.
There is no option for AAA batteries in the BINDI.

---
BEAM QUALITY
There is one clear (white) beam with 3 power levels. Low, medium, high. It's no frills. With the red beam you can turn it on steady or strobe. As you can see from the chart above, the red strobe is supposed to be visible for 400 meters for about 200 hours.
---
WHICH ACTIVITIES IS the BINDI BEST FOR?
There are many activities you can enjoy with the new IKO CORE headlamp.
hiking
working on your car
---
SPECIFIC DIFFERENCES between the BINDI and the most similar Headlamp to it, the ACTIK
BINDI offers 200 lumens for 2 hours. ACTIK is 350 lumens for 2 hours.
BINDI gives 100 lumens for 3 hours. ACTIK gives 100 lumens for 7 hours.
BINDI has 1 clear beam with center focus. ACTIK has 1 clear beam spotlight (center) and 1 flood light (wide) used in combination.
BINDI has just Lithium-ion battery option. ACTIK has AAA battery option and CORE battery option (Lithium-ion).
Both have red lights and red strobe.
Price for BINDI – around $45. Colors – emerald, orange, black.
Price for ACTIK – around $50. Colors – green, blue, black.
We think most people are going to choose either the ACTIK (350 lumens) or the ACTIK CORE (450 lumens) headlamps over the BINDI. To be honest, we would.
See what the ACTIK 350 is selling for at Amazon today >
See what the ACTIK CORE 450 is selling for at Amazon today >

PETZL BINDI User Manual (PDF download) >
PRICE and AVAILABILITY
The Petzl BINDI headlamp can be purchased online for around $45 to 50 USD.

amazon.com
---
Petzl Bindi Official Headlamp Video:
Comparison of our Top 4 Headlamps HERE >
---