Headlamps are lights with a strap to wear on your head that help you see in the dark for activities like running, hiking, biking, skateboarding, skiing, climbing, cave exploration, hunting, fishing, working on your vehicle or around your home. Search and rescue teams always have headlamps to facilitate finding lost people. Underground miners, and people working in high-explosive environments like on oil rigs use specialized headlamps which eliminate the possibility of the headlamp setting off explosive gases.

Description
Headlamps, sometimes called Headlights and Head Torch (in the United Kingdom) are basically a light worn on your head with an adjustable strap for comfort. This frees up your hands for other activities and is very convenient. Of course you can use your headlamp in your hand as a flashlight if you prefer.
Light is typically provided by CREE LED bulbs which has a very low power-draw and provide white light with a color balance from cool to warm. Tungsten bulbs have been phased out over the last decade and are only in the cheapest units. Construction is typically hard plastic, though solid-body metal and aluminum headlamps are becoming popular because they are tougher and have better water resistance. Power options vary, with some headlamps able to accept alkaline AA batteries and others coming with a proprietary lithium-ion battery that can be recharged hundreds of times. Some headlamp batteries are located on the strap on the back of the head, and others integrate the battery adjacent to the bulbs in the front.
Uses
There are many uses for headlamps and you can probably come up with your own unique way to use them. I've used them to search for snakes and other reptiles, birds, insects, owls, bats, slow lorises, and bears in the rainforests of Southeast Asia. I've used headlamps to add some more light to my YouTube videos. I've used headlamps to work on my motorcycle and on a rescue mission to find hikers lost in the forest. There's really no end to what you can do with a portable light, is there?
Headlamps for Running
Runners across the globe use headlamps of all kinds to help them see the street or trail at night as they get their exercise in. Ultra-distance runners need a headlamp that can last all hours of the night. There are not many idea headlamps for this task. You'll find the best ultra-runners using primarily one brand, the French engineered Petzl headlamps.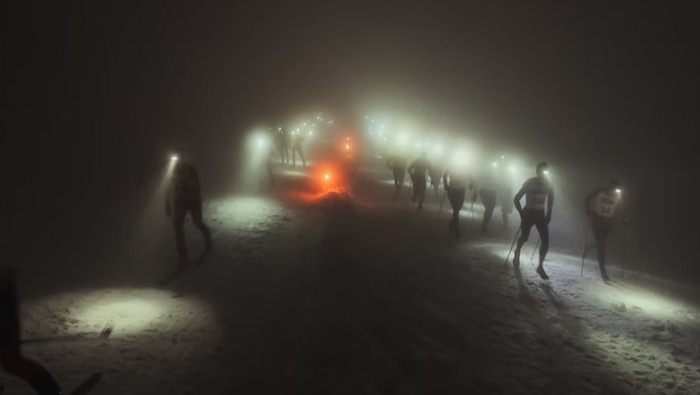 Best headlamps for night running?
The Petzl NAO+ is lightweight, has long battery life, is quite waterproof, and is well balanced on the head. This combination appeals to top ultra-runners who use it in races such as the UTMB, Hardrock 100 mile, Leadville 100 mile, and other iconic races across the world. In fact, there was a time just a couple of years ago where over 70% of the photos I saw of ultra-runners showed them using Petzl NAO headlamps for the night portion of their race.
Top Running Headlamps: Petzl NAO+, IKO CORE, SWIFT RL PRO, and a budget option – the ACTIK CORE headlamp.
Hiking Headlamps
For hiking, you really don't need the power and top options available for your lighting, so you can get by with a somewhat cheaper option. Headlamps used for hiking generally put out less than 500 lumens and have battery life of about two hours. A flood beam with 350 lumens probably puts out more than enough light for you to hike even technical terrain.
Top Hiking Headlamps: Petzl IKO CORE, ACTIK CORE, ACTIK, or one of the running headlamps above (more expensive).
Camping, Hunting, and Fishing Headlamps
While camping, hunting, and fishing (CHF), you're basically moving slowly and you're using low-light to avoid spooking the game or blinding other campers. There are many headlamps that will work well for these activities, but many outdoorsy types prefer headlamps with a red and or green light available for real stealth lighting when it counts.
Best CHF Headlamps with Red Light Options: Petzl ACTIK CORE, ACEBEAM H30, NiteCore HC65.
Headlamps for Fast Activities
For faster action, brighter headlamps are necessary. Running fast down technical trails will require around 750 lumens. Biking fast down trails will require all the light you can get! 2,000+ lumens would be useful for fast biking down technical terrain at night.

Finally, it looks like Petzl – our favorite headlamp company – is releasing a new super-tough headlamp in January 2022! With 2800 lumens. The DUO RL. See our preview of it at the link below.
Headlamp for Fast Activities: ACEBEAM H30, Petzl DUO RL (coming 1/2022)
Explosive Work Environment, Emergency-Use, and Rescue Headlamps
S.E.A.L. Teams and other special forces, both military and civilian, use headlamps for tactical operations. When SHTF, you should probably have a couple of good headlamps in your home and vehicle as well.
For explosive environments, special headlamps are necessary. Petzl's DUO Z1 and Z2, along with the DUO headlamp are designed for use in dangerous gas/spark situations.
Tactical Ops Headlamp: ACEBEAM H30.
Headlamps for Explosive Environments: Petzl DUO Z1 (ATEX zone 1/21 (II 2 GD Ex ib IIB T4 Gb IIIB T135° C Db), DUO PIXA Z1 (1/21 (II 2 GD Ex ib IIB T4 Gb IIIB T135° C Db)
Other Uses for Headlamps
hang one on your tent to provide enough room for everyone in the tent
signaling cars when you have an accident
signaling helicopters and planes in a remote accident
fashion photography
landscape photography to brighten close features during long exposures
starting fires along with a magnifying glass
warmth in cold situations
some headlamps can charge phones via USB (ACEBEAM H30)
hang from dock or boat to attract fish
yacht use
emergency use in your vehicle
for power outages
reptile, insect, amphibian, bird field trips at night!
scare prowlers (bright headlamps over 1,000 lumens are blinding)
Summary
We list 32 uses for headlamps above, but the true number is limited only by your imagination. Where you can put a headlamp is limited only by size. You can add clamps to things and hang the head strap from just about anything. I often use one while motorbiking down country roads with sharp turns when I don't think my motorcycle headlight is strong enough. The point is, a small and powerful LED headlamp can be used in many helpful ways and you shouldn't be without one.
WHICH ONE is the question!