[Page updated: 1 June 2022]
We were lucky enough to have a friend bring us one of these Fenix HL60R headlamps from Singapore, so we began our full review of the light immediately. The short and sweet of it is, we like it. A lot. It has a number of positives and only a few negatives that might hold you back from purchasing this headlamp. Is it perfect? No. Will most people like it? Yes.
The price for this Fenix headlamp in October is less than $100 and includes one of the Fenix rechargeable 18650 lithium-ion batteries (3400 mAh). This gives the Petzl Reactik Headlamp a run for its money, but there are a lot of things to take into account.

amazon.com
---
Table of Contents
Fenix FX-HL60R Headlamp Pros
Super bright! 950 lumens max – Also has red beam & strobe.
Lightweight, durable, comfortable, easy-to-use.
Round light footprint. Slight center bias
Waterproof to 2 meters deep for 30 minutes.
Good for almost any activity.
Reasonable price (under $100).
---
HL60R CONS
Max brightness (950 lumens) lasts only 48 minutes. Can buy a more powerful battery.
Gets very warm and powers down. Sometimes the headlamp even turns completely off if too hot, giving you the next highest setting. Annoying.
Unbalanced. Heavy on the forehead. Not great for bouncing activities like running, biking on the trail.
No auto mode or custom profiles.
---
Have a read below.
The comprehensive Fenix HL60R Headlamp Review follows. You can read it, or scroll down to the bottom of this page to see the 25-minute video (coming soon)!
---
FENIX HL60R HEADLAMP | 950 Max Lumens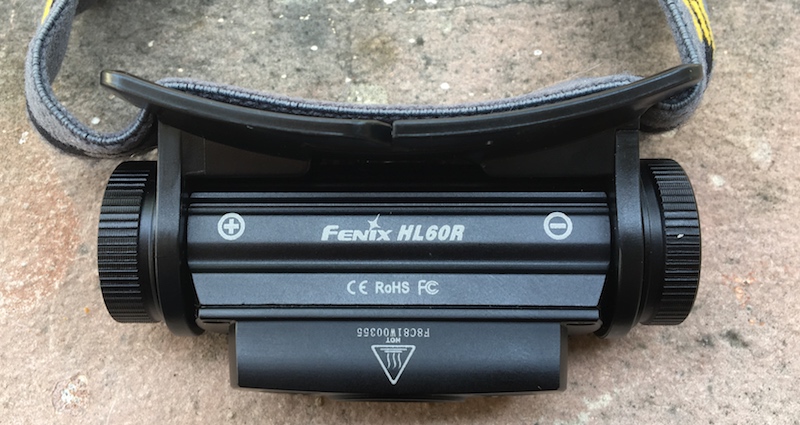 DESCRIPTION
Fenix has had a line of headlamps for more than 5 years now. I cannot find much about their company to give you some sort of background information because they appear to be a Chinese company that just started to try to sell headlamps and then built a brand that a lot of people like in the USA and across the world.
You can find Fenix headlamps online and at eBay if you want to risk buying there. A large part of their customer base seems to be people who buy the headlamps for general use while camping or hunting. The Fenix HP25 has a strong spotlight beam that rivals some of the expensive flashlights and people buy this headlamp instead because it's easier to carry.
This headlamp was one of our Top Headlamp Choices in 2016 and now in 2017, 2018, 2019 – at least until we find some other better lights. The Fenix HL60R is not an amazing light in any way, but it's kind of like a workhorse you can depend on if you need something cheap. Yes, cheap is $75 for headlamps these days!
Let's get started with the FENIX HL60R HEADLAMP REVIEW!
FENIX HL60R HEADLAMP SPECS
Dimensions (longest): 6.3cm x 3.8 cm x 3.8 cm (3.5″ x 2.0″ x 1.75″)
Weight: 121 grams (4.3 oz.). Battery: 57 g. (2 oz.)
Bulbs: One Cree XM-L2 T6 Neutral White LED. Life – 50,000 hours.
Red Light: Yes, two red lights, one on each side of the white Cree bulb.
Lock Feature? None.
Redundancy for Beam Failure? None.
Power Modes: Manual.
Max Lumens: 950 lumens. Other beams are: Turbo- 950 Lumens; High – 400 Lumens; Mid – 150 Lumens; Low – 50 Lumens; Eco – 5 Lumens; Red Light – 1 Lumen.
Max Beam Distance: 116 meters (101 yards)
Run-time Range: 48 minutes at max brightness to 100 hours on emergency lighting.
Battery Rating: 3400 (recommended) or 2600 mAh (supplied) – Fenix ARB-L18-2600, 18650 rechargeable and proprietary battery or 2 CR123A batteries you can buy in the store.
Recharge Time: 6 hours empty to full. Micro-USB charging.
Water Resistance Rating: IPX 8 – 2-meter underwater submersion and 1-meter drop on the hard ground.
Warranty: Bulbs – 3 years. Battery – 1 year.
Tilt Range: 180°
Number of Tilt Clicks: 17 (18° per click)
Special Technology: Computer chip keeps brightness level constant.
---
CUSTOMER RATINGS
This light has been around only for a few months. I'll rate the light myself below after this Fenix FX-HL60R Headlamp Review, and then add some other ratings I find online as well.
FENIX HL60R RATINGS
Quality of Build – 5/5 Stars ***** Strong metal body and strong straps.
Beam Brightness – 5/5 Stars ***** 48 minutes is entirely too short though.
Beam Quality – 3/5 Stars *** Color is too orange, the beam seems too diffuse, not sharp enough – this hinders perception. Wish it was more contrasty light.
Battery Life – 4/5 Stars **** Not bad for battery life for all settings except turbo bright mode. The fact that you can easily replace batteries with reasonably priced spares is a strong plus.
Water Resistance – 5/5 Stars ***** This is the most water-resistant headlamp we've tested to date.
Price – 4/5 Stars **** I almost gave this a 5-star rating, but you know what? This light isn't doing anything special – even for $75. I mean, it's good at many things, it just isn't great for any one thing that I can figure out. Possibly it is quite good for caving. I don't go spelunking, so I cannot say!
Note – we'll probably be dropping the Fenix headlamps from our "Best Headlamps" list because there have recently been a number of good alternatives that we believe are better.

amazon.com
---
LET's SEE WHAT WE'VE GOT
FIRST IMPRESSIONS OF THE HL60R
When I met up with my friend from Singapore who had used this headlamp for a few months, I didn't expect to be impressed. I figured Fenix created the beam on this headlamp to be very similar to the Fenix HP25 headlamp which I didn't like much. That headlamp has a very tight and brilliant spotlight beam that isn't any good for what I use it for. Hunters might like it for spotting deer, but really, that's about it. Oh, it's great for reading too.
The HL60R headlamp is rock solid and heavy. It feels odd on the head because it's forward heavy. The battery is right inside the same compartment as the beam – so there isn't any balance to it. I'm more used to – and prefer – the Petzl headlamps like Nao, Nao+, and Ultra Rush, which are all balanced with the battery in the rear of the unit.
The rubber sponge power on button feels cheap compared to the Petzl headlamps, but it could last for a while. I have just had bad experiences with torches (flashlights) made in China that had the same rubber push-on feature. The rubber sometimes popped out completely and I was left with a non-functioning light. The strap is fine, nothing special – same strap and design as the HP25 headlamps
---
MATERIALS – CONSTRUCTION QUALITY
I have found that Fenix lights are built rather tough. I have two of the HP25 Fenix headlamps and they both lasted for a year in the jungle here in Thailand and received some abuse. The HL60R is built like a tank. It's all-metal except the strap and the plastic brace that goes on your forehead. Seems like it will last and can take a fall. It is rated to do so.
The power-on/off rubber dome switch feels cheap, as I said. Would be tough to use with gloves. To change the brightness output you just keep pushing the button to cycle through all levels. The head-strap is strong and made out of durable nylon, with elastic.
The battery in the front of the headlamp makes it unbalanced, and it feels awkward. I would guess this light is not great for running at night because of it.
Overall impression? It's solidly built and offers good value for the money on the first impression. not sure whether it is as durable as it appears, but if it is anything like my other Fenix lights – it will last a year of rough use without a problem. I'm curious whether Fenix will have any new headlamps in 2018.
---
WATERPROOFING
These headlamps have the highest water resistance rating we've tested – at IP X8.
This means this headlamp is water-resistant to under 2 meters of water. You can be confident it will remain waterproof in the hardest of rain.
Shockproof? The HL60R is drop-proof from 1 meter high.
---
HL60R BATTERY LIFE and OPTIONS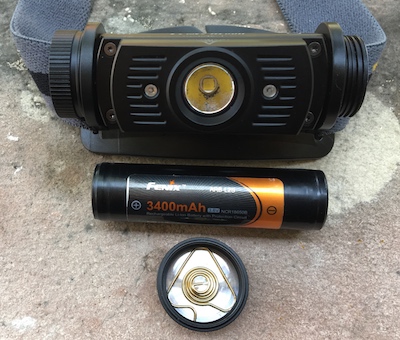 The battery in the FX-HL60R is 2600 mAh, but you can buy as many spare batteries as you can afford. The unit I'm testing has a 3400 mAh battery, and the higher – the better.
Fenix has gone the way of Petzl and other companies (Apple, etc.) by making their batteries proprietary. You need Fenix batteries for this unit because they removed the bump from the end of the positively charged battery end and flattened it smooth. Now you cannot put in a regular 18650 battery. It won't fit!
This is almost a blessing in disguise though. Let me explain. There is a glut of junk 18650 batteries coming out of China. These batteries have mAh ratings of everything from 1800 to 5400. They last a few times, really well, then they die. You're left with a battery that burns brightly for 10-20 minutes, then dies and starts putting out just a fraction of the power it should be capable of. A real downer!
The Fenix batteries, however, are quite good. They hold the charge for a long time – a year+, and they're as reliable as these 18650 batteries come. Buy them!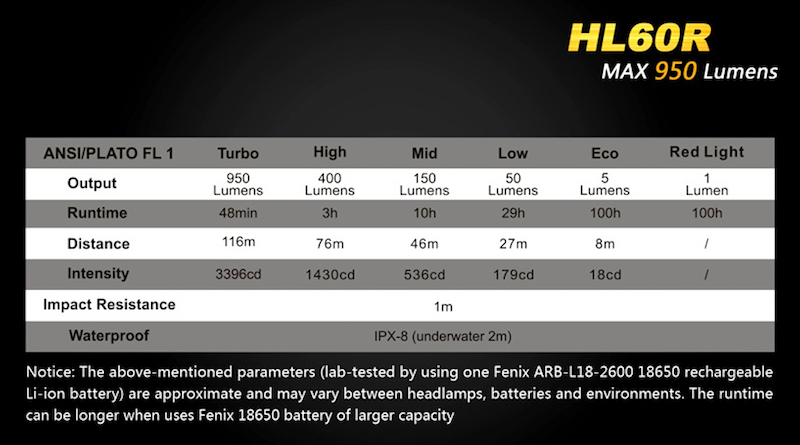 Need a brighter light for more hours? The ACEBEAM H30 is your headlamp if you want the best of the best.
---
HL60R BEAM QUALITY
There is just one beam, so you're stuck with whatever they give you. Thankfully, they have changed the beam style dramatically from the HP25 Fenix headlamps, and this one is actually usable for many different applications.
The beam on this HL60R has a spotlight and flood component, neither of which are strong, they are just a nice blend. What I mean is, the beam is center-biased, but there isn't this massive disparity between the center spot and the flood. The spot is just bright enough to reveal all the detail you need to see. The flood is quite a bit less helpful, but it's good that it's there to show you more of the field of view.
The color of light is a problem. They call it neutral. I think they mean strong warm. This is the warmest beam I've seen on a headlamp. I don't like it for my use, and I don't think it's the best choice for most people. The orange-tinted light doesn't show the contrast between things very well at all. It probably also doesn't help that the beam is diffused through the lens. It isn't sharp.
Well-focused beam shows contrast quite a bit more and is my preference for just about everything. That said, if you are just buying a headlamp for something like reading a book or walking at night and you don't want to spend more than $100, this headlamp can be a good fit for you.
There is a red-light mode which fires two small red lights on either side of the main white beam. The red light mode can work for up to 100 hours. Personally, I think the beams are far too dim to be of any help, except reading a map at close distance in the pitch black.

amazon.com
---
SETTING OPTIONS
Cycling through the power settings is as simple as pushing the rubber button on the right side of the lamp repeatedly.
WHICH ACTIVITIES IS THE FENIX FX-HL60R BEST FOR?
Though I really think the color of light and the quality of it is not ideal for most things, it is usable for most things. Does that make sense?
Some people will find this light to be adequate for these activities:
adventure climbing
bicycling,
cave exploring (spelunking)
running
skiing
walking trails or streets
wildlife excursions at night – it's perfect!
working outside on vehicles, or other heavy or light industrial work
DOWNLOAD USER'S MANUAL – Fenix FX HL60R User Manual (PDF)
PRICE and AVAILABILITY
This Fenix headlamp is available through various retailers, as it is produced by a company based in China – with not so great English. Their HP25 headlamp manual was atrocious, and this newer one is improved, but still sometimes difficult to read.
If you are like me, the comfort of knowing that you're actually going to receive the items you order – is very important. There are very few places I trust when ordering items over $50 or more. I use online shopping for everything I can. If I can't find it there, I'll try to find the item at some other online chain, but I can almost always find everything I need online.

amazon.com
---
Maybe browse around and see if you can get this headlamp. Or, choose one of our other headlamps that has the features you desire.
Comparison of our Top 4 Headlamps HERE >
---