Headlamps are useful for so many activities. If you're lucky enough to live in an area like Colorado, Wyoming, Wisconsin, or just about anywhere in Canada where you can ski at night – finding the answer to the best headlamp for skiing is important!
Skiing fast means you need to see a certain area in front of you INSTANTLY so you can make small adjustments in your course before you crash. Skiing accidents can be quite serious and ruin a sportsman/woman's career and recreation. Choosing the right headlamp for skiing is, in our opinion, ESSENTIAL.
The two headlamps below are our Top Choices for the best headlamps for skiing. One more so than the other, but better for you to decide based on what exactly you need. We'll start with our most inexpensive option, and lead up to the most expensive skiing headlamp we recommend.
---
3rd Best Headlamp for Skiing – Petzl SWIFT RL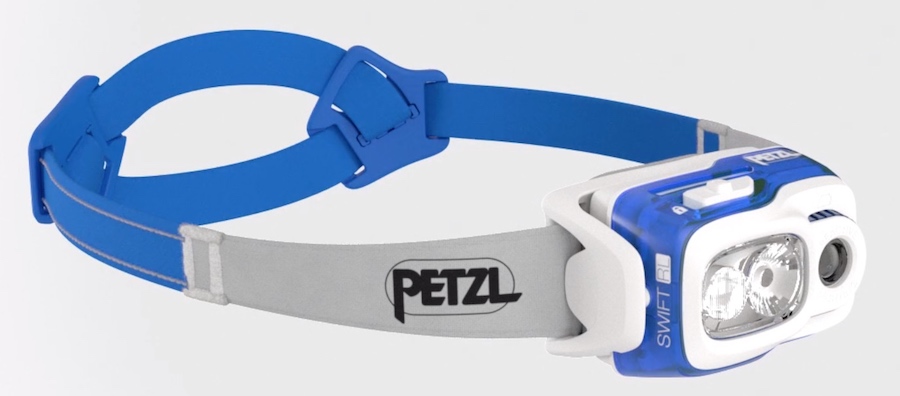 Reasons to Buy the SWIFT RL for Skiing
900 Lumens Max Brightness – a really bright headlamp with good beam shape and white-balance. This is only on auto mode (Reactive LIghting Technology) where the beam strength is automatically controlled. This will be fine for slow cross-country skiing, but not fast when the light could cut down due to close branches or bushes. Also has 550 lumens for 2 hours – on manual brightness setting. Good for slow skiing.
Affordable and Cheap Battery Replacements – At just $115 USD, and $30 for new batteries, you can stock up on batteries and go for a week of cross country skiing with the SWIFT RL headlamp.
Super Lightweight – just 100 grams.
Petzl SWIFT RL Cons
Not Built for Falls – this is not a tough light built for falling while skiing. If you don't fall on it, you'll be fine!
The Petzl SWIFT RL is one of Petzl's newest headlamps that combines a lot of great features into one VERY affordable headlamp. One of the other considerations when buying a skiing headlamp is – what else can you use it for? If you get the SWIFT RL, you can use this ultra-light headlamp for running, walking, camping, fishing, hiking, working on your auto, or as an emergency light at home when the lights go out. This one has many uses. Consider that before you choose one of the options below – the SWIFT RL has the widest range of uses.
---
2nd Best Headlamp for Skiing – OLight H2R Nova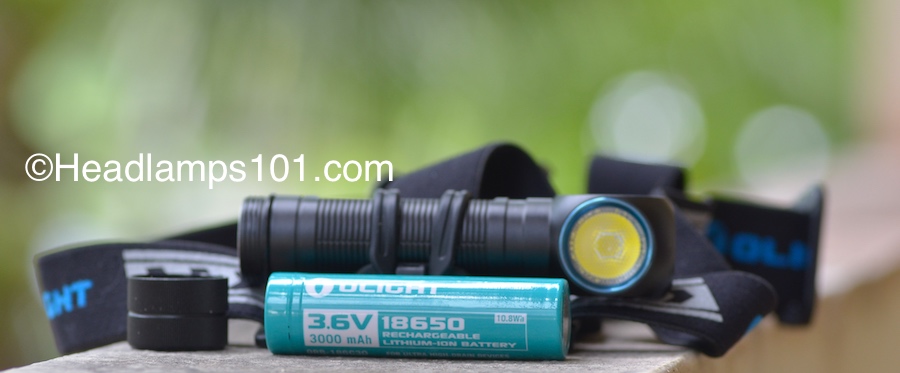 Reasons to Buy the OLight H2R Nova Headlamp for Skiing
Tough – I think this headlamp is the second toughest headlamp of all the headlamps we've tested over the years. The build is metal and solid and the headlamp is remarkably lightweight.
Reasonably Priced – at around $90 USD, this is the most affordable headlamp you can buy for skiing.
SOS Function – plays bursts of light in Morse code to alert planes or other rescuers there is a problem.
Longest Power Option – 45 days at 1 lumen (1 moonlight).
Firestarting Option – this headlamp gets so hot that it can start a fire. No kidding!
Olight H2R Nova Cons
Poor Waterproofing – there is a very thin O-ring seal on the screw-in battery cap that is to prevent water from entering. Often times that rubber seal is misplaced or missing altogether.
Too Much Flood Beam – not enough spotlight beam. What this means is, the 750 lumens brightness for 110 minutes may not be bright enough because the light is spread over too wide an area. If skiing slow – it's perfect. If fast, not ideal.
We love the OLight H2R, but we're not 100% sold yet. Especially when it comes to quality. That rubber O-ring can be a serious issue for anyone in the rain or snow because it is hard to see, and you'll never see it fall off when it does. We use our H2R for many things, and it's just about as useful as our SWIFT RL headlamps, but if we had to choose? Petzl is a company that has been making headlamps for decades. When you REALLY need to rely on a headlamp, just buy the Petzl!
---
1st Best Headlamp Recommendation for Skiing – Petzl ULTRA RUSH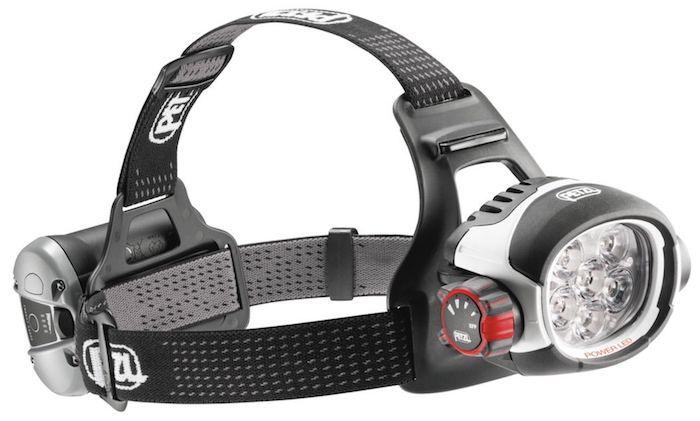 Reasons to buy the Petzl ULTRA RUSH Headlamp for Skiing
Super Tough – this Petzl headlamp was built to withstand falls and is the only one on the list that I think could take a really hard fall and still work.
Beam Shape is Perfect – I think the shape of the light beam coming out of the Petzl Ultra Rush is ideal for skiing. Most of the brightness is center-focused and the radius spreads out just enough as you look further ahead. I think most people would find this to be the perfect amount of light for night skiing.
Manual Controls – all manual selections remove the need for the light to reactively change power settings as you ski based on how close something is in front of you. For skiing, you need one manual setting that is the right amount of light. The ULTRA RUSH gives you a bright 760 lumens beam for 2 hours at constant manual brightness.
Super-fast Recharge of 2 to 2.5 hours. The manual says 2.5 hours, mine has almost always charged in 2 hours. I'm in Thailand though, where the power outlets are 220v.
Petzl ULTRA RUSH Cons
Expensive. At $400+ dollars, only those of you who really want the best will spend the money to get this headlamp. Understood! That's why we didn't just put 1 headlamp here and hope everyone buys it. Few will. The other 2 options above are also very good – just a little different.
It's odd, but the Ultra Rush is our favorite headlamp ever. It's SO expensive, but what it does – consistently put out strong beams with perfect shape and color, is exactly what we need. For fast-moving activities like downhill mountain biking, skiing, or trail running, the Ultra Rush is HIGHLY recommended. It's tough and you can rely on it. We didn't mention, there is a double-sized battery – the ACCU4 that can be attached to the ULTRA RUSH headlamp with a wire and worn on your waist. This takes the weight off your head! If you have the money and need a headlamp mostly for fast activities like skiing or cycling, get the ULTRA RUSH.
Summary
Any of these three headlamps will work well for skiing at night, that much is true. We rated the headlamps mostly weighting in favor of toughness and durability and the possibility for manual brightness settings at a good lumens brightness. This is why the OLight H2R and the Petzl ULTRA RUSH are rated higher than the SWIFT RL – which is a great light for so many other uses. This is why the Ultra Rush – that $400 unit is rated the best. It has the two best qualities for night skiing. Perfect beam strength, shape, and color, and it's tough enough and waterproof enough to last.
We certainly don't expect many people to opt for the ULTRA RUSH. It's perfect in some ways, but not all. It is heavy too – we forgot to mention! The weight on your head can feel like it is inhibiting neck movement after a couple of hours.
We review headlamps good for any action sport including skiing, running fast, trail running, hiking, camping, fishing, working around the house, reading books. Almost anything.