[Page updated: 1 June 2022]
Is the OLIGHT H2R NOVA headlamp anything special with its massive 2,300 lumens output?
That's what I wanted to find out. I couldn't find anywhere that told me how long I could use the OLight H2R at 2,300 lumens, so I needed that answer. I found out. 1 minute. The 2,300 lumens lasts one minute. It appears that I can turn it on over and over again though, so it can last longer, it just automatically dims to 750 lumens after one minute. So, about what I expected considering it's using just one 18650 – 3000 mAh battery. Still, it seems like a decent headlamp, and 18650 batteries are not all that expensive. Read on!
Table of Contents

---
OLight H2R Nova Headlamp Pros
2,300 lumens is super bright. Good for self-defense and blinding aggressive dogs. 600 lumens for 2 hrs 30 mins is pretty good – and almost as long as I need it for. Most people will be happy with this for max power.
SOS function. This could be helpful someday.
Build quality and style are excellent.
Strong magnetic end. Enables multiple helpful ways to hold the light.
Super lightweight and good for most activities.
Easily hand-held as flashlight. Nice to be able to hand-hold it comfortably – a headlamp and flashlight in one.
Rechargeable, easily replaced 18650 batteries.
---
H2R Nova Cons
Gets hot. The 2,300 lumens is so bright that it's dangerous for the eyes, and the heat is also a real potential danger. It's not a stretch to think someone could burn down their house with this headlamp. You would NOT want to be wearing this headlamp while filling your motorbike with gasoline, for instance.
Not well balanced on the head. I noticed I need to squeeze the head strap tighter than I want to in order to balance this on my head.
---
The OLIGHT H2R NOVA headlamp is a mid-range headlamp which is powerful enough for just about any activity. After the initial 2,300 blast of lumens for a minute, it dips down to 750 lumens for 110 minutes which is good for just about any fast moving sport I can think of except maybe bobsledding.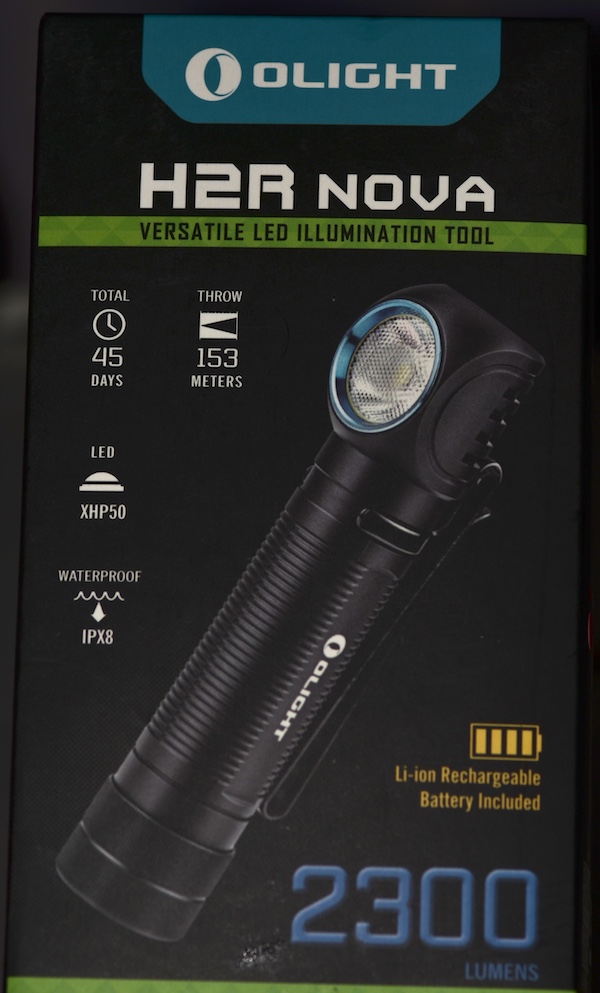 OLIGHT H2R NOVA HEADLAMP | 2,300 Max Lumens
MODEL: H2R NOVA – comes in just one color, black. This is the 'Cool White' option (5500-6500K white balance). There is a Neutral option with 4500-5000°K white balance that is warmer (more orange).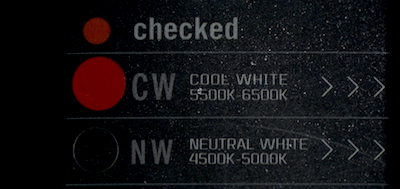 ---
OLIGHT H2R Nova HEADLAMP DESCRIPTION
OLight headlamp company is a smaller company in Georgia, in the USA that sells headlamps made in China. Same deal as Fenix. OLight makes high-quality headlamps that seem like they'll take a beating. They look great, and they actually send a free case with their HS2 headlamp. They do a lot of things right, and I have a friend who loves their headlamps, so I thought I'd buy a couple.
The OLight H2R is by far the strongest headlamp in terms of lumens – that I have ever tested. It is like turning on the SUN outside when you crank on the 2,300 lm power boost. It's too much light for almost anything, but I'll bet it would stop a dog or other wild animal from moving closer to you because it would be absolutely blind. We'll see because I sometimes face dogs in the rainforest. I'll let you know.
I'm not sure which headlamp in the Petzl lineup this H2R headlamp compares to. None really. It's got a different set of specs. Some good points, and some bad points. Read on!
Let's get started with the H2R Nova REVIEW!
---
OLIGHT H2R NOVA 2300 HEADLAMP SPECS
Dimensions (headlamp beam case): 110 mm x 25 mm (4.3 x 1 inches). Battery case: 71 mm x 42 mm x 19 mm (2.8 x 1.7 x .7 inches).
Weight: 100 grams (3.5 oz.) total.
Bulbs: One CREE XHP50 bulb – Cool White LED. Life – 50,000 hours.
Red Light: None.
Lock Feature? None.
Redundancy for Beam Failure? None.
Power Modes: Moon; Low; Medium; High; Turbo.
Max Lumens: 2300 for 1 minute. 750 lumens for 110 minutes. 600 lumens for 2.5 hours. 150 lumens for 10 hours. 30 lumens for 50 hours. 1 lumen for 45 days.
Max Beam Distance: 153 meters stated. I think that's probably right on in Turbo mode.
Run-time Range: 1 minute to 45 days.
Battery Rating: One 18650 size battery at 3,000 mAh 3.7V Lithium-ion rechargeable battery (included). This is proprietary and is actually larger in length than some of my other 18650 batteries, so you'd best replace it with another OLight battery, not another brand.
Recharge Time: Nothing stated. I tested – 4 hours from 0% to 100%. I used the small iPhone wall charger for my iPhone. if you charge with your computer or other USB connection, it may go slower.
Water Resistance Rating: IPX 8 (Submersion for 30 minutes is probably fine.) Shockproof from 1.5 meters high drop.
Warranty: 5 years on bulbs and battery.
Tilt Range: 0° to 360° range – rotates any way you want it to.
Number of Tilt Clicks: No clicks, smooth adjustment.
Special Technology: Magnetic charging through USB. Super strong magnet in the bottom of the unit – allows it to stick on metal surfaces, even horizontally. Shaped as a flashlight, so can be removed from headband and hand-held easily. SOS mode with a triple-click of the selector switch. Turbo mode gives 2,300 lumens for one minute with a double-click. Moon mode gives 1 lumen of light for 45 days.

---
H2R Nova Cool White Headlamp Ratings
This light and all OLights get good ratings on Amazon in general. Check what the rating is today, but the OLights have a strong record of performance.
Quality of Build – 5/5 Stars ***** Plastic is well-styled and seems strong. Cables are tough, nothing cheesy. The strap is strong and soft. The carrying case is a nice touch.
Beam Brightness – 5/5 Stars ***** I have to give it 5 stars on brightness, though it is only that bright for 1 minute. It does provide 750 lumens for 110 minutes as well – that's pretty ideal.
Beam Quality – 3/5 Stars *** Color is right on – pure white. There is no dedicated flood beam or mixed beam option – so that takes away from the headlamp. Still, the beam is engineered to be of great use for many people.
Battery Life – 4/5 Stars **** The 2000 mAh lithium-ion battery is enough, and keeps the unit very lightweight.
Water Resistance – 5/5 Stars ***** as good as it gets at IPX8. I wish OLight told us how long the unit can stay submerged.
Price – 5/5 Stars ***** At this price, we're highly recommending the OLIGHT H2R headlamp. Price is very good, and this headlamp will be a good fit for most people.
Note – the bright white CREE beams, pure-white color balance, well-shaped beam, the well-thought-out design, and the decent battery life with interchangeable rechargeable batteries makes this a really solid headlight. HIGHLY RECOMMENDED.
---
Let's See What We've Got…
OLIGHT H2R FIRST IMPRESSIONS
This headlamp is light, seems to be built tough (metal and hard plastic), and has a whopping 2,300 lumens which light up the entire backyard. Styling is nice, and some of the added features are helpful (magnetic charging).
The strap is strong, thick, and soft. The headlamp bulb unit is held to the strap by a very strong rubber piece. Beam rotates between to any angle (360°) which is a first for headlamps I've reviewed.
---
MATERIALS – CONSTRUCTION QUALITY
The main unit is metal – and very strong. Well made actually. It looks more like it was designed in Germany, not China. Really quite a nice design and implementation. The hard plastic that is in the strap in the front to hold the main lamp unit is strong and well designed as well. Really quite happy with the styling and materials used.
They added a metal clip which will hold the headlamp firmly on your jacket or other thin material. The magnet at the bottom of the headlamp unit is super strong and that's also a nice touch.
There are no exposed cables and the high level of water resistance (IPX8) is very reassuring! For the price, this headlamp is going to be highly recommended – with a couple of cautions.
Overall impression? I think the OLIGHT H2R Nova headlamp is going to be a good alternative for people who need something tougher than the Petzl ACTIK CORE or Olight HS2. For self-defense, the Turbo on this thing is a lethal weapon. It really hurts your eyes, even to look at the beam from an angle. If the unit lasts for a year, I'll be really excited and buy a couple of them to use for our wilderness tours.
The 600 lumens High or the 750 lumens in Turbo after the brightness dims a bit is ideal for any fast-moving activities.
---
WATERPROOFING
These headlamps have a water resistance rating of IPX8. This is the highest rating for water ingress on the IPX scale.
This means this headlamp is able to be submerged in water for some time. How much time depends on what the manufacturer is stating. They don't state exactly. Trust it to be able to withstand at least 30 minutes in 1-meter deep water and still work fine afterward.
Shockproof? Can withstand 1.5 meter falls onto the hard ground with no detrimental effects to functioning.
---
H2R NOVA BATTERY LIFE and OPTIONS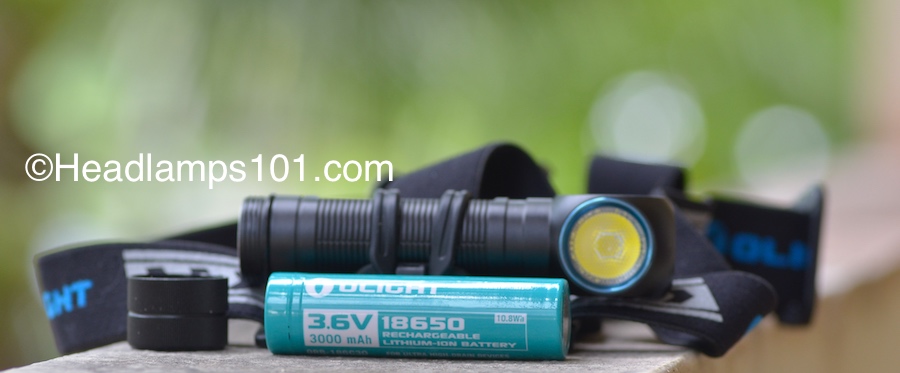 ---
The H2R battery is lithium-ion and 3000 mAh in the 18650 battery format. This is rechargeable and is supposed to last about a year, with some fall-off of battery life probably around 80% still possible. You can buy extra OLight batteries for around $20 each. Olight recommends you DO NOT use CR123A batteries in place of one 18650.
During a test, I selected the 2300 lumens beam. It stayed lit for about a minute then dropped down to 750 lumens. Then it lit back on unexpectedly to 2300 lumens for under a minute. Then back to 750. Then again, then again, and again – maybe 5 times? Total battery life during that test, just 95 minutes.
Find compatible extra OLight batteries here.
---
H2R HEADLAMP BEAM QUALITY
The H2R headlamp has one CREE LED bulb that puts out a diffuse spotlight beam that is good for many activities. It's actually as ideal as it can get for having just one bulb. From 2 meters away, the beam spreads out about 1-meter diameter (in a circle). There are no harsh edges on the beam, it's nicely blurred with the piece on the front of the unit acting as a diffuser.
The beam color is absolutely white – with no blue or orange tint. Why OLight calls this "Cool White" I'm not sure. It's as white as white typing paper. They also sell a "Neutral White" H2R Nova – be careful which one you get. I don't think anyone is going to want the orange-tinted beam, but maybe so. If you do – order the Neutral White option. I think the same price, but the Neutral White beam is less bright in lumens (max 2,000).
---
H2R NOVA CAUTIONS
The Turbo beam on this headlamp is ridiculously strong. It's about 10 times stronger than sunlight. You easily hurt your eyes and burn your retina in seconds. I'm not joking. It's that strong. Be VERY careful not to look at the beam at the bulb for even a couple seconds. I did so with a less bright light and I felt like I damaged my eyes. This one wouldn't give you a chance to make a mistake. Treat it with respect!
The other caution about this headlamp is the heat it generates in SECONDS on Turbo mode. The beam itself is hot, but the unit gets SUPER heated in mere seconds as well. There's a reason it dims after 1 minute, it would likely set your forehead on fire. Do NOT wear any sort of hair gel or hairspray. You'll do a Michael Jackson Hair on Fire Skit. It's that powerful.
NOT FOR CHILDREN!
---
H2R NOVA SETTING OPTIONS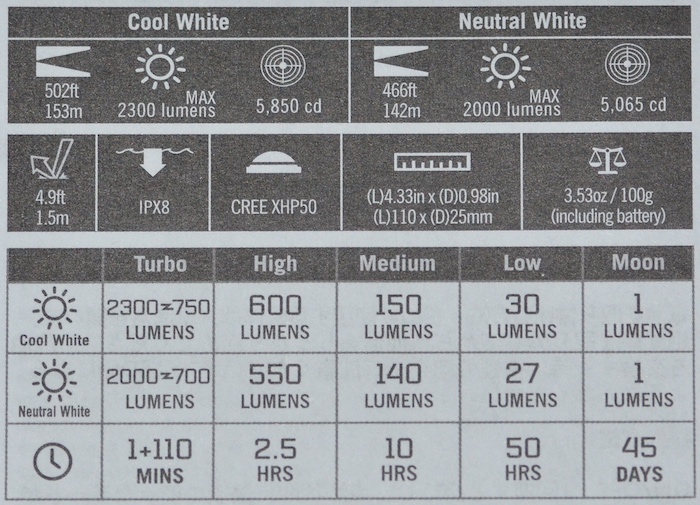 With only one button on the top to activate the headlamp, it's easy. A push down will turn the headlamp on in whatever mode you shut it off in. So, if you had it in turbo mode when you turned it off – it will turn on again in turbo mode. You can double-click to reach Turbo mode and get it out of Turbo mode down to the regular low-med-high settings. Once in the low setting, you can hold the button down to reach Medium. Then hold it again to reach High.
To reach Moon mode, the headlamp must be off – and you hold the button down for 1+ seconds. This mode goes for 45 days! It gives about 1/10th the light of a lit match. Not much, and you couldn't hike with it at that level, but you could read something crucial, write, maybe type, and not much else!
There is an SOS mode – where the headlamp will flash in code – the S-O-S morse codesign. When the unit is off – just triple-click to reach this mode.
---
WHICH ACTIVITIES IS THE OLIGHT H2R HEADLAMP BEST FOR?
I think some people will really enjoy this tough headlamp for the following activities:
running – street or trail, fast or slow
cycling – street or trail, fast or slow
walking trails or streets
fishing
hunting – not an excellent tight beam, but some will be fine with it.
camping
working on a vehicle or outdoors around the house at night
wildlife excursions at night – I think at 600 lumens, this is going to be just right for my needs, though I will need another battery to last long enough for my typical outing length.
DOWNLOAD USER'S MANUAL – None found.
OLight H2R NOVA COOL WHITE Headlamp Outdoor Beam Test
---
PRICE and AVAILABILITY
This OLIGHT H2R headlamp in black with blue accents is sold online.
---
If you are like me, the comfort of knowing that you're actually going to receive the items you order – is very important. There are very few places I trust when ordering items over $50. I use online shopping for everything I can. If I can't find it there, I'll try to find the item at some other online chain, but I can almost always find everything I need online.
Here is the OLIGHT H2R NOVA HEADLAMP online. Get one or two to keep for your camping trips, I know you're going to like them!

---
NOTE – If you cannot find this headlamp available, this is becoming a common problem. There have been 2 NEW headlamps that were released after this OLight. Please have a look at the ACEBEAM H30 and the NITECORE HC65. Both of these are top 5 headlamps with our full recommendation.
Comparison of our Top 4 Headlamps HERE