A good quality headlamp consists of Build Quality, Comfort, Brightness, Water Resistance Rating, Drop-proof Rating, and Ease of Use all combined to make a good headlamp to use for the activity you choose. We review these areas below!
There are really just two brands of headlamp manufacturer that we like the most after reviewing many headlamps for this website over the years. Petzl and ACEBEAM. Petzl is a decades-old French company with manufacturing in Malaysia. ACEBEAM is a Chinese company who is making quality headlamp and flashlight products.
Good Build Quality
You can generally tell the build quality of a headlamp by picking it up and feeling the weight of it and examining the materials used and the general construction of the product. Engineering counts for a lot, and lately there are many companies who seem to be engineering their headlamps well. OLight, ACEBEAM, Petzl, NiteCore, and Black Diamond come to mind as companies who consistently put out good headlamps on their high-end (expensive) products over $100 USD.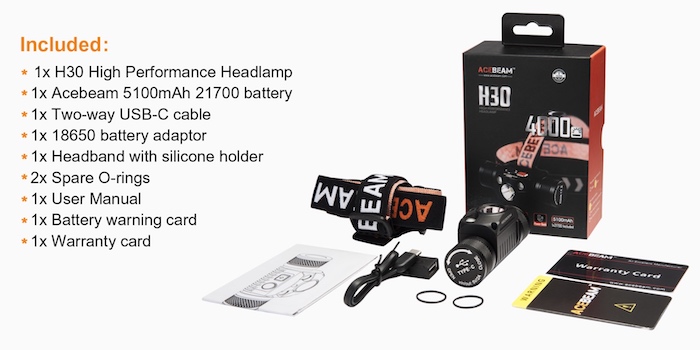 Hard plastic that doesn't flex is one good indicator that some real thought went into producing the unit. Strong stainless steel and aluminum headlamps are also becoming more common and preferred for survivalists and SHTF types. Most headlamps are not real durable if under $100. That might be your benchmark to start from when choosing a quality unit.
CREE LED bulbs are the standard for quality and until something better comes along, you should always choose a headlamp with one of these bulbs. They're cheap enough to be used in headlamps under $100, and even under $50.
The head straps have a variety of quality materials that can be hard to assess. Generally, the thicker the band, the better made. The band on the ACEBEAM H30 is fantastic, it's thick and has rubber gel to grip the head to decrease slippage.
Headlamp Comfort
Comfort while wearing your headlamp comes down to a couple of things. The head strap build quality is one, and the weight distribution of the bulb unit and the battery makes a big difference in what activities the headlamp is best suited for.
To have a great headlamp with long battery life requires a rather large battery, so that really needs to be in the back of the unit and supported by the back of the head. The Petzl NAO+ and ULTRA RUSH headlamps are a good example of this. Even distribution of the weight makes for much greater comfort and using the unit for hours can still be comfortable for slow-paced activities.
For fast-paced activities, the more lightweight the light, the better. Runners will especially like the Petzl NAO+, IKO CORE, SWIFT RL and SWIFT RL PRO, and possibly the ACTIK CORE 450 headlamps.
Brightness (Lumens Count)
The faster the activity you are doing, the greater number of lumens you'll need to be able to see everything in front of you and to keep you safe. Activities like road or mountain biking and downhill skiing require the maximum number of lumens! Other activities like reading a book or gathering firewood will require far fewer lumens out of your headlamp.
Very bright units will be over 1,000 lumens and have a wide beam spread so you can see about 120° or more field of view. The problem with headlamps capable of this high lumens count is that the batteries are heavy and will not last long. Recently I tested the ACEBEAM H30 and it is the brightest headlamp I've used at 4,000 lumens, and the battery life is not bad either. I'd suggest this one for fast activities and you should invest in a couple of extra batteries to give you hours of fun.
To choose a number, I'd say that any headlamp you get should have around 400 lumens or more. This will ensure you can use it for things like light jogging, hiking, putting up your tent, gathering wood, and most of the other slow activities you'd need to do when out at night.
Water Resistance Rating (IPX)
Great water resistance in a headlamp comes only in sealed metal units. This is probably why they are becoming so popular. It is very hard to engineer complete waterproof headlamps with any sort of plastic unit. Here are some metal headlamps with the highest ratings – which include being submersible in a meter or more of water for ten minutes or more (IPX68): OLight H2R, ACEBEAM H30, and the NiteCore HC65 (review coming soon).
If you expect to be outside in any sort of rain, you should buy a headlamp with a water resistance rating of IPX4 or higher number.
Drop Rating
A good headlamp will be tough enough to drop a couple of times on the hard ground. Concrete preferably. People are clumsy. I certainly can be. I've dropped headlamps dozens of times over the years. Only once did my light stop working. Then, it was temporary and when I got it home I realized that I put the battery in backwards after dropping it, and that's why it didn't work! (DUH!)
I think all the headlamps I have, all the ones you can see on this website in the Headlamp Reviews section, can be dropped from 6 to 8 feet onto concrete and survive almost all the time. Though the ultralight headlamps like the IKO CORE are not built for toughness, it is so lightweight that even if you drop it, it will be fine because the battery is so light. Drop rating is important but unless you're climbing or caving, is probably not going to be big factor in choosing your headlamp.
Ease of Use as a Factor in a Quality Headlamp
The easiest headlamps to use are the best to use, aren't they? Some headlamps are really hard to understand how to enable all the features. Though it's my favorite headlamp, the ACEBEAM H30 is a difficult one to figure out all the functions. One reason is that it has so many options, so that's something of a good thing – right?

The MYO headlamp from Petzl is an absolute nightmare to use. Buttons are too small and the feature set is impossible to remember!
On the other hand, having just one button that cycles through all options can be cumbersome and slow. Most headlamps have one button or dial and combines short pushes and long pushes to reach different functions. Whichever headlamp you purchase, make sure you take the time really learn EVERY option on the unit so you'll be able to enjoy your headlamp to the utmost!
List of Good Quality Headlamps
Here are some headlamps you might look into if you're considering purchasing a good one that you can rely on. Match one of these to the features you require for the activities you'll be taking part in.
Petzl Headlamps: IKO CORE, NAO+, ACTIK CORE 450, SWIFT RL, SWIFT RL PRO, DUO RL
ACEBEAM: H30
OLight: H2R Nova
NiteCore: HC65