[Page updated: 2 June 2022]
We love new Petzl headlamps, and we're excited to get into reviewing this IKO CORE headlamp and seeing what it might be good for. On first look, it must be great for runners. Super lightweight – under 100 grams (3.5 oz.) and with many CREE bulbs. I'll bet the light quality will be perfect for illuminating the trail. I also have a selfish reason for getting excited about this headlamp… it looks like it is going to be great for jungle hikes at night in the rainforest.
Table of Contents
Let's see what the new IKO CORE has in store for us in 2022!
Or, have a sneak peak at the price the IKO CORE is at Amazon right now.


---
Quality of Build – 3/5 Stars *** Lightweight for sure, but we're not sure how strong it is and we're not going to destroy our test unit just yet to push it to the limit.
Beam Brightness – 4/5 Stars ****
Beam Quality – 3/5 Stars *** I should really add that the flood and mixed beams pattern is really nice for running and most other activities, but it has no sort of spotlight at all and the flood light is not very strong.
Battery Life – 4/5 Stars **** I'd love to see a longer lasting battery, but the small CORE battery gives 2.5 hours of light at 500 lumens. Pretty good!
Water Resistance – 4/5 Stars **** This seems to the standard water resistance for Petzl headlamps. Good enough for a rainstorm in the jungle.
Price – 3/5 Stars *** It isn't expensive, but then I'm trying to understand what it offers over the Actik Core 450 lumens headlamp that is cheaper. The design?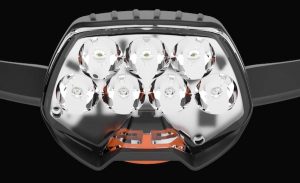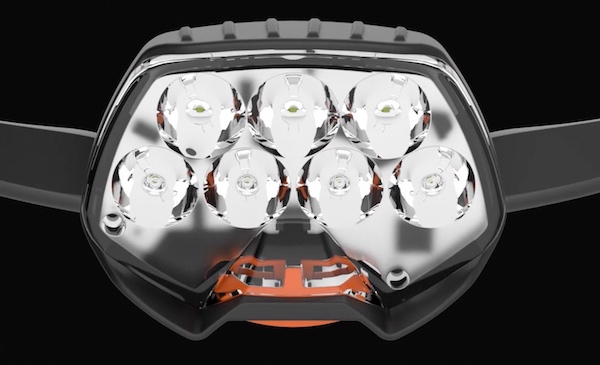 IKO CORE Pros
Super lightweight makes it ideal for running. The headband design is comfortable.
500 lm max brightness. Bright enough for all slow activities.
The rechargeable battery is replaceable with 3 AAA batteries for emergencies.
7 CREE Bulbs make great light on the trail.
IKO CORE Cons
Water resistance hasn't changed. IPX4 should be a minimum.
Expensive. $90 . That's $20 more than the Actik Core 450 lumens headlamp that gives 30 mins. less light, adds a red light and strobe, and weighs a few grams less.
---
IKO CORE HEADLAMP | 500 LUMENS | E104BA00
DESCRIPTION
In use already by ultra-runners all over the world, the new IKO CORE headlamp by Petzl is taking the running world by storm. O particular note is the extreme lightweight, the powerful and very lightweight CORE battery, and the design of the head strap which is ideal for running. The IKO CORE lights up the path with the perfect beam shape with a focus on the middle.
It seems to me as if the IKO CORE was made with long distance runners in mind. The quality of the light beam has been improved with the addition of multiple CREE bulbs. 500 Lumens is plenty for runners but even the 100 lumens medium setting will suffice for many runners. There is a 4.5 hour reserve which will keep the light on 6 lumens and shine 10 meters ahead, which should be enough to cover most emergencies while on a run through the forest at night.

IKO CORE Specs
Dimensions (longest):6.3cm x 3.8 cm x 3.8 cm (2.5″ x 1.5″ x 1.5″)
Weight: 79 grams (3.5 oz.).
Bulbs: Seven Cree LED's. Center balance and flood. Bulb life around 50,000 hours.
Red Light: None.
Lock Feature? Yes, 2 lock features.
Redundancy for Beam Failure? Seven bulbs allows others to compensate for one burnt out bulb.
Power Modes: Manual.
Max Lumens: 500. If using AAA batteries, the max is 350 lumens and it drops off fast.
Max Beam Distance: 100 meters (62 yards) on high.
Run-time Range: 2.5 hours (500 lumens) to 100 hours (6 lumens).
Battery Rating: 1250 mAh rechargeable Lithium Ion battery. Can also use three AAA batteries in an emergency.
Recharge Time: 3 hours from empty to full
Water Resistance Rating: IPX4
Warranty: Bulbs – 5 years. Battery – 1 year.
Tilt Range: 180° (stated) 45° reported.
---
MATERIALS | CONSTRUCTION QUALITY
The IKO CORE is built for being ultra-lightweight. It isn't built for falls. It isn't built for drops in a stream. It isn't built for hard-packing in your suitcase or bag. It will probably break pretty easily. It's very thin and there are many little parts that look like they can break. Take care of it, and you'll be fine for years. Take it for granted even a couple of times, and you're going to break something.
This headlamp was made for comfort while running. Petzl doesn't say that, but that is exactly what it does the best. It sits on your head without you feeling it, and it gives great light for night running. That's it. No frills.
The head-strap is strong enough and made out of durable nylon and plastic. The cords seem strong.
The battery in the back and the light unit in the front are well-balanced, about equal in weight. I didn't notice the difference when I put it on. I literally didn't feel it after five minutes of running. Of course I'm used to running with the heavier NAO+ headlamp, but still. I don't think you'll find it heavy at all.
Overall impression? Great for running and all slow activities. Great for adults. Not for kids, it is too easily broken.
---
WATER RESISTANCE
Petzl continues to churn out these new headlamps with the IPX4 rating of water resistance. I'm not exactly pleased about it, I wish it was higher. Apparently it is difficult to reach the next level. That said, I haven't had any issues with the IPX4 headlamps I have. I don't go out in much more than a medium-hard rain. All the IPX4 headlamps I've ever used in the forest did well during these sorts of rain. Even some harder rains – like downpours.
---
BATTERY LIFE and OPTIONS
The CORE battery is quite efficient with this new headlamp. For it to last 2.5 hours on high setting (500 lumens), is quite amazing. The light goes strong and then dies suddenly, leaving a few hours of reserve battery life that will run the lights at 6 lumens.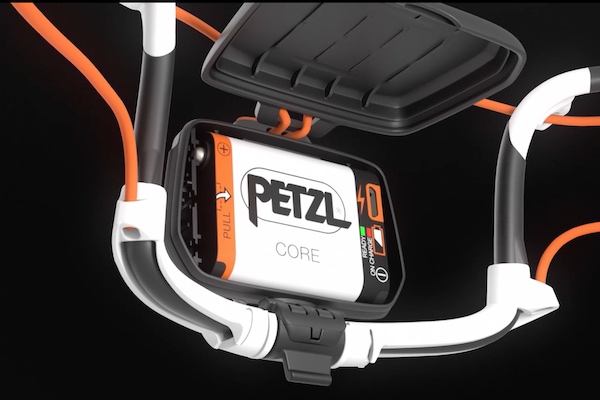 An option is using AAA batteries in the IKO CORE. This sounds like an amazing option, but the reality is a little less fun. AAA batteries (NiCad) reach a maximum of 350 lumens. That's well and good, except that the light brightness will drop steadily from the time you turn the headlamp on. You'll be around 100 lumens within an hour. That's the difference between Lithium-Ion batteries and AAA.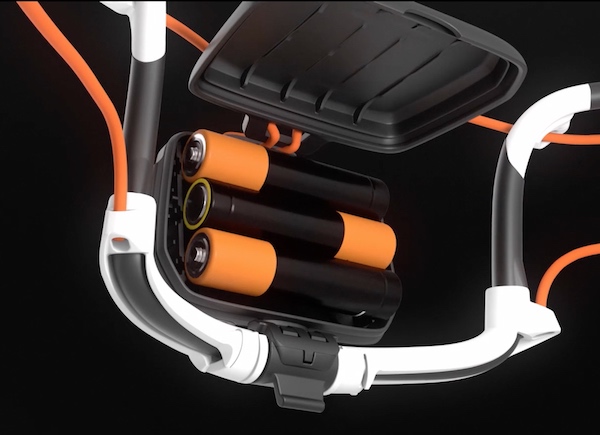 Still, they'd be great to have in an emergency when you don't have a spare CORE battery. A lot cheaper, but only one time use and not sustainable. Anyway, some trade-offs, but having the option IS a good thing.

---
PETZL IKO CORE BEAM QUALITY
There are two beams, a flood light and a center focused beam. Both beams use a combination of more than one CREE light. There is a low flood setting, a low mixed beam setting, and a high mixed beam setting. Not many options. Still, the high setting is ideal for so many different activities.
Note, there is no red light, red strobe, or white strobe light function.
---

---
WHICH ACTIVITIES IS the IKO CORE BEST FOR?
There are many activities you can enjoy with the new IKO CORE headlamp.
running
hiking, camping
night tours
adventure climbing
slow cycling
---
SPECIFIC DIFFERENCES BETWEEN the IKO and the IKO CORE
IKO is sold with 3-AAA batteries. IKO CORE is sold with the CORE Lithium-ion battery.
With the CORE battery, the IKO puts out 500 lumens max. With the AAA batteries, you get just 350 lumens.
Light brightness is maintained at 500 lumens for the full 2.5 hours with the CORE battery. With AAA, the brightness starts dropping off quickly.
Price is $20 more for the IKO CORE battery model. Buying the battery separately is about $30.
---
---
PETZL IKO CORE CUSTOMER RATINGS
This new ultra-light sports headlamp is just now getting some ratings on Amazon and other retail marketplaces. The reviews have been good, with most people commenting about what they're using it for saying that for 'running' it is a very useful light.
PETZL IKO CORE User Manual (PDF) – PETZL IKO CORE Headlamp User Guide
---
PRICE and AVAILABILITY
The IKO headlamp can be purchased online for around $60-70 USD. The IKO CORE with the better CORE battery can be bought for around $90.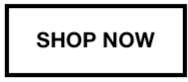 amazon.com
---
Comparison of our Top 4 Headlamps HERE >
---