I follow the ultra-running scene a bit, and I pay attention to what they're wearing on their feet, body and heads. I frequently see headlamps I recognize. During an ultra-run which goes through the night, which most of them do because it's cooler then, headlamps are a crucial bit of technology that must be taken seriously. No ultra-runner wants to be caught in the middle of the forest or the Great Outback with a faulty light, so runners tend to spend whatever they need to in order to get a reliable and very bright headlamp.
Which Headlamps Do Ultra Runners Wear?
Petzl Headlamps
The following athletes have been known to wear, or are still wearing Petzl brand headlamps during their ultra runs. It isn't just the pros that wear Petzl, if you take a look at the start of any ultra-run which begins at night – you'll see hundreds of Petzl headlamps lighting up the starting line. They are known worldwide since the 1980's for making great climbing and lighting technology.
Kilian Jornet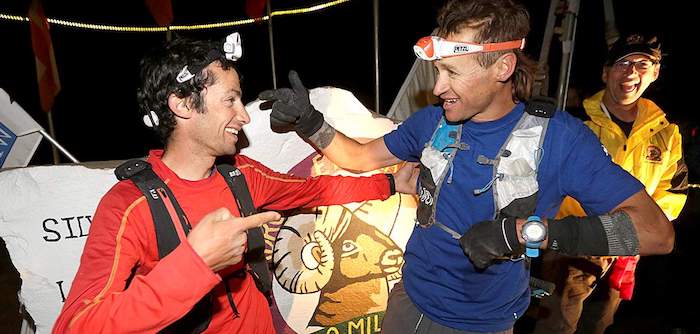 One of the best ever trail runners in the world, has worn Petzl headlamps since at least 2010. Kilian still wears Petzl today – and so does his girlfriend, and female ultra-running legend, Emily Forsberg.
Emily Forsberg
Anton Krupicka
Sebastien
Jason Schlarb
Pictured above with Kilian Jornet as they came across the finish of the Hardrock 100 tied for first place. Jason wearing the Petzl Reactik+ Plus headlamp I believe.
Dakota Jones
Adam Campbell
Andre
Sondre Amdahl
Sophie Grant
Various Ultra-runners Wearing Petzl Headlamps