[Page updated: 1 June 2022]
We have to say it before we even get started… the PETZL NAO+ Headlamp is our favorite of all the lights we've reviewed over the past three years. This headlamp gets one of our highest recommendations in 2022-23 – if you have the money for it – see it here now before they are all bought out. There is NOT an unlimited supply.
It is not a cheap headlamp, but really, Do You Want a Cheap Light for What You're Going to Use It For? Skip down to the video at bottom of the page. Click >
Table of Contents
The Petzl NAO+ Gets Our HIGHEST Recommendation.
We have 2 of them.
You will Love this Headlamp – Check prices here at Amazon.
See the LATEST NAO RL headlamp HERE.
New for 2022.
---
PETZL NAO+ RATINGS (26 out of 30)
Quality of Build – 5/5 Stars ***** Lightweight and very strong. Straps don't rot and nothing breaks.
Beam Brightness – 5/5 Stars *****
Beam Quality – 5/5 Stars *****
Battery Life – 4/5 Stars **** This headlamp really needs a stronger battery because many users would love to use it on full manual power for hours at a time. Ninety-minutes is just not enough for many outdoor activities.
Water Resistance – 4/5 Stars **** As I said, the Nao I've used for a year kept the rain out during some hard storms. I think the Nao Plus is built as strong, or even better.
Price – 3/5 Stars *** If I had known five years ago that I could make a headlamp and sell it at $150-180, I think I might have given it a try! Still, the Petzl Nao brand is selling like mad, and mostly to professionals who know they can rely on their headlamps to perform as needed – in potentially dangerous situations.
Petzl NAO+ Pros
750 lm max brightness. This very bright headlamp is bright enough for all activities.
Long battery life in RLT mode. Reactive Lighting Technology (RLT) saves hours of battery life.
Bluetooth programmable light profiles! Program your NAO+ to run for any amount of time at max brightness to ensure you have the most light during your activity.
The rechargeable battery is replaceable. Light is well-balanced on the head with 3 straps.
Red light strobe on back. Easily seen in traffic.
Petzl NAO+ Cons
Expensive at over $150 USD.
Expensive batteries at $60.
---
PETZL NAO+ (PLUS) HEADLAMP | 750 LUMENS | E36AHR 2B
DESCRIPTION
Used by professional ultra-runners, hikers, campers, and herpers across the globe, Petzl has become the ultimate standard in outdoor headlamp technology over the years, and recently in 2016 and 2017 there have been some updates to already great products like the Petzl NAO 2 has been upgraded to the new PETZL NAO+ (Plus).
With the update comes more power – max lumens boosted from 575 to 750. The Nao+ has the same Reactive Lighting Technology (RLT) the NAO 2 had before it. Battery life improvements and design improvements have combined to make this one of our Top Runners Headlamp Choices in 2017, 2018, 2019, and 2020!
The price changes daily – see what it's selling for today.
Sorry, it's hard not to get excited about this headlamp. My bet is that you're going to like it too. Petzl has gotten most things right with this headlamp, and we have only a couple of complaints, but to be fair, these same complaints can be directed at any headlamp manufacturer. Let's get started with the Petzl NAO+ Headlamp Review!
NAO+ SPECS
Dimensions (longest):6.3cm x 3.8 cm x 3.8 cm (2.5″ x 1.5″ x 1.5″)
Weight: 185 grams (6.5 oz.). Battery pack: 95 g. (3.3 oz.)
Bulbs: Two Cree LED's. One flood, one spotlight. Life – 50,000 hours.
Red Light: 1 rear flashing or blinking red light controlled only through the mobile app.
Lock Feature? Yes, just reverse twist the beam selector. to show the padlock.
Redundancy for Beam Failure? If one burns out, you have the other.
Power Modes: Manual and Reactive Lighting Technology.
Max Lumens: 750, and lower power 120 lumens.
Max Beam Distance: 140 meters (153 yards)
Run-time Range: 1.5 hours to 12 hours.
Battery Rating: 2,600 mAh rechargeable 18650, proprietary. Note – the option to use two AAA batteries in an emergency, is no longer available with this model.
Recharge Time: 6 hours to empty to full
Water Resistance Rating: IPX 4
Warranty: Bulbs – 3 years. Battery – 1 year.
Tilt Range: 75°
Number of Tilt Clicks: 6 (12.5° per click)
Special Technology: Reactive Lighting. Adjusts beam brightness to match surroundings. If you're reading a book, the light falls off dramatically. If you're looking in the trees for birds or slow lorises, the beam goes very bright. This considerably extends battery life.
My Petzl Light Mobile Software: Compatible with iPhone, iPad, and many Android devices.
Note – this is one of our personal favorite headlamps for the power of the bright beam, and lightness. The battery length and cost is something we wish could change, but maybe in the near future?
Price at Petzl.com: Unavailable.
---
The Petzl NAO+ Gets Our HIGHEST Recommendation.

---
LET'S SEE WHAT WE'VE GOT!
NAO+ DETAILED IMAGES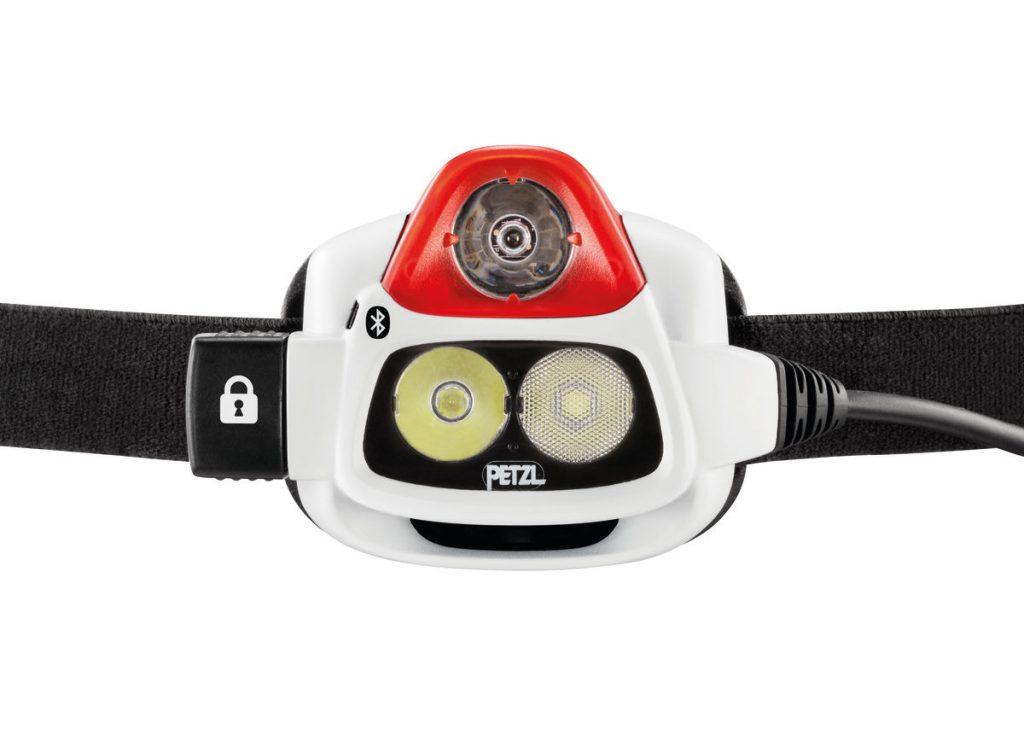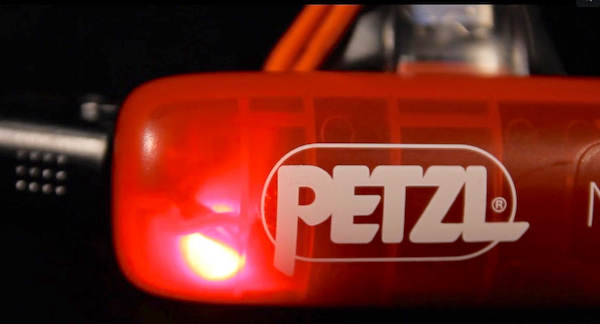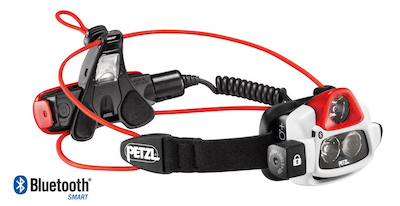 ---
PETZL NAO+ FIRST IMPRESSIONS
The look of this headlamp is an ultra-high-tech. It isn't very heavy at all, I could probably run with a heavier headlamp and still be quite happy. The Bluetooth logo on the unit has me excited about how I can program the power consumption/output to match my needs in the jungle.
I'm cautiously optimistic because I have had the NAO 2 for a year and I love it, it's performed heroically over that time. I love the new auto-flashing red light on the back of the battery pack – which makes me visible from behind. Often times I'm in the forest and when my light is pointing one way, to the ground or behind something, I am invisible in the dark. This makes sure I can be seen.
One additional piece of gear that comes with this headlamp is the top strap which you don't see in any other images. The package says the NAO+ strap is for technical activities.
The Petzl NAO+ Gets Our HIGHEST Recommendation. We have 2 of them. You will Love this Headlamp – Shop Here
---
MATERIALS | CONSTRUCTION QUALITY
It looks and feels built to last. The plastic is very hard, the beam covers are strong. The switch to rotate between light levels is well-made and, if it's anything like the Petzl NAO 2, will be more than adequate. The knob is large and square for easy grip. It has the same twist to activate and long-twists for brightness increase.
The head-strap is strong and made out of durable nylon with elastic in the orange cords. The cord straps are very strong, and though I thought they'd not be comfortable, they were with the added elastic.
The battery in the back and the light unit in the front are well-balanced, I don't even notice the lamp on my head. It's 2 grams lighter than the Petzl NAO 2. The swivel is strong, and will not accidentally move as you're running. It's quite firm. The rubber cable running from the battery pack to the headlamp triangle is strong and doesn't get in the way. The battery pack is solid and looks great with the red flashing light on the back, and the battery power indicator available at the push of a button.
Overall impression? IMPRESSED!
The Petzl NAO+ Gets Our HIGHEST Recommendation. We have 2 of them. You will Love this Headlamp – Shop Here
---
PLUS WATERPROOFING
These headlamps have the same water resistance rating of the previous iteration – IP X4. This means resistant to rain. I've used mine in heavy rain before and had no problem with it. I have never had one flicker because of water getting into the lamp unit or the battery compartment. You should ensure your battery compartment is properly sealed before you go out in the rain, of course. It is possible to close the compartment incorrectly, which allows water to enter.
---
BATTERY LIFE and OPTIONS
The battery (E36200 2B) is a proprietary implementation of a 18650 size battery with 2600 mAh of power. The battery is probably the same, or slightly better than that in my Petzl NAO 2, of the same rating.
There is a substantial difference (night vs. day) between junk 18650's and good ones. The Petzl's are great. Are they $70 great for a replacement? No. That's a gimmick for the company to make more money.
There is no reason in the world the battery has to be proprietary, except to make Petzl more money. So, while that sucks, the battery is excellent, and I've yet to find any better headlamps – so, like Apple products, I just deal with it and keep buying these Petzl Headlamps so I'm not stranded in the forest without adequate lighting.

Probably the main surprise about this new headlamp is that they removed the AAA battery option for emergency use -and didn't replace it with anything. Now there is no emergency battery option at all. I was beginning to think that the AAA batteries used with the Nao 2 I have were not so bad in case of emergency. Now there's not even that to fall back on.
---
PETZL NAO+ BEAM QUALITY
There are two beams, a flood on the left side of the headlamp (as worn) and the spotlight on the right side. As in the Petzl TIKKA RXP and Petzl NAO 2, the beams blend together without harsh distinction where the center beam is. This creates a really nice effect which is ideal for running, hiking, and what I do, looking for snakes in the rainforest and trail running.
There is no red-light mode on this headlamp, but there is a red flashing light on the reverse side of the battery pack.

amazon.com
---
SETTING OPTIONS
The manual, which is supposed to show the process for setting the beam options is either ridiculously weird, or I am. I can't figure out what the graphics are telling me to do.
Sure, I know to twist the selector knob and to twist and hold for another option, but, in the field, I just cycle through all the options until I get the beam I want. It's annoying that they can't just say in very simple terms – twist selector 1 time for this mode. Twist it twice for this mode. Twist again for off. Then, twist once, and then twist a long one and hold it for this mode… etc. Let's see if you can make any sense of this graphic: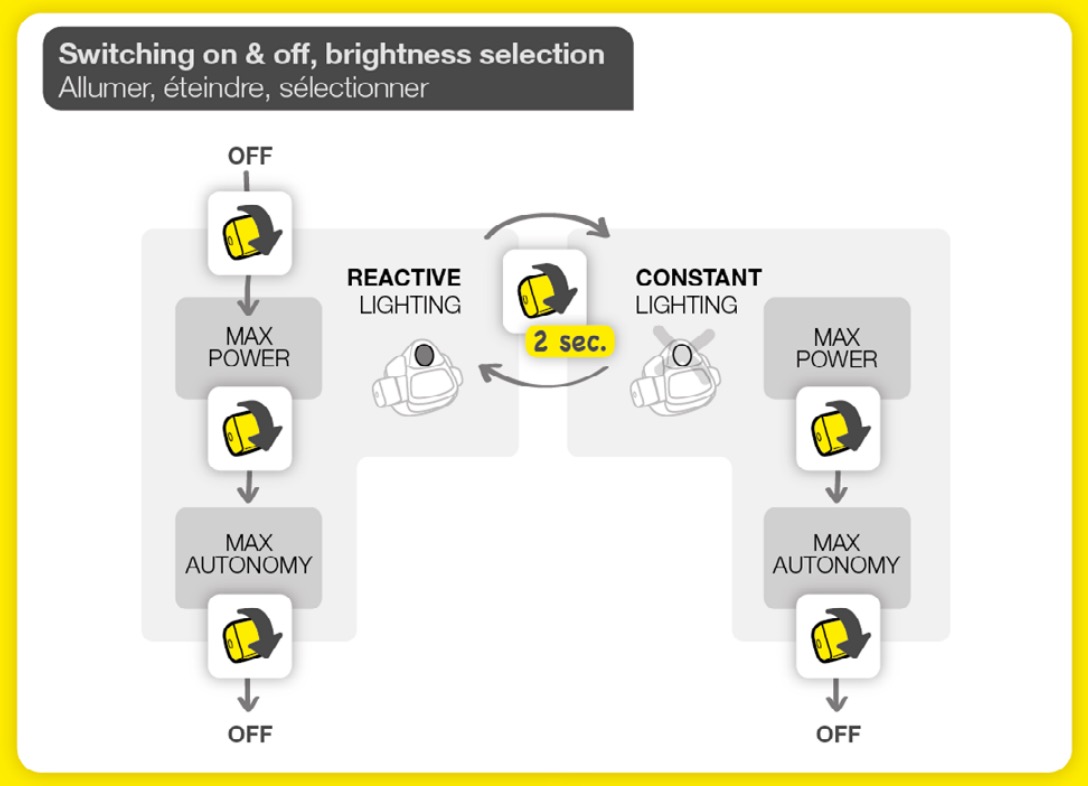 Now, to really confuse things, the NAO+ has two programmable profiles you can set up using the mobile app. To reach them, at some point you have to turn the selector knob for 10 seconds, and then somehow cycle through them. If anyone can show me how to work this, I'll be grateful!
There are 6 lighting modes you can select with the knob on the NAO+. Two of them, the profiles, you'll need to set up with the My Petzl Light software program in order to use them.
The other two lighting modes are:
Reactive Lighting – automatically adjusts beam strength depending on where Nao+ is pointed, saving batteries.
Constant Lighting – manual control of lighting – either high or low beam power. Petzl calls the high power beam "Max Power" and the low power setting "Max Autonomy," regardless of which mode the headlamp is in.
---
AUTO ADJUSTING BEAM (RLT)
This works the same, far as I can tell. They may have tweaked the algorithm a bit and made it more efficient. I'm not sure what was responsible for lengthening the length of battery life between this and the older NAO 2. It could be a better power algorithm, or battery improvements, or a more efficient set of LED bulbs. Petzl hasn't said anything about it that I've heard.
---
WHICH ACTIVITIES IS the NAO PLUS BEST FOR?
The NAO+ is a pure outdoor headlamp that is quite remarkable for its battery saving option – using the Reactive Lighting Technology option. If you can use it for whatever application you're applying it to, you'll love this light. I think it is best for these activities:
hiking, camping
working oil platforms or other heavy industry work
adventure climbing
skiing
bicycling
a temporary replacement for a motorbike headlamp!
wildlife excursions at night – it's perfect!
---
SPECIFIC DIFFERENCES BETWEEN NAO 2 and NAO+ (Plus)
NAO+ is 2 grams lighter.
NAO+ has 750 max lumens vs. NAO 2's 575. This is using the RLT option. Neither light can hold their max lumens rating in manual mode, just for very short bursts. (** important to note!)
On Max manual brightness the NAO+ goes 90 minutes at 530 lumens. The NAO 2 got 90 minutes at 430 lumens.
NAO+ has Bluetooth connectivity options – NAO 2 had USB to the computer and a very poorly implemented software program that was supposed to allow control of the light power output via programming. I never did get this option to work on my new MacBook Pro notebook.
Automatic red flashing light on the reverse of NAO+ ensures some visibility from behind for runners, bikers, and well, anybody.
Programmable strobe option to flash a message in Morse code in case of emergency. Requires Bluetooth connected phone – Android or Apple.
Orange cord band on NAO+ is elastic. NAO 2's band had no rubber inside.
"My Petzl Light" – new mobile connection software – a considerable upgrade from the last iteration.
---
MY PETZL LIGHT | MOBILE APP
The NAO+ has a built-in Bluetooth capability that can be used with most mobile phones running IOS or Android. The software is slick and easy to use. It allows the fine-tuning of power and beam output, to better suit whatever activity you're doing. You can set a profile in your Nao+ that you can access from anywhere, with some fiddling with the selector switch – holding it for 10 seconds to get into the 2 profiles. So, you could have one profile for "Night Trail Running" and another for "Caving."
Here is how to set up your Petzl NAO+ Plus with the MyPetzl Light App >
---
PETZL NAO+ CUSTOMER RATINGS
This new sports light is just beginning to get ratings, and so far, they are mostly very good. This headlamp is building on the success of the Petzl NAO 2 – as everyone calls it since Petzl just named it the same as the first Petzl which only had 350 max lumens.
The NAO 2 has 575 max lumens. So, the public needs a way to differentiate between the two. It is expected that this new headlamp will surpass even the NAO 2's ratings elsewhere. I certainly think it is a positive step forward, and the price difference was minimal (about $30 USD).
PETZL NAO+ PLUS User Manual (PDF) – PETZL NAO PLUS Headlamp User Guide
Compatible Accessories (PDF) – PETZL NAO+ Plus Accessories Catalogue
---
PRICE and AVAILABILITY
The Petzl NAO+ (Plus) – 750 Lumen Headlamp is available at high-end sports locations online, and eBay. If you are like me, the comfort of knowing that you're actually going to receive the items you order – is very important. There are very few places I trust when ordering items over $50 or more. I use online shopping stores for everything I can. If I can't find it there, I'll try to find the item at Best Buy or some other major chain.

amazon.com
---
My Petzl NAO+ Plus Review Video:
Petzl NAO+ Plus Official Headlamp Video:
See the LATEST NAO RL headlamp HERE. New for 2022.
NAO+ Ultra-powerful, multi-beam, rechargeable and programmable headlamp – 750 lumens from Petzl-sport on Vimeo.
Here are some of the Petzl Headlamps… maybe browse around there and see if you can get this headlamp for about $180 – which is how much I paid for mine. I think that's a very fair deal, and you know it will be coming in the mail.
Comparison of our Top 4 Headlamps HERE >