[Page updated: 4 June 2022]
I was anxious to get to this OLIGHT HS2 headlamp review for the last couple of days. It's quite a nice looking headlamp and my friend has the H35 Wave I think it is, and he loves it – so I really wanted to do this review. FINALLY, I CAN.
The H2S is often not available. We've looked at this other OLight and it's even stronger and has rechargeable batteries also, but you can replace with your own batteries too – a feature the HS2 doesn't offer. Have a look at this one:

The OLIGHT HS2 headlamp is a mid-range headlamp which is powerful enough for most activities – and it will last for 2 hours 12 minutes at max power setting.
---
OLight HS2 Headlamp Pros
200 lumens for 4.5 hrs is good for many more activities – camping, hiking, fishing, working on auto, etc.
Can choose which beam, or combination of beam you want on – and whether it is low or high setting.
Build quality and style are nice – includes a plastic case for holding a headlamp.
Super lightweight and good for most activities and good for kids or adults.
---
OLight HS2 Cons
Wouldn't be good for fast-moving activities like running fast downhill on trails, biking fast, or skiing. Not good for caves – beams not wide enough.
This is a mid-range light. If you need a headlamp you can count on with your life – choose the NAO+ instead.
This one can get pretty warm to the touch – it won't affect you while on your head, but when you take it off – be careful not to touch the actual bulb unit.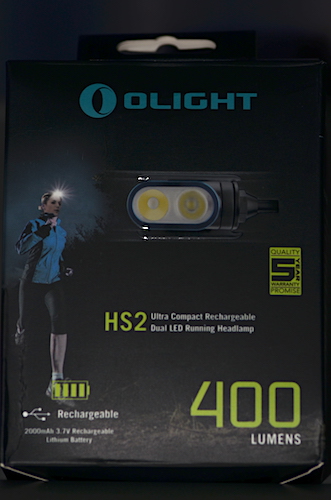 OLIGHT HS2 HEADLAMP | 400 Max Lumens
MODELS: HS2 – one color, black.
To be honest, it is very difficult to find this headlamp in 2022. OLight has discontinued it. Instead, we recommend the Petzl ACTIK CORE, IKO CORE, or NAO RL headlamps.
OLIGHT HS2 HEADLAMP DESCRIPTION
OLight headlamp company is actually a couple of guys residing in Georgia State who either created the OLIGHT brand on their own, and designed all the headlamps from the drawing board, or they just rebranded some Chinese company's headlamps that were already being made.
Today I think they have some say in the design and whatnot, but don't hold me to that because I'm not sure how it all works. OLight World is the name of their company. I have a friend who has used a couple of their higher-end headlamps and he's quite satisfied with them – and continues to buy more of the same brand.
They also have flashlights (torches for you Brits), and they are active in promoting them online. Their guarantee is 5 years, and though I've tried a number of times to get in touch with them, they are not quick to respond. So, if you'd like to try their headlamps – just know that customer service is not a real priority. I think their company is small and growing, and they haven't hired customer support yet.
Petzl, on the other hand, has a great company, solid customer support, and they've been in business for decades. I think the ACTIK CORE is a strong contender for the space the OLIGHT HS2 is trying to dominate. But, when you compare the two side by side, you're going to think the HS2 was made 'better.' Hard to say.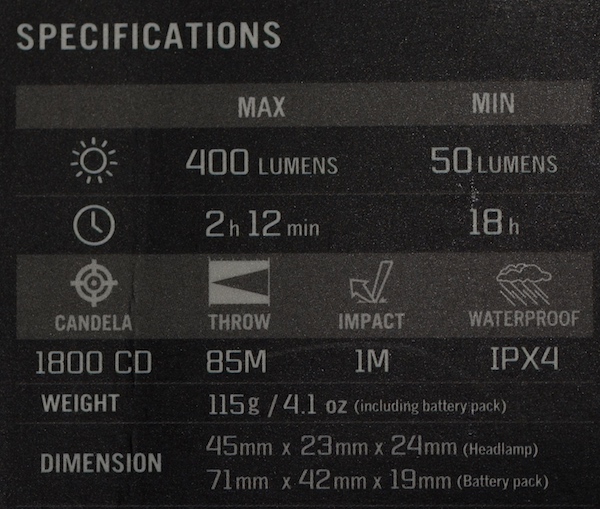 The ACTIK CORE comes in 2 colors – Red and Black. The red is more like reddish-orange. Go check out that review too – and then choose between this OLight HS2 and the PETZL ACTIK CORE. They're both good lights.
Let's get started with the HS2 REVIEW!
---
OLIGHT HS2 400 HEADLAMP SPECS
Dimensions (headlamp beam case): 45 mm x 23 mm x 24 mm (1.8 x .9 x .9 inches). Battery case: 71 mm x 42 mm x 19 mm (2.8 x 1.7 x .7 inches).
Weight: 115 grams (4.1 oz.) total.
Bulbs: Two CREE XP-G2 Neutral White LEDs. Life – 50,000 hours.
Red Light: None.
Lock Feature? None.
Redundancy for Beam Failure? Two separate beams – one spot, one flood.
Power Modes: Low; High.
Max Lumens: 400 lumens. 1 spot beam and one wider angle beam combine to create the beam shape. with high and low settings.
Max Beam Distance: 85 meters stated, the reality is more like 60 meters ( yards)
Run-time Range: 400 lumens for 2 hours 12 mins.; 200 lumens for 4 hrs. 30 mins; 100 lumens for 9 hours. 50 lumens for 18 hours.
Battery Rating: 2,000 mAh 3.7V Lithium-ion rechargeable battery (included). No other battery option.
Recharge Time: 3.5 hours.
Water Resistance Rating: IPX 4 (fine for light rain). 1 meter fall shock-resistance rating.
Warranty: 5 years on bulbs and battery.
Tilt Range: 45° to 180° range – quite good.
Number of Tilt Clicks: No clicks, smooth adjustment.
Special Technology: None.
---
CUSTOMER RATINGS
This light and all OLights get good ratings on Amazon in general. Check what the rating is today, but the Olights have a strong record of performance.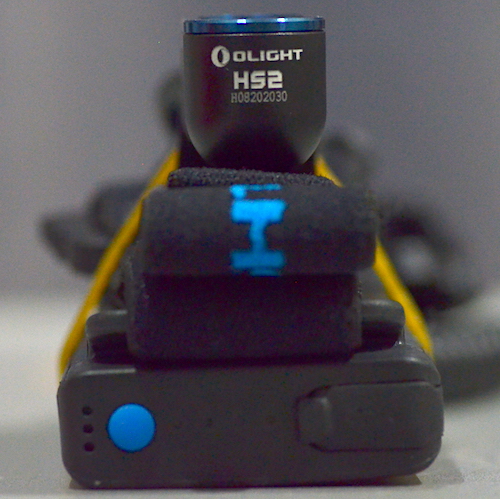 OLIGHT HS2 HEADLAMP RATINGS
Quality of Build – 4/5 Stars **** Plastic is well-styled and seems strong. Cables are tough, nothing cheesy. The strap is strong and soft. The carrying case is a nice touch.
Beam Brightness – 3/5 Stars *** 2+ hours is decent for 400 lm., but some people may want brighter light for a max setting. For the price-point – this is great.
Beam Quality – 5/5 Stars ***** Color is right on – pure white. The max beam setting is great for running (slowly) and many other activities. It has a center bias and is round. Good for most uses.
Battery Life – 3/5 Stars *** The 2000 mAh lithium-ion battery is enough, and keeps the unit very lightweight.
Water Resistance – 3/5 Stars *** at IPX4, this does not have heavy-duty water resistance.
Price – 5/5 Stars ***** At this price, we're highly recommending the OLIGHT HS2 headlamp. Price is very good and the feature set is solid. Between this headlamp and the ACTIK CORE – it's quite a tough choice.
Note – the bright white CREE beams, pure-white color balance, well-shaped beam, the well-thought-out design with a case, and the battery life make this a great headlamp for the lower price-point. If you're not doing anything critical – like racing or climbing – you'll like this light. Ideal for kids or adults for most uses.
The H2S is often not available. We've looked at this other OLight and it's even stronger and has rechargeable batteries also, but you can replace with your own batteries too – a feature the HS2 doesn't offer. Have a look at this one:

---
Let's See What We've Got…
OLIGHT HS2 FIRST IMPRESSIONS
A super lightweight headlamp that doesn't feel like anything when worn on the head. Styling is cool, and the beam unit is super-small. The battery is not very heavy in the back, and though it doesn't feel balanced, it's light enough that it doesn't make much difference.
The strap is thick and soft – feels like it would snag easily on something. The USB connector wire from the battery to the headlamp is unnecessarily difficult to plug together. I thought it was plugged in fully and just not working. Will take some force to get it in. Not fun, because you can break it. Simple operation by clicking the blue button on the right side of the strap. Can choose flood, spotlight, or both blended beams. Beam rotates between 45 and 180° – a good range.
---
MATERIALS – CONSTRUCTION QUALITY
The plastic holding together the OLight HS2 seems strong and is styled nicely. Feels solid and the cables are durable feeling. The strap is soft and feels great. You can drop this headlamp from 1 meter and it should still work. There is an IPX4 water resistance rating which covers it in all but the heaviest rain.
Overall impression? I think the OLIGHT HS2 headlamp is going to be good for most people for most uses. You wouldn't want to use it for fast cycling or skiing, but for other slower activities, I think it will work well. The beam brightness is nice and the shape of the beam is good for most activities – considering you can use just the spotlight or the flood as well.
The 400 lumens brightness is really enough for most activities.
---
WATERPROOFING
These headlamps have a water resistance rating of IP X4.
This means this headlamp is water-resistant to splashing water from any direction for a minimum of 5 minutes. That isn't much but should cover you for nights when the rain is not too heavy or blowing sideways.
Shockproof? Nothing mentioned.
---
HS2 BATTERY LIFE and OPTIONS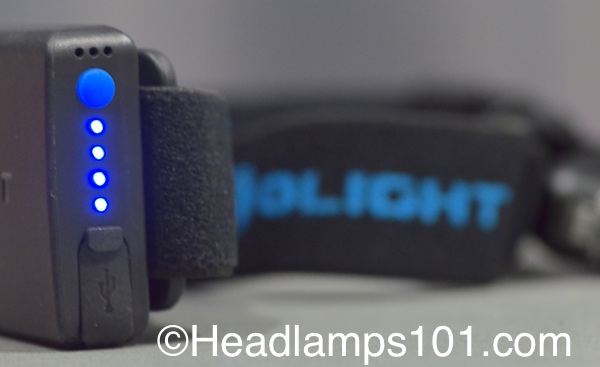 The HS2 battery is lithium-ion and 2000 mAh. There is no other option to use store-bought or other AA or AAA rechargeable batteries with the HS2.
Need a brighter light for more hours?
The NAO+ Plus is one possibility.
---
HS2 HEADLAMP BEAM QUALITY
The HS2 puts out a nice mix of beams on max power, and the wide beam is not too wide. The spot beam is not too tight. Good choices were made for beam size – and tightness of the beams. The color of the light is pure white – ultra-white… xenon white if you will. There is no color tint, neither blue nor orange. The beams produce great light which then reflects the natural color of things in the environment.
I look forward to taking this headlamp into the rainforest to find wildlife and see how it does. The color of the OLIGHT beams is generally on par with the Petzl headlamps – pure white – no tint of any kind. The beam shape is great for running, walking, or biking slowly on the trail or street. The spot beam is perfectly round. The wide beam is more like a more diffuse spotlight than a flood beam. The other beam is a bit tighter. Nice light!
The Color Balance seems perfect with the Cool White style, same as the H2R Nova headlamp. This Cool White is as white as white gets. There is no blue tint at all.
---
HS2 SETTING OPTIONS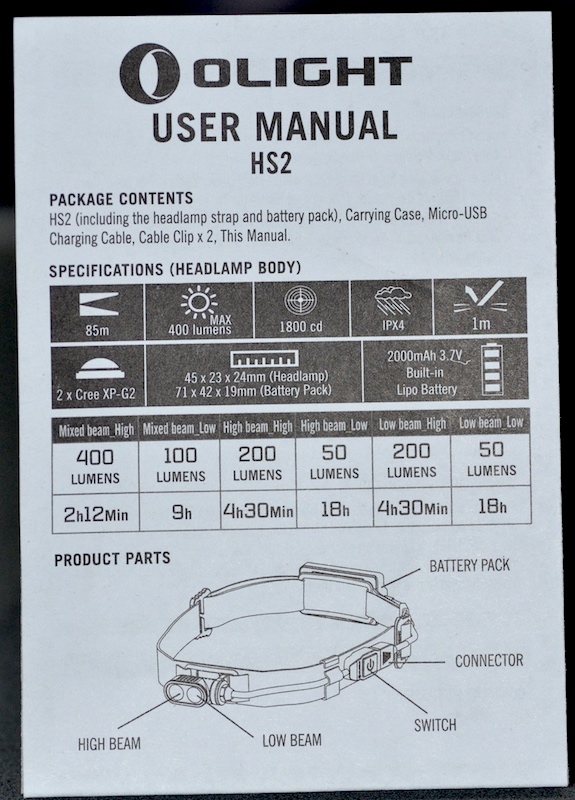 A push of the blue button on the side of the head strap cycle you through the various options. Short presses and long presses differentiate the options. There are not too many. Low and high wide (flood) beam; low and high spotlight beam; or a blend of both – can choose high or low settings.
When the batteries can no longer output the needed charge for the setting you're in, it will flash. You can then drop down to low beam mode and go for quite a few hours at 50 lumens.
---
WHICH ACTIVITIES IS THE OLIGHT HS2 HEADLAMP BEST FOR?
I think some people will really enjoy this inexpensive headlamp for the following activities:
running – street or trail
walking trails or streets
fishing
hunting – not an excellent tight beam, but some will be fine with it.
camping
working on a vehicle or outdoors around the house at night
wildlife excursions at night – I'm excited about trying it – will put a review here afterward.
The H2S is often not available. We've looked at this other OLight and it's even stronger, and has rechargeable batteries also, but you can replace with your own batteries too – a feature the HS2 doesn't offer. Have a look at this one:

DOWNLOAD USER'S MANUAL – None found.
---
PRICE and AVAILABILITY
This OLIGHT HS2 headlamp in black with blue accents is sold online.
If you are like me, the comfort of knowing that you're actually going to receive the items you order – is very important. There are very few places I trust when ordering items over $50. I use online shopping for everything I can. If I can't find it there, I'll try to find the item at some other online chain, but I can almost always find everything I need online.
Here is the OLIGHT HS2 HEADLAMP online. Get one or two to keep for your camping trips, I know you're going to like them!
Find this headlamp and many others: Here >
To be honest, it is very difficult to find this headlamp in 2022. OLight has discontinued it. Instead, we recommend the Petzl ACTIK CORE, IKO CORE, or NAO RL headlamps.
Comparison of our Top 4 Headlamps HERE >