[Page updated: 1 June 2022]
I haven't reviewed many Fenix headlamps lately because to be honest I was trying to avoid the Chinese-made products. Recently the ACEBEAM H30 and the NiteCore HC65, both from China, impressed me a lot so I thought I'd revisit Fenix headlamps to see what they're doing in 2022 and beyond.
The price for this Fenix headlamp in December is right around $100 USD and includes the 18650 rechargeable battery. There are MANY good features about the HM65R we review. This headlamp competes directly with the ACEBEAM H30, which I've recently talked about as being my favorite headlamp.
Table of Contents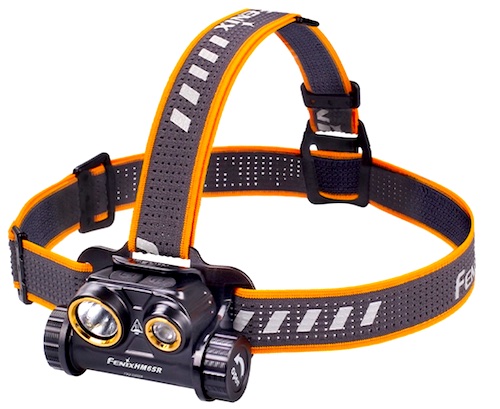 Amazon.com
---
Fenix HM65R Headlamp Pros
Plenty Bright 1400 lumens when both white beams are on high setting.
Great Battery Life. Claims 2 hours at 1,000 lumens spotlight
Good Battery Options – rechargeable 3400 mAh 18650s or two CR123A batteries from the store.
Separate Spot and Flood Beam Controls. With 4 levels for each.
Waterproof to 2 Meters Deep for 30 minutes, drop-proof, and dustproof.
Reasonable price ($100).
---
HM65R CONS
Unbalanced. All units we've tested with 18650 battery and the entire light unit up front on the band have been too heavy on the forehead. This makes it less than ideal for fast activities.
No Red Light. No strobe or other security / hazard features.
---
---
FENIX HM65R HEADLAMP | 1400 Max Lumens
DESCRIPTION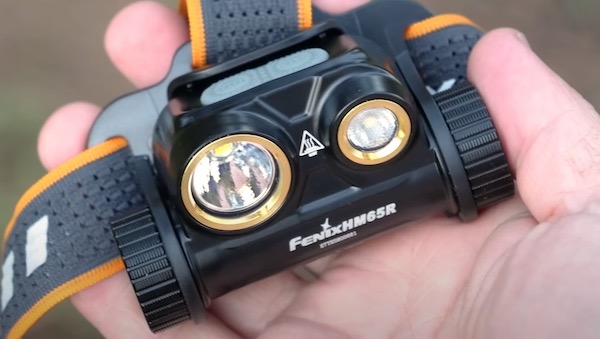 The Fenix company has been churning out solid headlamps for about a decade. We first bought the HP25 that long ago and loved it for a while until all the other headlamp makers started producing even better units. Fenix is a Chinese company that has distributors world-wide. They tend to make decent products, but to be honest Petzl's headlamps were always better and our first choice.
Fenix headlamps seem to have gone through an evolution and this new HM65R is quite competent and though lacking some features like strobe and red light, is good for what it's made for – providing bright light in heavy rain for hours at a time. What I really like is the high water resistance rating and the separately controlled spotlight and flood beams. This headlamp is very similar to the HP25, but worlds better.
Let's get started with this FENIX HM65R HEADLAMP REVIEW!
HEADLAMP SPECS
Dimensions : 8cm x 5.5 cm x 4 cm (3.17 x 2.17 x 1.57 inches)
Weight: 97 grams (3.4 oz.) plus the Battery: 57 g. (2 oz.)
Bulbs: Cree XM-L2 U2 White and Cree XP-G2 R5 Neutral White bulbs.
Red Light: None.
Lock Feature? Yes, a push of both buttons or just one on top of the unit will lock it down.
Redundancy for Beam Failure? Yes, it has two distinct beams and a power button for each to cycle through brightness levels
Power Modes: Manual.
Max Lumens: Spot Beam has 1000 lumens on Turbo, combined with the flood beam high setting reaches 1400 lumens.
Max Spot Beam Distance: 163 meters (534 feet)
Run-time Range: The spot beam will run for 2 hours on the Turbo (1000 lm), 22 hours on High (400 lm), 42 hours on Med (130 lm), and 90 hours on Low (50 lm). The flood beam will run for 20 hours on High (400 lm), 48 hours on Med (130 lm), and 280 hours on Low (8 lm). When both beams are lit, times decrease substantially.
Battery Rating: 3.6 volt 3500 mAh (included) 18650 rechargeable or 2 CR123A batteries you can buy in the store.
Recharge Time: 3 hours claimed. 3-4 hours more likely. Uses USB-C.
Water Resistance Rating: IPX 68 – 2-meter underwater submersion. Dust proof. Drop proof (2 meters high).
Warranty: Bulbs – 3 years. Battery – 1 year.
Tilt Range: 60°
Number of Tilt Clicks: 6 (10° per click)
---
CUSTOMER RATINGS
This light has been around for a couple of years now. It gets very high ratings from major online retailers. Here are some.
Fenix Store: 4.9 out of 5 with 339 reviews.
Amazon: 4.4 out of 5 with 29 reviews.
RATINGS (24.5 out of 30)
Quality of Build – 5 out of 5 Stars ***** Strong metal body and strong straps.
Beam Brightness – 4 out of 5 Stars **** Fenix headlamps in my experience drop off brightness quickly compared to other brands.
Beam Quality – 3.5 out of 5 Stars *** Color is too orange for the "neutral" beam which gets a 2/5. The spotlight beam is very bright and gets a 5/5.
Battery Life – 4/5 Stars **** The fact that you can easily replace 18650 batteries with reasonably priced ($26) spares or store bought CR123A's is nice.
Water Resistance – 5/5 Stars ***** IPX 68 is the standard that all headlamps should have to reach. Very happy with this.
Price – 3/5 Stars *** With no emergency lighting options and many other headlamps having better beam color, I think this one should be priced lower.

Amazon.com
---
FIRST IMPRESSIONS
As is usual with my Fenix reviews, I have the headlamps for a short time and do all my testing before giving the headlamp back to my friend. This one I had for one night. I took it into the rainforest where I looked for reptiles and bugs as I usually do. I didn't like the neutral white light beam to start off, it's just the wrong color for looking for wildlife in the forest. That doesn't mean it will be wrong for you hiking in the forest, it's fine for that and many other uses. The cool white lights are much better for highlighting contrast between flora and fauna.
This HM65R headlamp is made of magnesium alloy which is lighter than aluminum by 30%+. I don't know that I felt the difference between this and my ACEBEAM H30. They're both heavy up front and not fun to wear when running. The straps do a good job to keep it feeling good on the head if you're moving slow, but this headlamp will not be good for fast activities like downhill cycling or skiing. You'll need a headlamp with the battery in the back and the light unit in the front for that. There's just no other way to make it comfortable.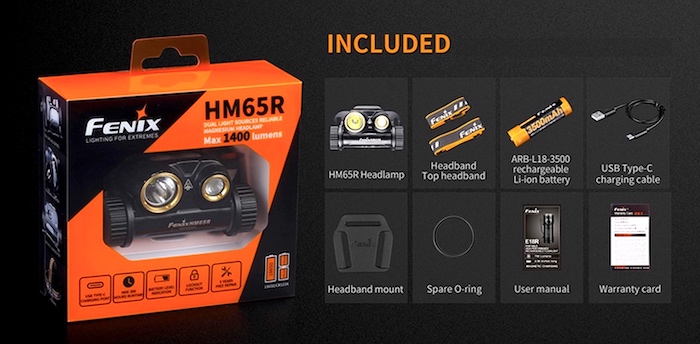 The buttons feel high-quality enough. The end caps come off smoothly and were well-designed. The USB-C port is much nicer than the micro-USB that some headlamps use, so that was a big plus.
The strap seems slightly thicker than Fenix units I've reviewed in the past. I like a thicker strap like this. There are reflective bits on the strap that add to visibility. The strap is perforated with small holes, to save weight and allow better cooling properties.
If you need a very strong spotlight beam on your headlamp, you should probably pick up one of these Fenix units. The beam is strong and though it doesn't last all that long, quickly decreasing in brightness over the first 30 minutes, it does stay around 300 lm for a few hours which is probably going to be enough for most people.
---
MATERIALS – CONSTRUCTION QUALITY
Metal Fenix lights – and really ALL metal-bodied headlamps – are very solid and can take some abuse. I've dropped mine and been rough with it over and over and had no problems with any of my metal tube shaped headlamps.
Overall impression? It's solidly built and has great water protection like all other metal headlamps. It's comfortable for slow activities and it should last a few years before something breaks.
---
WATER RESISTANCE / DUST / DROPS
These headlamps have the highest water resistance rating we've tested – at IPX 68. It can be dunked underwater and held there for at least 30 minutes, but these ratings are always conservative. You can likely lose it underwater for a few days and find it later and it will work. That has been my experience.
Shockproof? The HM65R is probably going to work after a drop of 1-2 meters in height onto hard ground. It would have to hit just 'wrong' to break something. Fenix claims a 2 meter high drop-proof rating.
Dustproof? Yes.
---
BATTERY LIFE and OPTIONS


The battery in the HM65R is a 3500 mAh 3.6 volt rated battery with a lot of power. It takes 3-4 hours to recharge with the USB-C cable. You can use 3 volt CR123A batteries from the store as replacements. It takes two of these batteries at a time and they are expensive but put out a lot of power.
I made a mistake with this review and I didn't check to see if Fenix is still making their 18650 batteries different from other manufacturers. In older units the batteries were proprietary and could ONLY be used with Fenix batteries, but you can buy as many spare batteries as you can afford. The unit I'm testing has a 3500 mAh battery, and the higher the number of mAh, the better.
That said, the Fenix and NiteCore and ACEBEAM 18650 batteries seem to be a cut above the rest, so use them when you can find them. There are plenty of other junk 18650 batteries out there that will work for only a couple of days before losing most or even all of their ability to charge and hold a charge.
Need a brighter light with emergency features and made even better?
The ACEBEAM H30 > is our favorite headlamp.
---
BEAM QUALITY
There are two beams on this headlamp. Both are separate and controlled separately, which is ideal and as simple as you can get. One button above the spotlight allows you to choose Turbo, High, Medium, or Low output and the floodlight allows High, Medium, and Low choices.
The spotlight beam is the white beam and the floodlight for closer tasks is a neutral white beam. Neutral, in this case means slightly orange. It's almost the color of a yellow/orange tungsten light bulb, but not so dramatic.
Both beams do what they should. The spotlight beam is very strong for a few minutes before the battery levels down to hover around 300 lm. in Turbo mode. The floodlight gives a nice wide beam that covers the trail ahead and on the side as well.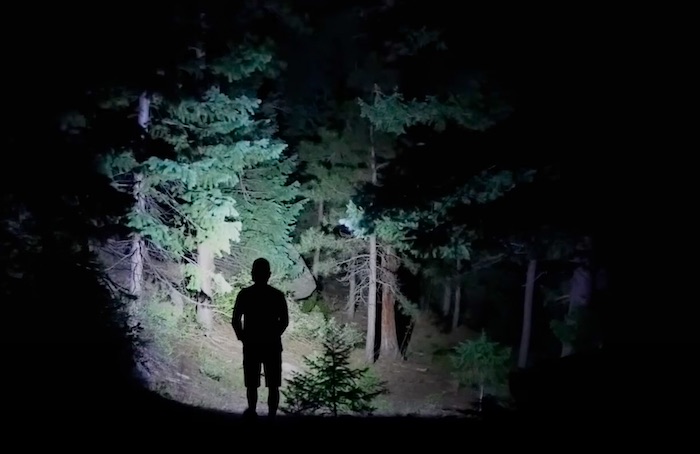 I was disappointed to find there was no red-light mode, no strobe, and no flashing or SOS mode of any kind.

Amazon.com
---
SETTING OPTIONS
Cycling through the power settings is as simple as pushing the rubber buttons on the top of the unit to control each beam separately.
WHICH ACTIVITIES IS THE FENIX HM65R BEST FOR?
adventure climbing
slow bicycling on the street
hiking, walking, street or trail
working outside on vehicles, or other heavy or light industrial work
DOWNLOAD USER'S MANUAL (English) – Fenix HM65R Manual (PDF)
PRICE and AVAILABILITY
This Fenix headlamp is available through various retailers around the world. We tend to trust Amazon, like most people. It's better to use them and know your product is coming and isn't a scam.

Amazon.com
---
Maybe browse around and see if you can get this headlamp. Or, choose one of our other headlamps that has the features you desire.
We strongly recommend the ACEBEAM H30 headlamp!